Automatic opening vent systems (AOVs for short) are a critical part of fire safety and prevention in offices, apartment blocks and commercial properties. Set in casement windows, roofs, and even ducting systems, AOVs help to clear smoke, heat and harmful gases from escape routes during an emergency.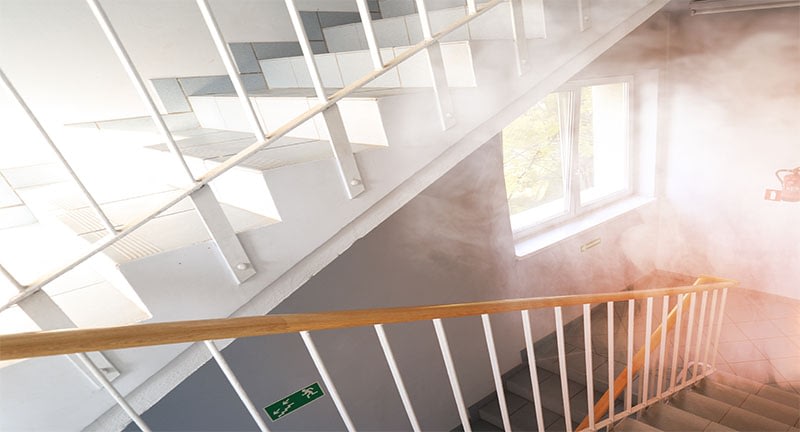 Smoke control systems create safe passage
Smoke inhalation is the biggest threat to life during a fire. But with effective smoke control solutions in place – including window ventilation, roof vent hatches and smoke shaft damper systems that provide compartmentalisation within a smoke shaft or ducting stop fire and smoke spreading between protected zones – smoke and other hazardous fumes are drawn away from access routes, giving evacuees less hazardous to breathe, and improved visibility as they escape.
AOVs enable a faster emergency response
Quickly ventilating smoke from an escape route gives your occupants a lot more time to escape, and aids emergency services in locating and tackling the fire as early as possible by keeping more of the building free of smoke. AOVs are proven to cut the time it takes for fire crews to find and put out a fire – and also make buildings much safer for rescue and recovery.
Ventilation reduces the risk of 'flashover'
Flashover happens when a fire reaches a critical temperature and ignites a room full of combustible materials at the same time, dangerously intensifying heat and smoke, while making a fire larger and harder to control. AOVs help to prevent or delay flashovers by containing an area, restricting air flow (and oxygen supply) to a fire, or by removing the smoke and heat that's building up.
AOVs help to reduce damage to property and assets
Fire can be devastating at any scale. But with effective AOVs in place, the worst of the damage can be controlled, with equipment, furnishings and other contents often spared thanks to a reduction in heat or smoke. If the worst happens, it could mean the difference between losing everything and being able to keep critical functions running as you get back on your feet.
We'll help to keep you compliant with new regulations
Document B of the Building regulations, BS 9991:2011, and BS7346-8 state that automatic smoke vents should be included in the overall fire strategy for the building including but not exhaustive residential, commercial, education and heathcare dwellings. As part of the Fire Reform Act, it's now your responsibility to ensure your AOVs are maintained and fully compliant.
As a contractor with the Smoke Control Association (SCA), and with approvals from International Fire Consultants (IFC) and STI19 (part of IFC accreditation), JLA is perfectly placed to look after your automatic smoke vents and fire systems, and keep you fully compliant.
We offer a comprehensive, end-to-end package, from free consultation through to supply, installation, servicing and ongoing maintenance. And with our unrivalled Total Care package, you pay nothing upfront and enjoy AOV installation at no extra cost. If you'd like to know more, simply contact us today.