After what has already been a difficult year for businesses in every sector – particularly care homes, schools and hospitality venues – we're urging customers to ensure their heating system is up to the demands of the winter months to avoid further unwanted challenges.
We've pulled together this Heating Checklist to share the key things we'd recommend you consider ahead during the coldest months, to keep things running smoothly and ensure boiler downtime is kept to a minimum.
Establish a cold weather continuity plan
As you navigate winter, you need to establish a continuity plan that details how your staff will handle a boiler breakdown that would affect the day to day operations of your business.. It's also important to make sure contingency plans are in place should any boilers let you down in the colder months.
Do you have servicing cover in place that guarantees 24/7 support…and can you be sure that engineers would be able to visit your site quickly in line with Coronavirus rules if you found yourself without heating and hot water?
Look into remote boiler monitoring
Now – particularly given the current limitations on face-to-face site visits – is a good time to look into the new technologies available in the heating market, which remove the reliance on physical engineer support.
If you're in the market for a new boiler, look for models that have integrated smart remote monitoring and diagnostics as standard, and ask your provider if their appliances come with real time data fault detection and remote auto-fix that can potentially fix minor issues before they impact your heating or hot water supply.
Conduct a full heating health check
Many businesses, from care homes and offices to hotels and schools suffer from inefficient boiler use during the winter months, without knowing how to do anything about it. Scheduling a heating 'health check' allows a trusted advisor to visit the property and evaluate its requirements before recommending appropriate equipment or changes in usage to increase the energy efficiency.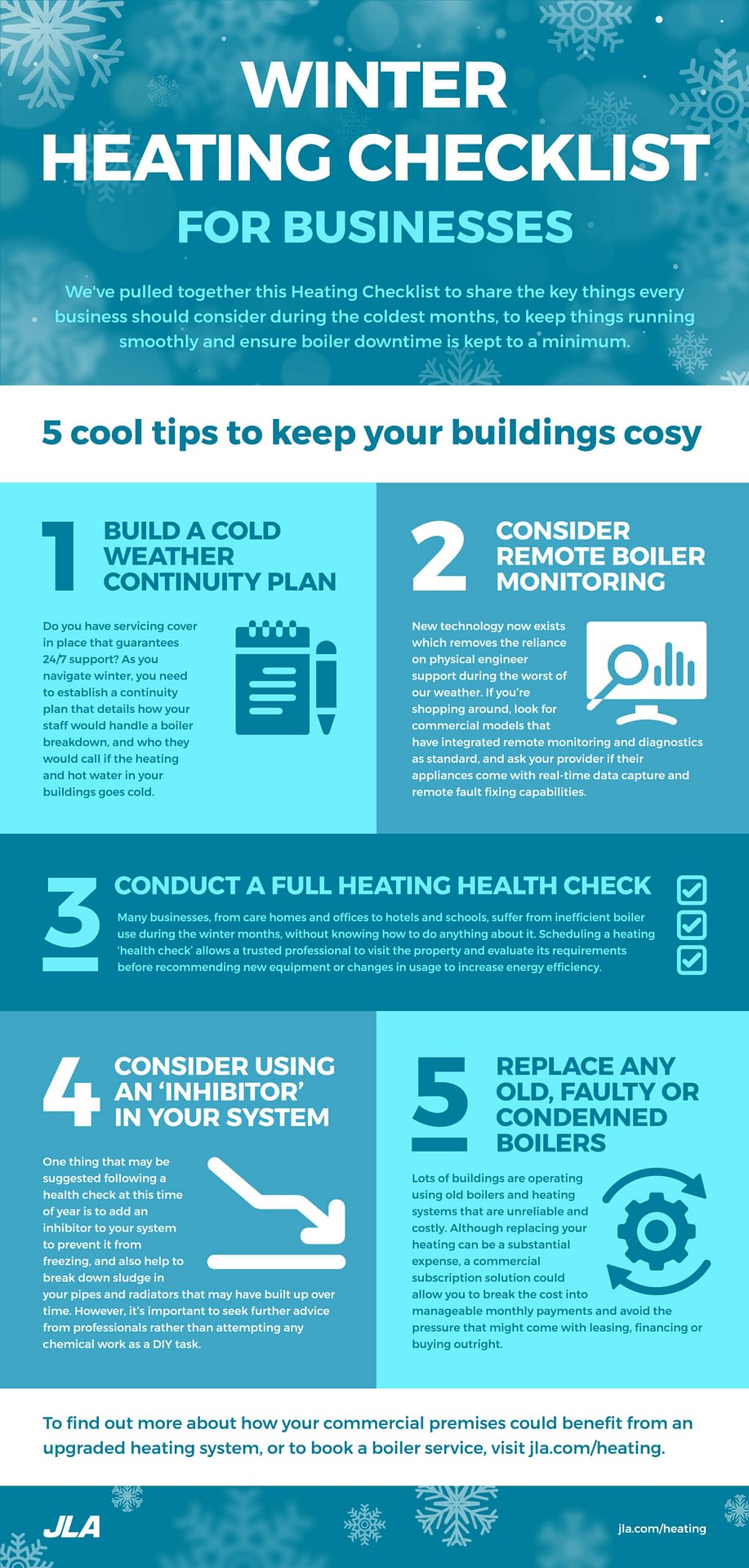 Consider adding an 'inhibitor' to your heating system
One thing that may be suggested following a health check at this time of year is to add an inhibitor to your system to prevent it from freezing, and also help to break down sludge in your pipes and radiators that may have built up over time.
Note: It's important to seek further advice from professionals rather than attempting any chemical work as a DIY task.  
Replace any old, faulty or condemned boilers
Lots of buildings are operating using old boilers and heating systems that are unreliable and costly. Although replacing your central heating can be a substantial expense, you could consider an alternative commercial rental subscription solution to break the cost into manageable monthly payments and avoid the pressure that might come with leasing, financing or buying outright.
To find out more about how your commercial premises can benefit from an upgraded heating system, or to book a boiler service, get in touch with our experts today for a no-obligation chat.