Commercial wall-mounted boiler solutions
Wall-mounted central heating boilers built for business
JLA wall mounted commercial boiler options
JLA's commercial wall-mounted boiler solutions are ideal for business, healthcare or residential premises where floor space is limited. The range of wall mounted central heating boilers available from JLA is suitable to meet the needs of any small to medium-sized business and our customer service is second to none.
Our extensive range of efficient condensing boilers – with outputs ranging from 49kW to 150kW – is designed to provide 'perfect fit' units for businesses of all sizes. Advanced features include remote diagnosis of faults via internet connectivity, continuous in-built performance monitoring and optional intelligent weather compensation.
JLA's wall hung commercial boilers are amongst the most energy-efficient on the market, with modulation ranges of 1:5. They use stainless steel heat exchangers to extend unit life and can be twin-cascaded for larger outputs.
Remote support for full peace of mind
With our Total Care subscription, you can benefit from remote boiler monitoring and troubleshooting 24/7. We'll pick up on a problem and fix it from our central support hub before it becomes an issue, and if anything does need engineer attention, we'll send someone out within 8 hours – day or night – to get things back up and running quickly.
We'll take care of it.
Benefits of a JLA commercial wall mounted boiler
In the UK, the majority of boiler replacements utilise wall hung models due to their compact size, the fact they are easy to access and are simple to-use. Wall hung boilers can also be 'cascaded' – whereby multiple boilers work together to ensure the load is balanced, meaning that you'll never be without heating or hot water should a fault occur.
What type of boiler do I need?
Our commercial condensing wall hung boilers provide quality, reliability and efficiency whilst being conveniently compact. They are available in a range of different sizes to suit all business requirements, all with remote diagnostic intelligence as standard.
Remote two-way data access for fast alerts of faults and quick diagnosis
Comprehensive range from 49-150 kW outputs
Gross efficiency of up to 98% – A class rating (meets ERP directive)
Controls as standard allowing optimum efficiency settings
Robust stainless steel heat exchanger ensuring longer life
Modulation range of 1:5 for optimum fuel usage
Optional intelligent weather compensation for additional savings of up to 15%
Simple flue options for easy installation
Can operate on gas or LPG
JLA cascade wall hung boilers
49-150kW with option to cascade up to 6 units
Cascading multiple boilers ensures they consistently meet the highest level of demand, and provides built-in contingency in the event a fault.
Cascade up to 6 boilers ranging with combined output from 98-900 kW
Compact footprint allowing multiple boilers for contingency
Gross efficiency of up to 98% – A class rating (meets ERP directive)
Cascade controller optimises boilers to share load requirement
Option to lower the height of the boiler to work with different installation situations
Robust stainless steel heat exchangers
Modulation range of 1:5 ensuring lowest level of fuel is used for demand requirements
Optional intelligent weather compensation for additional savings of up to 15%
Can operate on gas or LPG
With JLA you will benefit from:
Working with a single trusted partner – not just a supplier
Fully designed, tailored solutions that meet the needs of different sites
Innovative solutions that deliver long-term efficiencies across your organisation
24/7 support and remote troubleshooting from our central service hub
The scale of a national company with the familiarity of local engineers
The option to reduce equipment CAPEX to zero with a tailored subscription plan
An unrivalled supply chain that guarantees fast engineer response and parts supply
Tapping into accredited industry insight and know-how across all critical systems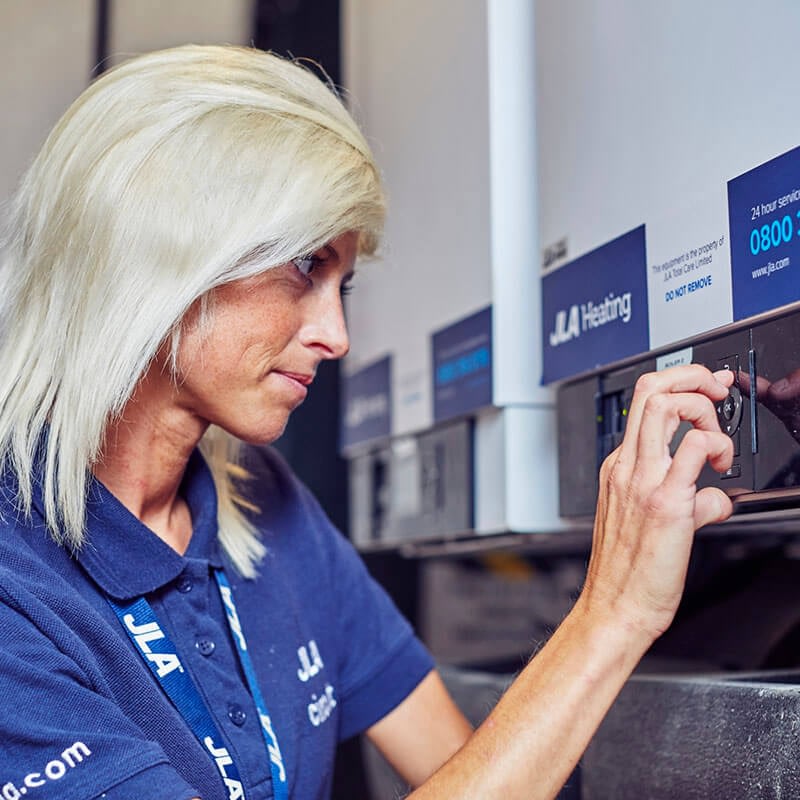 What our Heating & AC customers say...