A commercial fire risk assessment is a crucial element for any business's health and safety efforts. Not only is it a legal requirement, but this assessment ensures the long-term safety of both your staff and premises from potential fire damage. It's much better to be proactive in identifying ways to prevent a blaze and keep people safe, rather than have to deal with the aftermath of a dangerous fire in the workplace.
What is a fire risk assessment?
A fire risk assessment is a detailed, step-by-step process whereby your building and on-site activities are reviewed in order to determine where risks are with regards to fire hazards. Where fire risks are identified, actions should be planned to help reduce incidents from occurring in the future. 
At JLA we can carry out a full fire audit, along with ongoing fire risk assessment guidance, with a comprehensive report that will:
Identify fire hazards (such as any source of ignition, dangerous substances etc.)
Identify who might be at risk and outline a fire action plan
Evaluate, then remove or reduce those risks with comprehensive fire safety measures
Record findings and document an emergency fire risk management plan (such as your escape route and fire alarm process)
Supply, install, maintain and fix all required fire safety equipment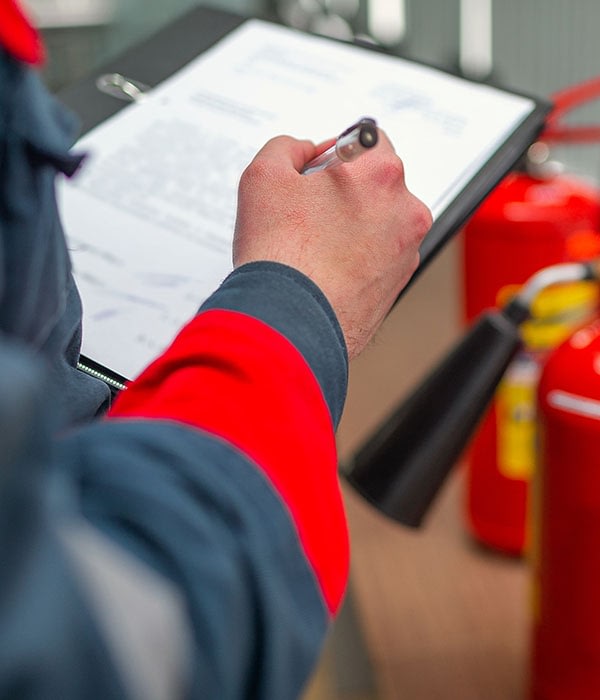 Why do I need a fire risk assessment?
First and foremost, fire safety legislation is there to protect life. Compliance is therefore compulsory and any business who chooses not to put in place appropriate fire safety measures is acting illegally. Should a fire accident occur without having completed an appropriate fire risk assessment, the business may be subject to substantial fines, or in the event of loss of life, even manslaughter charges.
Who is responsible for carrying out a fire risk assessment
The assigned person in your business in charge of fire risk assessments is referred to as a Responsible Person. The Responsible Person (also known as your Competent Person) in your business must carry out and regularly review a fire safety risk assessment of the premises. In writing a fire risk assessment, they will identify what you need to do to prevent fire and keep people safe. A Responsible Person could be:
The employer if the premises is a workplace
The managing agent or owner for shared parts of premises or shared fire safety equipment such as fire-warning systems or sprinklers
The occupier, such as self-employed people or voluntary organisations if they have any control
Any other person who has some control over a part of the premises
While it is possible to carry out your own FRA, you may not want to do so if you don't have the expertise or time or confidence – in such cases it's critical to appoint a third party 'competent person' to help.
JLA's expert fire risk assessors have all the relevant industry accreditations and latest industry knowledge. We will provide professional advice and highlight any areas for improvement, and can then assist in writing a comprehensive fire risk assessment report which you can keep for your records (as required by law).
Is it a LEGAL requirement to have a fire risk assessment?
Yes, it is a legal requirement. Under the Regulatory Reform (Fire Safety) Order 2005, a full fire safety risk assessment is a legal responsibility for all non-domestic premises – and you're also required by law to keep a full written record of your assessment if your business employs five or more people.
It's important to note that a fire risk assessment does not act as a certificate of compliance with the Regulatory Reform (Fire Safety) Order 2005. Instead, the purpose of a fire risk assessment is to form the basis for your Responsible Person to maintain suitable and sufficient fire precautions in the workplace. The responsibility for compliance with the above legal requirements remains with the employer or other responsible persons.
What does a fire risk assessment include?
There are five key steps in the fire risk assessment checklist, as set out by UK legislation, which includes:
Identify fire hazards
Identify people at risk
Evaluate, remove or reduce the identified risks
Record your findings, create an emergency plan, and provide suitable training
Review and update the fire risk assessment regularly
Of course, this is a simplified overview, so you will likely require more information to complete the fire safety assessment, particularly for larger or more complex facilities. Each industry may also require specialist guidance. For example, a warehouse may not carry the same fire risks as a restaurant kitchen. 
If you need third party support, JLA can carry out a comprehensive, objective fire audit to help you gauge your current situation and fire prevention measures to form a full and proper report with comprehensive fire risk assessment guidance, including: 
Premises Description & Use
Persons at risk
History of Arson/Fire
Fire Hazards and Preventative Measures
Sources of Ignition, Fuel & Oxygen
Means of Escape
Compartmentation and Fire Separation
Fire Detection & Warning System
Emergency Lighting
Portable & Fixed Firefighting Equipment
Facilities for Fire & Rescue Services
Signage
Emergency Plan
Fire Safety Information & Training
Testing & Maintenance
Management & Record Keeping
Action Plan
The areas above need to be assessed in detail, in order to give your Responsible Person the information and prioritised recommendations they need to document a plan in line with legislation. JLA can carry out a comprehensive, objective fire audit to help you gauge your current situation and fire prevention measures to form a full and proper report with comprehensive fire risk assessment guidance.
How often do fire risk assessments need to be done?
Legislation doesn't set a specific timeframe on FRA's, but we recommend that a commercial fire risk assessment should be carried out on an annual basis to gauge the risk of fire on your premises. That said, it's a good idea to carry out a new assessment more often in the current climate – ideally every 6 months to ensure any changes in staffing, layout and operational considerations.
A commercial fire safety risk assessment should also be reviewed as part of a continuous risk assessment process, especially if any changes have taken place which may impact existing safety procedures. These include:
Alterations to the commercial property as this may affect exit routes
When young persons are employed – as these are deemed vulnerable
Storage changes to hazardous substances
When an accident occurs
When a fire-related incident occurs
When fire safety equipment becomes damaged or has expired
In the event of staff changes – this could include a large increase in personnel or the hiring of a person with disabilities