Commercial hot water cylinders
JLA water cylinder options for your business
Choose from our market-leading water cylinders
We have a range of reliable, high efficiency stainless steel hot water cylinders at JLA, from light commercial 200 litre units that are ideal for smaller businesses to larger 500 litre units that will meet higher demand in bigger commercial premises. Our hot water cylinders are 'indirect', which means they need a floor standing or wall mounted boiler to power them. We can also install, maintain and fix boilers too as part of your wider commercial heating system.
JLA's high quality, fast recovery commercial hot water cylinder solutions are built for businesses and designed to give you the constant (and consistent) hot water supply for care homes, schools, hotels, housing developments or any other setting where staff, residents and visitors create demand for hot water.
All our cylinders come with smooth coil technology, foamed-in or wrap-around installation, fast recovery, durable stainless steel construction and a compact, modern design. 
Benefits of choosing a commercial unvented hot water cylinder
With an unvented system, you don't need a cold water tank as your hot water cylinder is fed directly from the mains water supply, via a boiler. JLA's industrial water cylinders can provide a constant supply of hot water for businesses that need access to large volumes of instant hot water without having to wait. This allows your business to continue functioning even during the busiest periods.
Our best-in-class models…
Free up space where a 'feeder' cold water tank would otherwise be needed
Maintain strong pressure thanks to direct mains supply
Can be fitted anywhere – unvented cylinders don't rely on gravity
Reduce heating system noise (no need for water to fill from a tank every time hot water is drawn)
Enhance safety and hygiene – sealed system removes risk of tank contamination
Use direct mains supply to remove risk of water tank leaking, or freezing in colder months
Reduce bills with consistent energy-efficiency
Remote support for full peace of mind
With our Total Care subscription, you can benefit from remote boiler monitoring and troubleshooting 24/7. We'll pick up on a problem and fix it from our central support hub before it becomes an issue, and if anything does need engineer attention, we'll send someone out within 4 hours – day or night – to get things back up and running quickly.
We'll take care of it.
With JLA you will benefit from:
Working with a single trusted partner – not just a supplier
Fully designed, tailored solutions that meet the needs of different sites
Innovative solutions that deliver long-term efficiencies across your organisation
24/7 support and remote troubleshooting from our central service hub
The scale of a national company with the familiarity of local engineers
The option to reduce equipment CAPEX to zero with a tailored subscription plan
An unrivalled supply chain that guarantees fast engineer response and parts supply
Tapping into accredited industry insight and know-how across all critical systems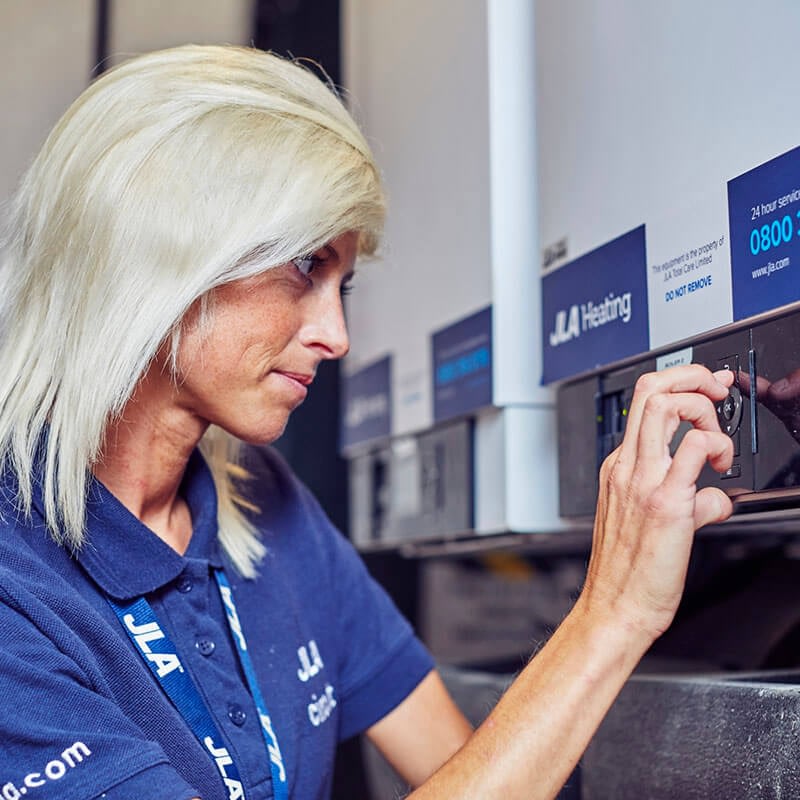 What our Heating & AC customers say...