Disinfection guaranteed on every cycle
OTEX ozone laundry system has recently been proven to remove all traces of Coronavirus in even the largest loads.
Discover OTEX by JLA – the original, market-leading commercial ozone laundry system that is proven to remove all traces of coronavirus, and kills 99.999% of other harmful bacteria, moulds and yeasts – using natural chemical disinfection at low temperatures for deep-cleaned, fresh-smelling and softer linen.
Our best-in-class ozone innovation can also eradicate harmful micro-organisms in every wash – and prints a validation receipt to prove disinfection has taken place. And with pre-programmed cycles, it's impossible for laundry or housekeeping staff to select a programme that will not achieve disinfection.
Because OTEX works at ambient temperatures, it reduces utility costs – using less hot water, gas and electricity compared to traditional thermal laundry systems.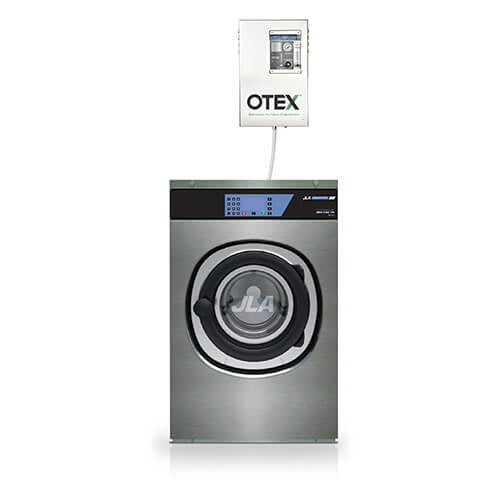 How does an Ozone laundry system work?
The Science and Innovation of OTEX Ozone Laundry Disinfection System
Explore the Science and Innovation Behind OTEX Ozone Laundry Disinfection System to prevent cross-infection in healthcare settings, consider using our OTEX ozone laundry disinfection system.
Discover the technology and innovation that makes this system effective and reliable by learning more about it today.
Advantages of using an OTEX ozone washing machine
Kills 99.999% of micro-organisms including MRSA, norovirus and C.diff
Proven process backed up by extensive scientific research
Meets Department of Health HTM01-04 standards
Validation receipts after every wash for audit trails and inspections
Low temperature washing for reduced utility and operating costs
Gently opens fibres – ideal for delicates and towels
Designed to work on JLA laundry equipment (can be retro-fitted)
Pleasant 'fresh air' fragrance from natural ozone process
Supported by EU Biocidal Regulations
How OTEX laundry disinfection works
When injected into a cool water wash cycle through our patented OTEX interfusor, ozone attacks bacteria, spore, virus, yeast and mould cells as it causes an oxidative reaction on contact. Ozone works in ambient water temperatures and opens up the fibres. enhancing the wash process and increasing the efficiency of the final spin.
Kill germs without killing fabric
OTEX also cleans deeper to give optimum wash quality and extend fabric life. Fibres in linens are gently opened during the ozone laundry process, which enables deep cleaning that adds a high wash quality to the core disinfection process.
This leaves users with fresher-smelling laundry, while items such as towels will come out up to 20% fluffier than they would in traditional washing machines.
OTEX for laundry infection control
Infection control is more important than ever in commercial settings. Installing OTEX into your on-premise laundry room can eradicate cross-contamination, and provide auditable proof that you're following hygiene best practices.
Verified Disinfection in every wash cycle
OTEX meets HTM 01-04 laundry/infection control guidelines with a verified audit trail OTEX is available with a verification unit which monitors the amount of ozone being injected into the wash process and provides a printed 'receipt' confirming the cycle has achieved disinfection.
The unit also includes an SD card which allows easy storage and download of all the verification data, captured together with historical ambient ozone levels within the laundry environment for health and safety purposes.
Ozone vs thermal disinfection
Extensive testing has proven that OTEX is more effective than thermal laundry processes. Independent laboratory tests found MRSA to still be very much in evidence following the commonly used 40°C wash programmes, while in contrast OTEX totally eradicated all MRSA presence.
In tests for C.difficile, OTEX left no viable trace of harmful bacteria after two and a half minutes – the same tests using conventional thermal disinfection found a significant level of spores remained after 15 minutes.
OTEX laundry for energy savings
Detergent costs cut by 50% - water and energy costs reduced by over 35%
Our revolutionary ozone washing system is green as well as clean
As the ultimate one-stop laundry solution, it gives businesses a powerful disinfection system that eliminates harmful micro-organisms during a cool wash cycle AND saves money on your utility bills…
OTEX has been shown to be an effective method of disinfection including being effective against bacteria such as Clostridium difficile spores. In tests at Southampton Showcase Hospital, the system – using no hot water – saved 36.49% on water, gas and electricity while reducing detergent usage by 50%+.
Who can benefit from OTEX?
Choosing the right ozone partner
Without approval from the Biocidal Products Regulation, ozone laundry systems from other suppliers may not be legal.
When choosing your room disinfection machine, it's vital to remember that Biocidal Products Regulations (EU) 528/2012 dictate that anyone marketing an ozone generator for a biocidal application within the EU must have their product authorised in line with those regulations.
JLA is not only supporting its ozone laundry and sanitiser products through this regulation, but is a key member of the EUOTA Ozone Task Force which has submitted an ozone dossier to meet this requirement. Find out more.
JLA is a member of:
What our OTEX customers say…
Tackle rising energy costs without compromising care
Discover how MyJLA and Connect help Vida Court monitor energy and cost savings from OTEX ozone cold-wash disinfection.