Commercial boiler solutions
Get commercial boiler heating systems design, installation and servicing from a single trusted partner
Choose from our market-leading commercial boilers
Whether you need to replace a faulty unit, upgrade your old boiler or install the most efficient and reliable commercial solutions into a new site, we can design, install, maintain and repair what can be the most important appliances in your building – for no capital outlay.
Commercial vs domestic boilers
When it comes to heating a large space, or different rooms across larger premises, a domestic boiler simply won't stand up to the task – and may not be covered by warranty if something goes wrong. A commercial/industrial boiler is built to withstand the demands that come with running a business – whether you need to keep residents and patients comfortable in healthcare setting, achieve consistent heating and hot water for an office or school environment or switch up to more reliable temperature control for the best guest experience in your hotel or spa.
What type of boiler do I need?
JLA's commercial boiler range includes wall-mounted and floor-standing options – with models from 49kW – 320kW built to withstand the everyday demands for heating and hot water in any business setting.
JLA floor-standing boilers come with a variety of outputs from 80kW to 320kw. Due to their compact size, they are the perfect choice for boiler or plant rooms where floor space needs to be maximised. As one of the smallest floor-standing boilers on the market, they can fit through standard doors and their wheels make it easy to move each boiler as required.
If you're looking for a system that's energy-efficient to run as well as cost-efficient to install, consider a wall-mounted commercial gas boiler. From 49-150kW, each JLA model offers up to 98% gross efficiency, giving them an A-class rating. They also come with clear efficiency settings that can help to keep your business' energy bills to a minimum.
Remote support for full peace of mind
With our Total Care subscription, you can benefit from remote boiler monitoring and troubleshooting 24/7. We'll pick up on a problem and fix it from our central support hub before it becomes an issue, and if anything does need engineer attention, we'll send someone out within 4 hours – day or night – to get things back up and running quickly.
We'll take care of it.
With JLA you will benefit from:
Working with a single trusted partner – not just a supplier
Fully designed, tailored solutions that meet the needs of different sites
Innovative solutions that deliver long-term efficiencies across your organisation
24/7 support and remote troubleshooting from our central service hub
The scale of a national company with the familiarity of local engineers
The option to reduce equipment CAPEX to zero with a tailored subscription plan
An unrivalled supply chain that guarantees fast engineer response and parts supply
Tapping into accredited industry insight and know-how across all critical systems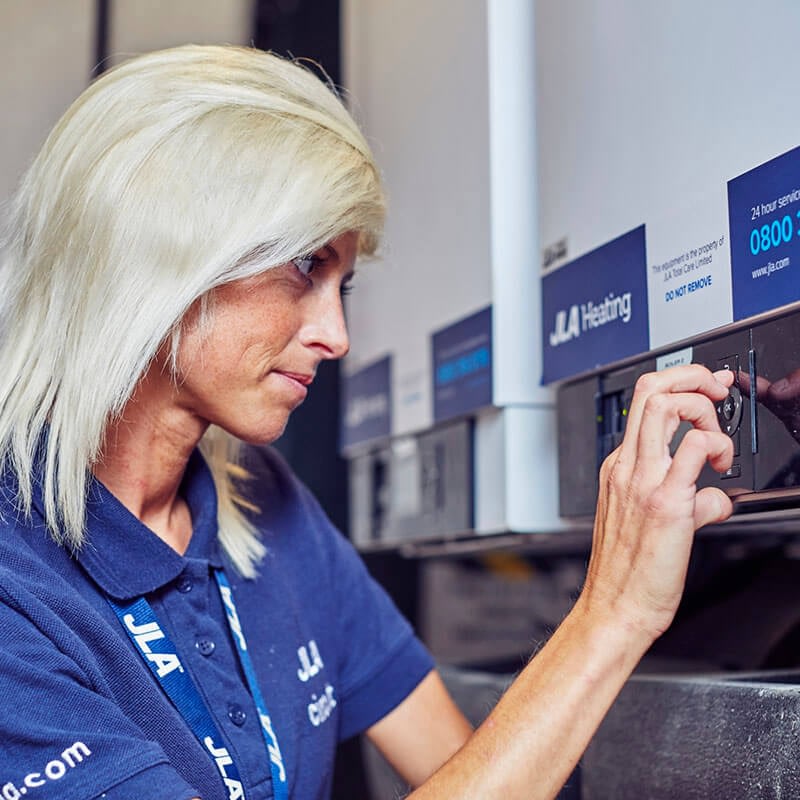 What our Heating & AC customers say...