Switch to ozone for the ultimate laundry & air disinfection
OTEX has been helping businesses since 2004, when we developed the original ozone washing system in response to rising healthcare infections.
Now, in the fight against Coronavirus, as well as long-established seasonal outbreaks, our laundry and room disinfection solutions continue to define best practice in commercial infection control.
Having developed the UK's first validated ozone washer system, we have since made continuous advancements in air disinfection through our range of sanitiser units. As a genuine, peer-endorsed leader in ozone R&D, we are proud that JLA OTEX air & surface solutions are still shaping the future of disinfection for businesses where the highest standards of hygiene are critical.
OTEX laundry disinfection
Natural ozone washer system
Remove all traces of Coronavirus, as well as 99.999% of other harmful micro-organisms – with disinfection 'receipts' for auditing.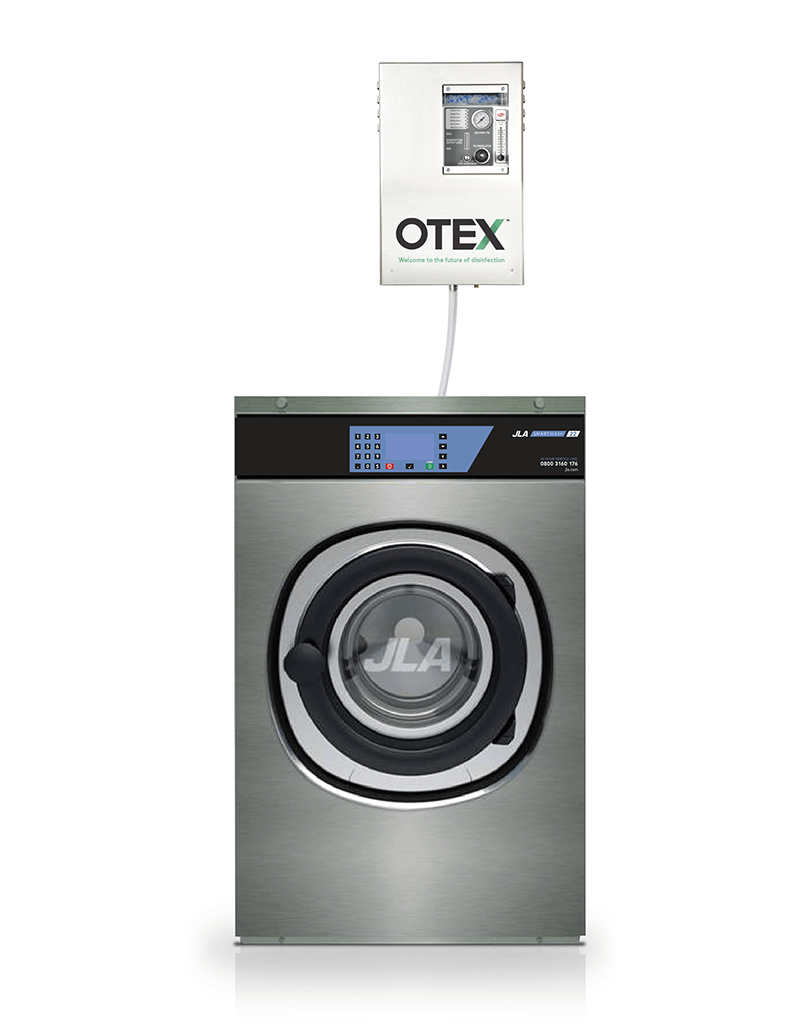 Portable ozone sanitiser units
Safely eliminate airborne & surface bacteria in as little as 45 minutes using ozone, and leave rooms smelling 'open window' fresh.
OTEX:
The story so far...
The OTEX journey began in 2004 when (at the height of public concern over the rise of HCAIs such as C.diff, MRSA and E.Coli. Hospitals, care homes and clinics needed reassurance that their laundry could be kept clean and hygienic) JLA developed its own patented interfusor technology to use ozone as a natural disinfectant within the laundry system.
Since 2004, JLA has also launched OTEX room sanitiser systems, which use the same ozone technology to destroy harmful bacteria and remove odours from rooms of all sizes. Infection control is more important than ever and OTEX offers the care and healthcare industry, in particular, the reassurance to keep infections under control.
Advantages of ozone disinfection
Disinfects laundry in under 10 minutes and rooms in under an hour
Natural process – no harmful residue left behind
Reduces the need for (and cost of) detergents or surface cleaning chemicals
Safe to use in any commercial setting (guidance applies)
Proven to remove harmful micro-organisms other methods can't
Pleasant fragrance – 'after the storm' freshness for linen, air and surfaces
Produced at point of use – no need to store, move or refill dangerous chemicals
Tested continuously by our own in-house JLA Chemist
What our customers say...
Organisations we work with
Over the past 50 years we've worked with more than 25,000 organisations
Read our latest insights and advice on the things that matter most to your business, from compliance to hygiene
COVID-19 and ozone products - buyer beware
The current COVID-19 crisis has led to mass promotion of ozone as a disinfectant. If you purchase from, or enter into a contract with a company who isn't actively supporting the Biocidal Products Regulation, you run the risk of owning a product that could essentially be illegal to use in the near future. Find out more