Floor standing commercial boilers
A-Class rated compact boilers built for business
JLA floor standing commercial boiler options
Due to their compact size, they are the perfect choice for new boiler or plant rooms where floor space needs to be maximised – or where additional heating output may be required to enhance an existing system. As some of the smallest floor standing boilers on the market, JLA units can fit through standard doors, while their fitted wheels make it easy to move each boiler to the optimal position in the room.
Remote support for full peace of mind
With our Total Care subscription, you can benefit from remote boiler monitoring and troubleshooting 24/7. We'll pick up on a problem and fix it from our central support hub before it becomes an issue, and if anything does need engineer attention, we'll send someone out within 4 hours – day or night – to get things back up and running quickly.
We'll take care of it.
Why do businesses need a commercial boiler?
Benefits of using a JLA floor standing commercial boiler
Remote two-way data access for fast alerts of faults and quick diagnosis
Comprehensive range from 80-320 kW outputs
Twin cascade with single casing option up to 640 kW
Gross efficiency of up to 98% – A class rating (meets ERP directive)
Controls as standard allowing optimum efficiency settings
Robust stainless steel heat exchanger ensuring longer life
Modulation range of 1:5 for optimum fuel usage
One of the smallest footprints and measures only 680mm in width – ideal for confined spaces
With JLA you will benefit from:
Working with a single trusted partner – not just a supplier
Fully designed, tailored solutions that meet the needs of different sites
Innovative solutions that deliver long-term efficiencies across your organisation
24/7 support and remote troubleshooting from our central service hub
The scale of a national company with the familiarity of local engineers
The option to reduce equipment CAPEX to zero with a tailored subscription plan
An unrivalled supply chain that guarantees fast engineer response and parts supply
Tapping into accredited industry insight and know-how across all critical systems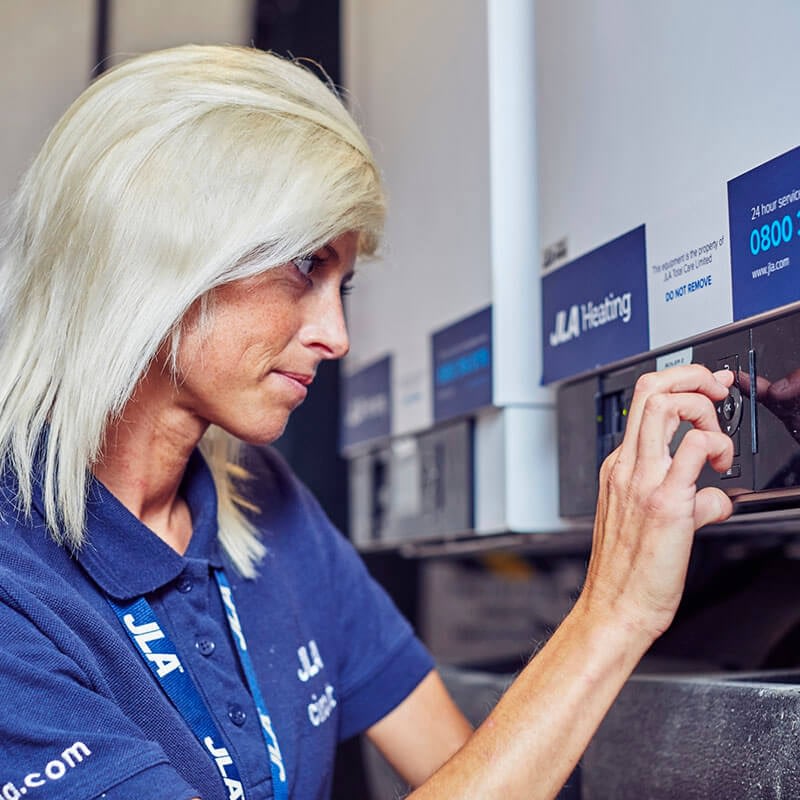 What our Heating & AC customers say...