If you need to heat a large space such as a hospital ward, then a domestic boiler simply will not be up to the task. Plus, if something goes wrong, it won't be covered by its warranty. 
For this reason, your healthcare setting must invest in a commercial boiler that has been built to withstand your demands.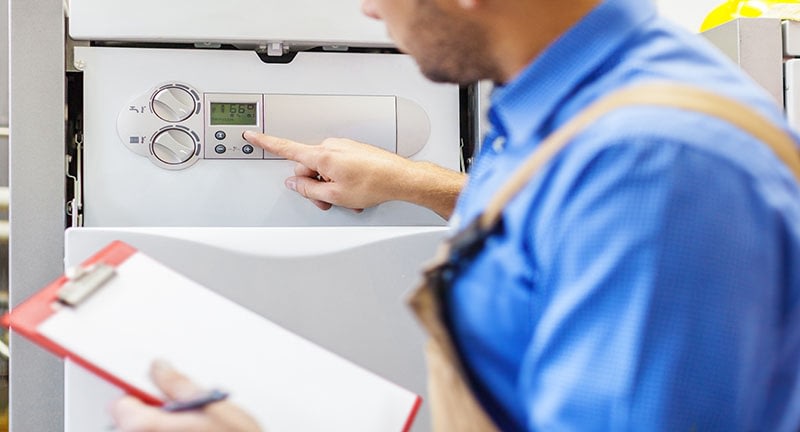 After all, these boilers are specifically designed to keep patients comfortable, provide more reliable temperature control and achieve consistent heating and hot water. 
In this guide, we'll outline how to choose the right commercial boiler for your healthcare setting.
When deciding which boiler is right for your healthcare setting, you'll need to decide whether a floor-standing boiler or a wall-mounted boiler is best for your needs. Here are the benefits of each:
Floor-standing boilers come with outputs ranging from 80kW to 320kW. The larger your healthcare setting, the greater the output you'll require. For example, while a JLA B80FS floor standing boiler may be powerful enough to heat a small medical centre, a much larger JLA B320FS floor standing condensing boiler will be required to heat rooms in a care home. 
Compact in size, our floor-standing commercial boilers for GP practices are the perfect choice if your boiler room is small and floor space needs to be maximised. As an added bonus, our commercial boilers for hospitals can fit through standard doors. Plus, their wheels make it easy to move each boiler as required.
If your healthcare setting is primarily concerned about energy efficiency and cost savings, then consider a wall-mounted commercial gas boiler.
As well as outputs ranging from 49-150kW, each JLA wall-mounted boiler offers up to 98% gross efficiency. This gives each of our boilers an A-class rating. Plus, our commercial boilers for healthcare settings also come with clear efficiency settings that can help to keep your energy bills to a minimum.
One of the main benefits provided by our wall-mounted boilers is that they can be cascaded with other units to increase output. For example, you can combine multiple JLA B150WH wall hung boilers and effectively heat the largest healthcare settings imaginable. Plus, by cascading our commercial boilers for hospitals, you can also create contingencies, in case an unexpected fault occurs. 
Whether you're looking to replace a faulty unit or upgrade your old, here at JLA we can design, install, maintain and repair what can be the most important appliances in your building – for no capital outlay. To discover more about our commercial boilers for healthcare settings, speak to our heating experts today.