An efficient, methodical and thorough laundry process is critical in a hotel setting. Not only do guest-facing flatworks like sheets, towels and robes need to be laundered to a high standard, but there is a whole range of other factors to consider – from infection control to the cleanliness of items used by hotel staff (uniforms, tea towels, and cleaning sundries to name but a few).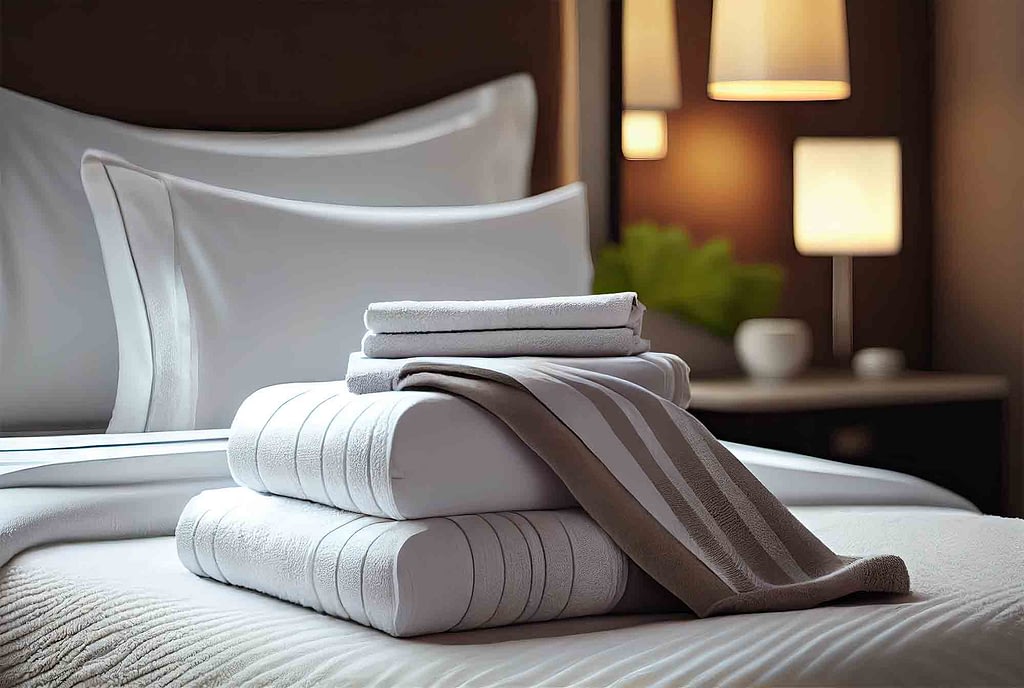 If you're a hotel manager seeking to improve on-site laundry services, this guide may be able to help. We've gone back to basics, giving you a complete overview of the processes and considerations that hoteliers need to be aware of when it comes to laundry.
Which garments require regular laundering in hotels?
Even in the smallest boutique hotels, the amount of day-to-day laundering required can come as a surprise. There's a whole variety of fabrics, garments and flatworks to get through, so hotels will require a robust commercial laundry setup that can cope with high-volume loads.
For the sake of clarity, here's a complete look at all the items that come through a hotel laundry's doors on a near-daily basis:
Flatwork: This includes sheets, pillows, linen, bedding, tablecloths, napkins and tea towels.
Terry fabrics: Including towels, bath mats, dressing gowns, robes and spa-related accessories.
Personal clothing: From guest attire to staff uniforms, clothing forms a significant part of the laundry load for many hotels.
Cleaning sundries: Cloths, rags, dusters, towels, and mop heads must all be laundered regularly to ensure that the highest levels of cleanliness and hygiene are adhered to at all times.
Things to consider when managing a hotel laundry
Given the unique requirements and challenges associated with hotel laundries, it's vital that managers consider all elements when planning, budgeting for, and managing laundry facilities day to day. So, what should they account for?
Here's an overview of the key considerations hotel laundry managers need to be aware of…
Hotel location, size, type and rating: Laundry facilities are dictated by a hotel's size, type, location and rating. For instance, a four-star establishment near the coast will have significantly different laundry requirements than an affordable, inner-city hostel. As such, laundry managers should carry out a full requirements assessment to ensure they allocate enough staff and resources to the type of laundry their property needs.
Contamination and infection control: With a considerable turnover of guests and visitors, hygiene and infection control are of the essence in hotel laundry facilities. Much like in care homes and hospitals, it's essential that contaminated items are kept entirely separate from freshly laundered items, whilst 'Dirty' and 'clean' laundry zones are vital to ensuring this.
Building layout: The location, size and shape of the laundry room has an influence on which commercial or industrial washing machines, tumble dryers and professional irons are installed. Larger laundry rooms may have the luxury of bigger equipment and an optimal layout for operatives, whilst smaller sized laundry facilities may opt for space-saving or stackable laundry equipment.
Transportation and processing: Dirty garments and fabrics must be transported to the laundry facility as quickly as possible so as to avoid contamination, uphold hygiene standards, and maintain peak levels of service and a positive guest experience. Consider the processes involved along with the timings and routes, so that staff can transport items to the laundry with minimal disruption.
We hope this guide has shone a light on the basic processes and considerations associated with hotel laundry facilities. If you're interested in hotel-ready professional laundry appliances, take a look at our complete range of commercial laundry equipment.