Premium quality fire resistant doors for any commercial or residential premises
As leading commercial fire door experts, we deliver maintenance, installation and inspection services that prioritise fire safety compliance.
Our fire doors meet building regulations and are subject to regular checks as part of an end-to-end passive prevention services.
We can install internal and/or external FD20, FD30, FD60 and FD120 commercial fire doors that keep key zones intact and meet building regulations. Our fire doors ensure safe and quick evacuation and are suited to a variety of commercial, industrial and professional settings
Tailored FD20, FD30, FD60 & FD120 sets
Our internal fire doors are made-to-measure and Q Mark manufactured. We also provide regular checks to identify compromised or unsafe fire doors.
Escape route door solutions for safer exit
We can also quote for exterior doors and assist with evacuation planning, emergency lighting and signage you need to highlight fire exits.
Need a fire door urgently?
It's essential that damaged or compromised fire doors and frames are replaced as soon as possible to bring it back to full compliance. JLA offers a unique premium service which means we can produce a door set in as little as 24 hours.
Fire door inspection & maintenance services
During a Fire Door Inspection visit, we will check all of the following and provide a detailed survey report for your records.
Door Leaf – including the overall condition, edge condition, structure, thickness and alignment to the door.
Door Frame – including the overall condition, thickness, wood type, installation and fixing security, and architectural condition. 
Seals – overall condition, size and smoke seals
Hardware – hinge condition & operation, lock/latch operation, door closer, hold open device operation
Glazing – glazing condition and glass type 
Appropriate signage
We will also give the fire door an overall grading level under the BM Trada Q-Mark Fire Door Maintenance Scheme as follows:
| Level | Test Evidence Available |
| --- | --- |
| 1+ | Certified door, certified installation, full maintenance records available |
| 1+ | Certified door, certified installation, no maintenance records available. |
| 1 | Certified door |
| 2 | Door with Project Specific Assessment from Astral Fire and Security, part of the JLA Group |
| 2 | Door with assessment and supporting records |
| 2 | Door with test evidence and supporting records |
| 3 | Door with manufacturer identifier |
| 4+ | Flush door, no records (installed after 1987) |
| 4 | Joinery door, no records |
| 4 | Flush door, no records (installed before 1987) |
BM Trada - the 'gold standard' fire door installation certificate
We work to BM Trada third party certified standards and our installations, manufacturing and maintenance are all BM Trada, and therefore Q-Mark system assured. We recommend this as a minimum standard when choosing your fire doors.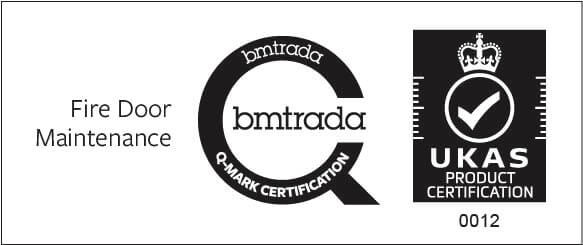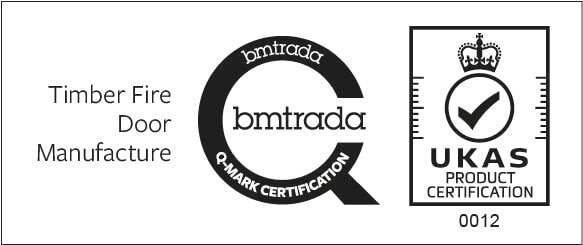 Commercial fire door installation
We provide comprehensive fire door installation services across commercial buildings that are conducted by our accredited and BM Trada standard JLA joiners. Everything needed for installation is provided, including frames, hinges and seals.
Fire door finishes & facings
With industry leading cores of varying thickness, JLA fire doors can be flush, panelled, veneered or laminated – with sound-proofing facings on request too. All our doors can be also painted with quality fire retardant products pre-fitting, to give you an attractive finish that's still fully flame resistant.
We can also manufacture made-to-measure glazed fire doors, with glass bespoke positioning to meet your specific needs – particularly popular in school settings where two-way visibility is required for different age groups and classes.
We do not currently manufacture or supply composite fire doors as part of our core range, but please ask if you have a requirement for hybrid products and we will use our national network of fire safety partners to help you find the best option.