Laundry in a care home, hospital, hotel or any other busy business is about more than just meeting the challenge of keeping up with a constant flow of linen. It's also about getting the job done in the most cost-effective way and ensuring your balance sheet looks as good as your bed sheets…and towels…and microfibre cloths…and clothes…and anything else you need to wash every day.
Here are our top five laundry tips to help you keep your energy consumption down and reduce bills when it comes to commercial laundry.
1. Bring everything in-house
If you're considering an on-premise laundry (OPL), you're already well on your way to cutting your laundry costs.
You'll be able to take full control of what you wash, how and when – and you won't need to depend on a third party to pick up and deliver your laundry on time or wash things to the standard you need. Plus, there's no risk of your linen getting tangled up with another client's pile.
Going in-house is also a more effective way of staying compliant if you're in a sector that demands constant compliance for infection control.
Take a look at the Laundry Guidelines For Care Homes here >>
Advantages of an in-house laundry:
Control your own electricity and water costs
Ensure the quality of your own washing process
Reduce the amount of linen stock you need (faster turnover so no need for as many spares)
Keep a close eye on your own compliance practices
React to changing demands (i.e. illness outbreaks or changing occupancy levels)
Time is money – and an OPL will help you save both
Doing everything in-house will cut the time you spend on laundry, as well as the money you spend on it…
We were constantly having problems with the towels we sent off to be cleaned, and staff were spending a lot of time counting towels or re-washing them. Getting our own small laundry in the salon has lifted a weight off our shoulders as they get through the washing quickly with no fuss. The time and money JLA has saved us has made a huge difference to the day-to-day running of the salon.
Teagan Halliday, Salon Manager at Strokes Salon
2. Choose energy-efficient commercial machines
While it may be tempting to stick with what you know and use domestic machines in your business, doing so can be a false economy and will not achieve the same results or consistency.
A high-performance commercial machine is designed to complete up to 35,000 cycles, while even the best domestic high street washers are generally only built to exceed just 10,000 cycles (and the cheapest may only keep going for around 600 hours).
Most domestic machines also only come with a one or two-year warranty (which may become void if you use the machine in a commercial laundry room), whereas commercial alternatives can be bundled with inclusive maintenance, repair labour and parts cover as part of a business contract.
Commercial washers and dryers are by their nature larger in capacity – so you can do bigger loads, less often. That's less time spent on laundry itself, and less money spent on energy bills.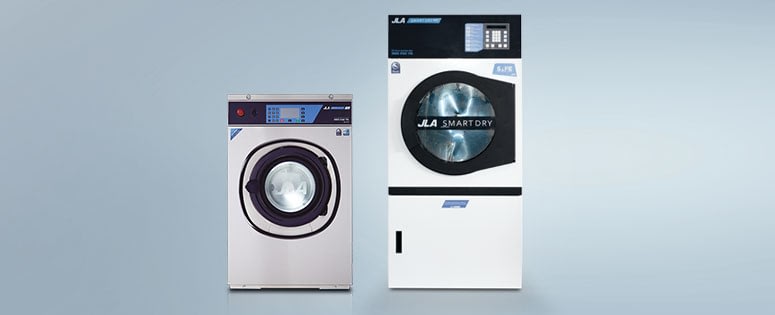 3. Consider ozone laundry
The way an ozone washer system works – and disinfects – means it can give you significant savings across all types of wash cycle. This can be extremely useful whether you're working in healthcare, hospitality or any other business which requires a high – and hygienic – laundry turnover.
JLA's OTEX ozone disinfection kills 99.999% of micro-organisms on laundry at lower temperatures. That means you can add another layer of reassurance to your laundry process, while increasing the lifespan of your fabrics and keeping your utility bills down.
An ozone washer system  has design features that reduce water use on every cycle compared to a traditional 'thermal' process, looks after your linen and even helps you get soft, fluffy towels.
Discover the key ozone laundry benefits for your business >>
It is effective at lower temperatures too, so it's a great way to eliminates wastage on the balance sheet by significantly cutting your detergent, energy and water costs. Avoiding higher temperatures also means your towels, sheets and other linen will last longer – saving money on unnecessary re-stocks and replacements.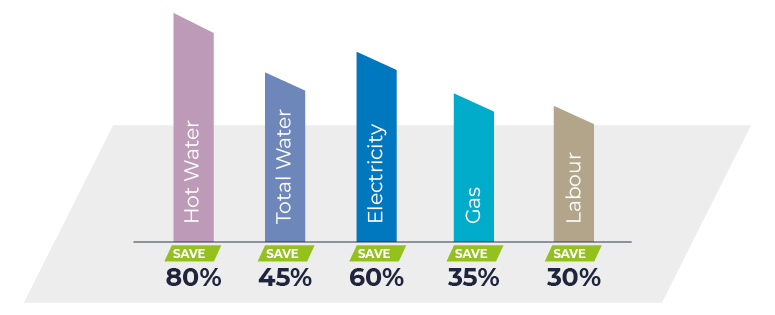 4. Educate your staff
To really get the most out of your in-house laundry, it's important to make sure those who look after your linen understand how to run your machines efficiently.
Here are three simple things they can do to save your business money…
Avoid overloading your machines
Your staff will also spend more time on laundry than they should be doing, reducing the value for money you might get from their shift.
Clean dryer lint filters regularly
Linen and towels will take longer to dry, putting your energy bills up even higher. And your items could get damaged due to exposure to high temperatures, meaning you'll have to spend money on new stock more frequently than your balance sheet might like.
Wash according to laundry type and state
Remind your staff to always check labels and washing instructions, especially if you're cleaning more expensive items. A quick wash won't do the trick on stains or heavy soiling (so you'll end up re-washing and using more costly energy) and using high temperatures on the wrong garments or linen will damage fabrics which will force you to buy replacements sooner).
Read our guide on avoiding hotel bedding mistakes in your laundry >>
5. Go all-inclusive with a supply and service package
Having a constant supply of clean linen is vital for care and service businesses, so down-time is not an option when it comes to your washers and dryers. When shopping around for new (or upgraded) laundry equipment,  always look for an option that allows you to source the kit you need together with quick emergency response that will get them back up and running quickly if anything goes wrong.
Business-friendly laundry machine 'rental' options often combine equipment supply with breakdown cover for a simple monthly payment, with nothing to pay upfront and provide a cost-effective alternative to purchasing equipment outright.