Your hotel bedding can be the difference between an unwelcome complaint at reception and a five-star review on social media. But with so many things to look after around the clock, it can be easy to overlook your laundry processes and forget just how important this 'chore' is to a guest's experience.
Below are some of the most common things to avoid when it comes to your hotel bedding – with eight mistakes that could make your laundry less effective and your customers less likely to return.
Mistake 1: Outsourcing your laundry
Asking someone else to do your hotel bedding laundry can be a costly mistake. You lose control of the washing process (and standards) and could face delays when it comes to your supplier picking up or dropping off a load. You'll also need to buy extra sets of spares or 'pars' for when bedding is taken off-site – or damaged.
"We used to outsource our laundry, and it was very expensive even though the quality wasn't great. We tried every company we could find, but the washing always came back stained, damaged or creased – and we never seemed to have enough. We decided to bring everything in-house and do the laundry ourselves. We haven't looked back since…
Shirley Trinder, The Grand Hotel
The disadvantages of linen hire:
 
Minimum charges often apply – usually for long fixed contracts
Smaller hotels often pay more 'per piece' than larger hotels, for the same service
You'll have to pay charges for lost or damaged bedding
Linen takes a long time to count out and in when hiring, putting more strain on your staff
A hire partner may deliver substandard bedding that you have to reject, leaving you short
Your provider may be (or have been) bought out, putting quality of service at risk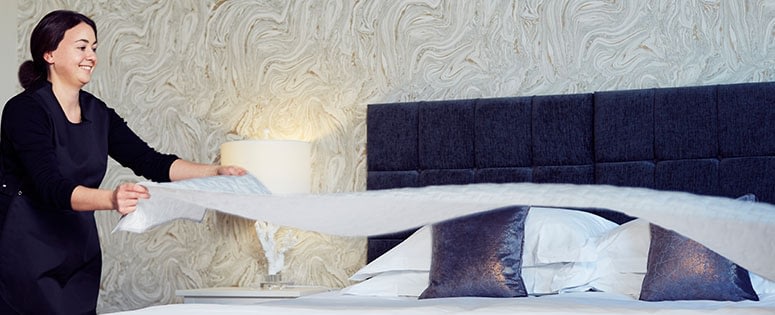 Need help with your hotel laundry? Request a callback from our friendly team.
Mistake 2: Relying on domestic washers
Many hotels think that they can use domestic equipment to handle their laundry, assuming they will save money on the machines themselves, but not taking into account other hidden costs and flaws. Choosing 'retailer' white goods to use, for example, as a hotel washing machine, is a false economy. Over time this can lead to issues around efficiency, performance and hygiene.
For example, high street washers may be too small (you'll need to do more washes, costing you more in energy consumption), may not get up to – or hold – the temperatures needed for a thorough germ-busting wash, and your warranty will be void if using a domestic machine in a commercial setting leaving you with costly, reputation-damaging downtime in an emergency. Commercial laundry equipment on the other hand is designed especially for heavy-duty, constant use and achieving the best results in busy hotels.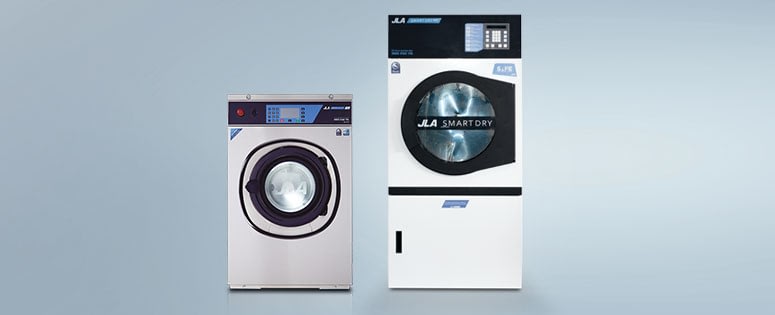 Mistake 3: Overloading your washing machine and dryer
Your hotel washer should be around ¾ full for each load, which will give your bedding enough room to rise and fall in a '10-to-4' position. This will ensure a good circulation of water, heat and detergent, and ensure your sheets don't bundle-up, preventing a full clean.
If your staff don't leave enough room in the drum (a rule of thumb is to be able to move your hand up and down above the bedding once the machine is loaded), the cycle could also end with a poor spin, causing the washer to hold water and leaving you needing to repeat the spin. Wetter bedding could also mean a longer time in the dryer, which will damage fabrics and increase your energy bills.
Mistake 4: Underloading your washing machine
Is underloading a washing machine bad? We understand that you're a hotel, you're busy and you need fresh sheets constantly. However, it's important to avoid the temptation of rushing a wash and putting too small a load in your machine. Underloading your hotel washing machine can result in lower friction, and bedding can end up floating in the wash water with no 'lift' and in turn leave you with poor wash quality
Mistake 5: Using the wrong settings
Lots of hotels who come to us for help with their laundry service have made the mistake of thinking big loads and big sheets need high temperature washes. But using the wrong setting can lead to damaged sheets and pillowcases – as well as 'fixing' stains. Always read the labels to make sure your fabrics – and investment – is protected.
Again, when you're under pressure to achieve a quick room and laundry turnover, it can be easy to fall into the trap of putting your bedding through a quick wash or express cycle. This won't be suitable for linen (as well as towels and laundry from your kitchen) that have fallen victim to tea, coffee or food stains, and you could even end up with 'soiling residue' in your machines over time…with biofilms also exposing every subsequent load to a risk of malodours and even cross-contamination.
Mistake 6: Not using laundry detergent correctly
The washing machine detergents you use – and the way you use them – can have a huge bearing on wash quality. Too little and you'll struggle to get the cleaning results or stain removal you need. Too much and you'll reduce the washer's mechanical action by 'over-cushioning' your load – preventing soap, water and heat penetration. Poor wash quality can also increase the risk the build-up of residues on your bedding, which can even cause skin irritancy and staining from the chemicals themselves.
It's a good idea to look for 'auto-dosing' pumps when doing your commercial laundry in-house. These can be tailored to your needs (like water type and the bedding fabric you're washing) and ensure just the right amount of detergent is used every time.
Mistake 7: Ignoring the need for disinfection
Clean is not always clean. Many hotels understandably make the mistake of judging their laundry purely on appearance, but it's vital that you take steps to disinfect your bedding too.
Poor wash quality can put your guests at risk of Norovirus, E.Coli and other outbreaks
Unique to JLA: OTEX ozone disinfection provides a way to prove disinfection has taken place – harnessing the natural power of ozone O3 to kill bacteria, moulds, yeasts and viruses and eliminate the risk of cross-infection in laundry. Learn more about our ozone washer system here.
Request a free callback to discuss JLA's OTEX ozone laundry disinfection
Mistake 8: Forgetting to clean your dryer's lint filter
When lint from your bedding builds up and clogs your dryers, the machine can overheat (while also taking longer to dry and increasing your energy bills). And with lint itself trapped in the filter, that overheating could even lead to a fire in your laundry. Cleaning can often be overlooked in a busy hotel, but it's important to make sure staff carry out this simple task regularly.
Using a 'SAFE' commercial tumble dryer in your on-premise hotel laundry not only gives you the peace of mind of having an in-built fire extinguishing system, but also comes with the advantage of an automatic 'clean lint filter' prompt for maximum efficiency.
Top tips for washing your hotel bedding
Washing Guidance for Cotton Bedlinen
Wash before use
Wash at 50°C or 60°C
Expect 4-8% shrinkage (our sizing allows for this)
Hot iron when slightly damp to give a crisp finish
Don't bleach – This will reduce the life of the product
Soak stained bedding in water if immediate laundering is not possible
Washing Guidance for Polycotton Bedlinen
Use a detergent intended for colours (to avoid colour fade due to OBA build up)
A light iron is suggested
Tips provided with thanks to our friends at Mitre Linen
For more advice on how to get the best results for your bedding, get in touch with our laundry team and ask for expert advice on the machines you need.