Advanced smoke ventilation for safe evacuation
The main purpose of an AOV system (Automatic Opening Vent) is to aid evacuation by helping to clear lobbies, stairwells and corridors in the event of a fire through 'smart' smoke control, allowing a safe route to the nearest means of escape for building occupants.
By maximising visibility and reducing the presence of smoke and harmful gases, rapid smoke ventilation also enables the emergency services to find and tackle the fire as early as possible.
Our vast fire safety and servicing experience means we can design a fully compliant AOV system, including mechanical/fan Smoke and Heat Exhaust Ventilation (SHEV ) window, louvre and damper door options as well as powered smoke control where required.
Smoke is the biggest killer in fires, and can spread through an entire building in minutes. Automatic Opening Vents (usually a combination of smoke vent windows, roof smoke vents and automated louvres/hatches/dampers) are critical to keeping access areas clear in an emergency, protecting those inside from smoke inhalation and giving them the clearest possible evacuation routes. The automatic extraction vents are also an effective way to reduce heat build-up in a burning building.
An AOV system (sometimes called an NSHEV) is designed to create and maintain a smoke-free layer above the floor, reducing the build-up of smoke and heat. AOV types range from automated roof hatches and glazed or metal louvres to wall-mounted end-of-corridor vents, automatic opening vent windows and internal smoke shaft damper doors.
Is your business AOV compliant?
In the past, simply fitting a suitable actuator was an acceptable way to turn a window into an 'AOV'. In 2013 however, the Construction Products Directive (CPR) stipulated that construction products such as AOVs must be covered by a harmonised European standard (hEN), to be CE marked and tested by a recognised third party.
Why install an AOV smoke control system?
Keep escape and access routes free from smoke
Improve visibility to facilitate firefighting operations
Delay and/or prevent 'flashover' and full fire development 
Protect equipment, furnishings and contents
Reduce effects of heat on structural components during a fire
Reduce damage caused by thermal decomposition products and hot or harmful gases like CO2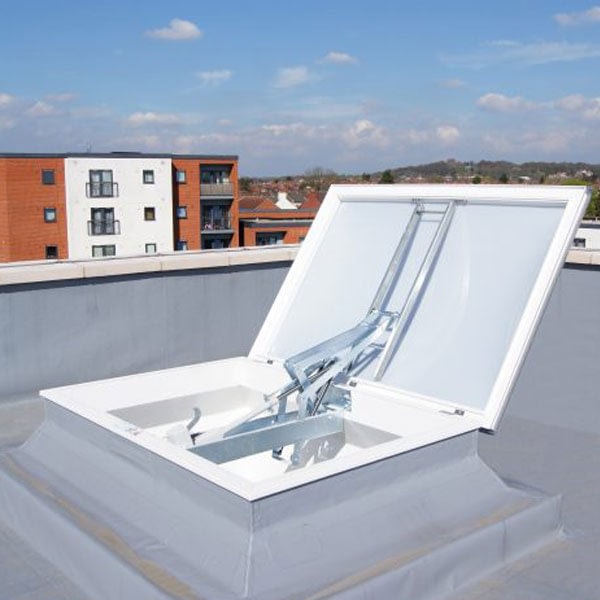 How do AOV smoke ventilation systems work?
When a smoke detector or MCP (break glass fire alarm call point) unit is activated within a building, our AOV system actuators (roof hatches, louvres, damper doors and windows) will automatically open a smoke control vent in the affected area and the adjacent stairwell, to open up or maintain a clear escape route using either powered or natural ventilation.
The opening of each fire vent in the smoke-affected area buys vital time for occupants to escape. Quick, automated smoke ventilation also allows fire fighters to move and manouevre more freely and keeps the majority of the building smoke-free, which means AOVs can significantly reduce the time it takes for fire services to locate and extinguish the fire itself while creating a smoke-free environment for carrying out rescue and recovery.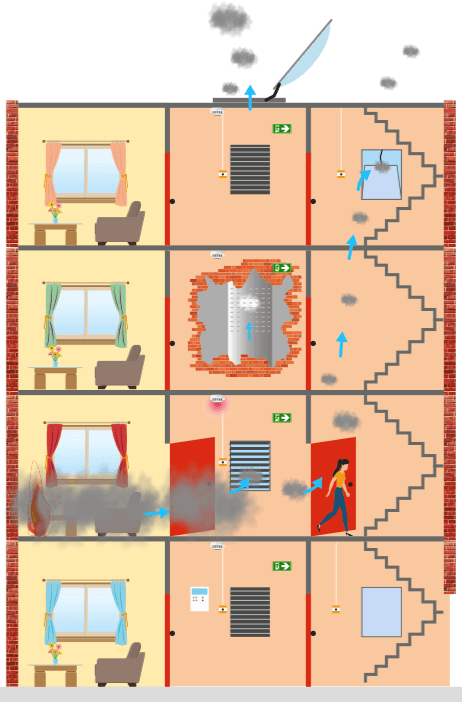 Leading specialist in AOV & Fire Safety Systems
Extensive experience of design, supply and maintenance
Solutions developed in response to legislation
Optimum, cost effective solutions
IFC SDI 19 & BAFE SP203 Accredited
Nationwide coverage
Tailored AOV & fire safety services
Our expertise in smoke ventilation solutions enables us to design tailored AOV systems suited to your requirements, including:
Free system design consultancy
Supply & installation
Project management
Commissioning
Service & maintenance
Code compliance to building regulations and British Standards
We are able to offer a complete fire safety solution – available as part of a unique 'Total Care' fire safety package – which starts with full risk assessment to highlight areas that need attention, and keep you compliant. Request yours today and ensure your people and premises are fully protected.
Our fire safety accreditations
Fire Safety saves lives and, as a result, the industry is highly regulated to ensure that the right equipment is installed and maintained by the right people. Our accreditations show just how seriously we take our responsibility to ensure the services we provide comply with all industry regulations, particularly the Regulatory Reform (Fire Safety) Order.
Tapping into accredited industry insight and know-how across all critical systems
Whatever your fire safety challenges, contact our team today for a FREE consultation. We'll get to know your exact requirements, book in a coVID-19 compliant site survey to get closer to your requirements if necessary, and advise on the best way to kit out your business for optimum fire detection, fire fighting and evacuation planning across your single or multiple premises.