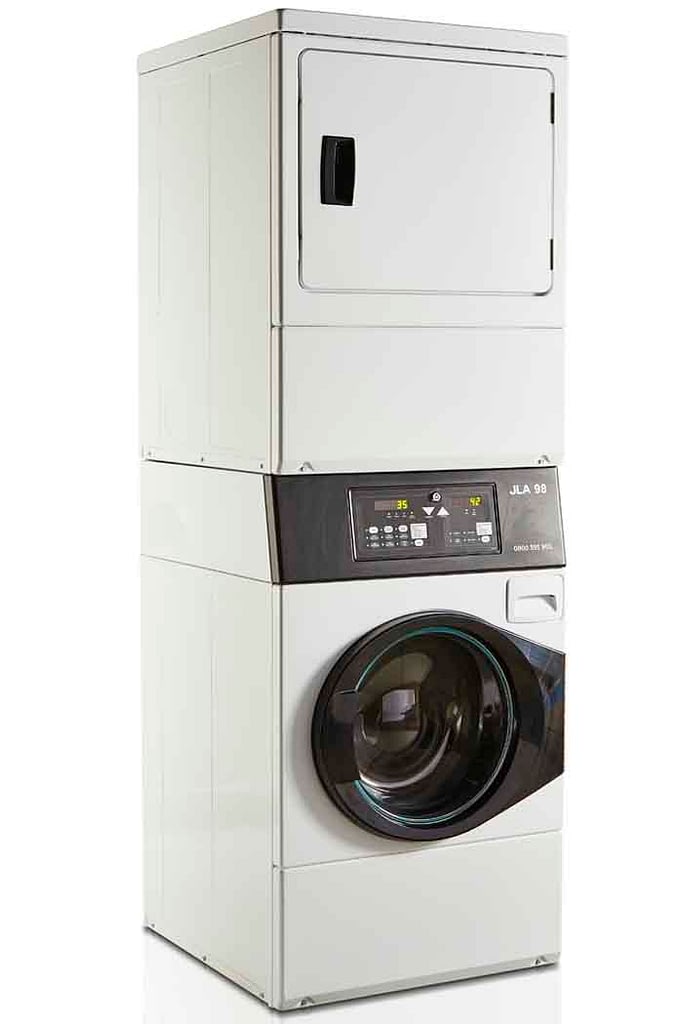 JLA 98-98 Washer/Dryer Stack
Two is always better than one – that's why we've created the JLA 98 washer/dryer stack system. Designed to help you make the most out of a smaller laundry room, this stacked system combines some of our most popular machines into one efficient package. Both the washer and dryer have been built to aid in compliance with healthcare regulations like HTM 01-04 and water standards such as WRAS. We've got it all covered – aside from actually doing the laundry for you, of course!

Discover how the JLA 98 can help you streamline your laundry room
Find out how the JLA 98 can help you improve efficiency, save energy and save time even in the busiest of laundry rooms across the UK. With enhanced wash options, pre-programmed cycles, Instant door release, a large drum capacity and low water consumption, it is ideal for everyday multi-load use.
| | |
| --- | --- |
| Control: Microprocessor | Net Weight (kg): 177 |
| Dimensions HxWxD (mm): 1994x683x744 | Drain Connection (mm Ø): 50 (Gravity) |
| Freestanding: Yes | G.Force (Gs): 74/296 |
| No. of Water Connections (cold): 2/1 | Size ("BSP): 3/4 |
| Gas Rating kW (Btu/hr): 5.9 (20,000) | Electrics – 6kW Heater (Volt/ph/Amp): 230/1/32 |
| Electrics – 9kW Heater (Volt/ph/Amp): 400/3/20 | Connection Size ("BSP): 3/8 |
| Airflow m2 (ft3/min): 5.1 (180) | Dryer: Capacity (Kg/lb): 9/20 |
| Dryer: Drum Volume (m3/ltr): 201 | Electric Dryer (Volt/ph/Amp): 230/1/25 |
| Electrics – Steam Heated (Volt/ph/Amp): 230/1/10 | Exhaust Air (mm): 102 |
| Gas Dryer (Volt/ph/Amp): 230/1/10 | Washer: Capacity (Kg/lb): 7.6/16 |
| Washer: Drum Volume (m3/ltr): 0.072/72 | |