Unrivalled parts stock & distribution
We have over 50 years' experience in providing commercial equipment parts to businesses across the UK
In addition to parts for our own JLA washing machines, tumble dryers and finishing equipment, we also hold a huge stock of parts from big brands including Electrolux, Whirlpool and Samsung,
That means we can guarantee unrivalled availability and the shortest lead times for any spares or replacements you need, and keep the most critical parts of your business running smoothly.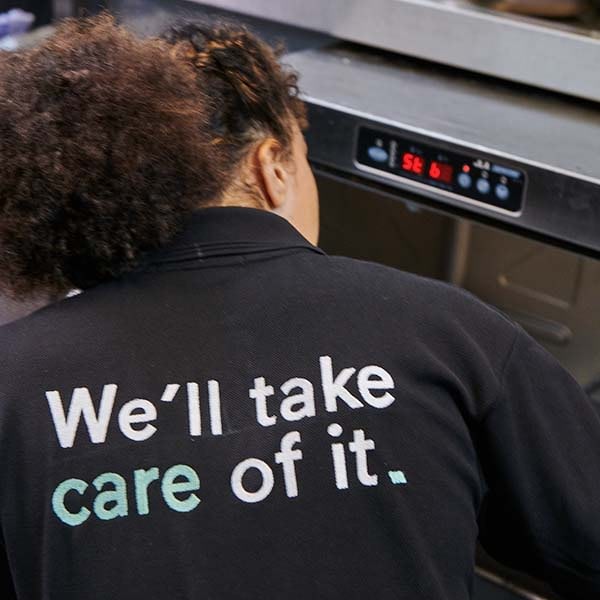 How our commercial equipment parts service can help your business
Our industry-leading breakdown response – whether through our Total Care subscription, flexible service contracts or one-off repairs – is made possible by our national replacement parts supply chain.
Quality service is guaranteed too – every processes throughout our supply chain is accredited by the British Standards Institution.
Whatever the job calls for we'll take care of it.
Contact us for parts advice via phone, tablet or desktop computer.
Access 1000s of appliance diagrams online to quickly find the right part.
We can pick and pack whatever you need and send it on the same day.
We'll send the part you need straight to the site that needs it for faster fixes.
Get in touch by phone, email or live chat for real-time parts support.
National warehouse network
We hold over 3 million individual parts at any one time in our regional hubs.
Contact us today for support with…
Commercial laundry equipment parts
Order or enquire about parts for any make and model of commercial laundry equipment – including any JLA machines you have. From the smallest screws to the largest panels, we can supply the items you need quickly to minimise downtime in one of the busiest parts of your business.
Commercial kitchen equipment parts
Our national supply chain network means we also have access to an unrivalled inventory of parts for any commercial catering requirement – whether you have a JLA appliance or machines from different brands. Please contact us for more details of availability and lead times.
Commercial hygiene equipment parts
From room sanitisers to bedpan washers and medical macerators, we can supply parts quickly straight to your site to help you maintain best practice waste disposal with minimal downtime.
Service & maintenance contracts
JLA offers a 'Total Care subscription option, as well as bolt-on 5 and 7 day service plans that can be tailored to your exact needs. Ask for details today and get a free quote.
National engineer coverage
With all the parts you might need to keep things running smoothly, we also have a national network of over 400 engineers.
This means we can give you the reassurance that a JLA engineer will always be from your site's local area, as well as the promise of fast call-out times. And because our emergency response covers the whole of the UK, we can cover multiple locations across your organisation with the same high standard of service.