Whether it's an urgent fix, essential servicing or planned maintenance, you can trust our engineers to keep your heating equipment in the best shape.
Need a commercial heating engineer?
An efficient, reliable heating system within a commercial property isn't just important – it's a legal requirement. With 45 years of industry expertise, here at JLA we know this better than anyone – and that's why we only employ the most highly skilled team of commercial heating engineers to help you stay safe and compliant.
Trained to the highest possible standards, all our commercial heating engineers possess the skills, knowledge and tools required to complete any task. So, if your boiler breaks down, you've been chosen to oversee your business' annual Gas Safety Check, or you simply have a quick question, you can depend on our team for excellent service and trust them to give you the best advice for your business.
As part of a routine service call, our Gas Safe registered commercial heating engineers can carry out:
Gas line checks (flow and pressure)
Gas tightness checks
Gas meter checks
Boiler Control checks
Water pipework
Internal component checks
Electrical connection checks
Seal checks
Flue and combustion release checks
A full gas safety check is required by law, but it's also the best way to highlight issues and take preventative measures to prolong the life of your heating equipment. Our engineers will assess the safety of your commercial boiler, identify any problems and take action where necessary to solve them.
Our team are experts in all types of boilers and the range of complex issues that can arise. For example, if your business' premises are heated by a gas boiler system, we can improve its overall performance, helping you to sustain its value and reliability for longer.
Whatever type or level of work your commercial boiler requires, we guarantee that our electric, plumbing or gas engineers will be up to the task at hand and will carry out the job with the utmost care, professionalism and integrity.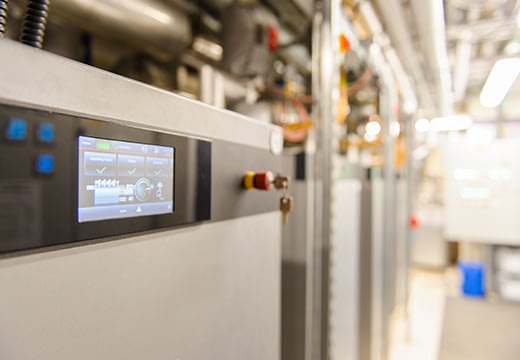 Need replacement heating equipment?
During a service visit, you might discover you that your heating system needs replacing, or a boiler and its parts have become obsolete. If you need a new system or boiler, ask about a Total Care plan which gives you equipment for no capital outlay as well as all-inclusive breakdown cover and maintenance for a monthly subscription.