The food you offer is hugely important to residents and their loved ones. However, achieving consistently good, nutritious results while also adhering to regulations can be an impossible task without commercial catering equipment that is up to the job.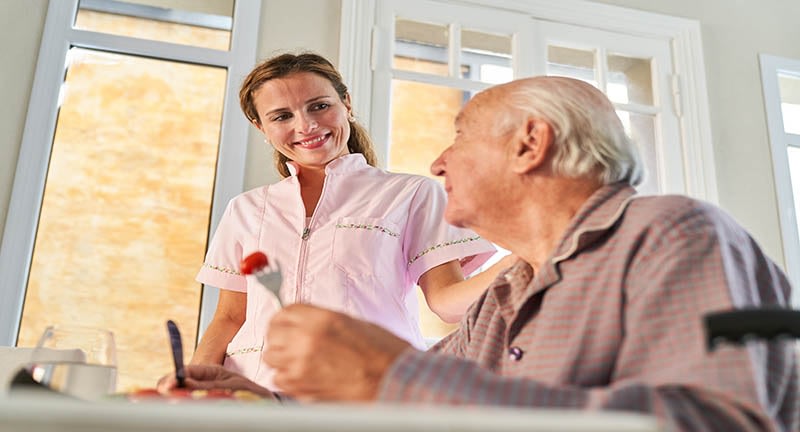 That's why, here at JLA, we have developed a range of market-leading equipment for the whole kitchen. In this catering guide for care homes, we'll explain which of our solutions is best for your needs. But first, let's look at the regulations that impact care home catering settings and key things you need to consider.
What does the CQC say about care home catering?
The Care Quality Commission (CQC), the body responsible for inspecting care homes across the UK, states that all care homes must ensure that they offer "nutrition and hydration to sustain life and good health" (Health & Social Care Act 2008, Regulation 14). 
As a result, care home owners must assess nutritional needs and provide food in accordance with these needs. This means that food must be adapted for individuals. In addition to this, food must also be adapted to take residents' preferences, religious and cultural backgrounds into account.
Although the CQC's regulations do not state that commercial catering equipment must be used, equipping a care home kitchen with commercial equipment can ensure that meeting the regulations is much easier and that provisions are consistent.
Plus, this standard of equipment also gives care home managers greater confidence that their kitchen won't let them down. Remember, the CQC can prosecute for a breach of regulations, so it is key to have robust, reliable equipment in place.
Key considerations for your commercial kitchen
Before you decide which pieces of catering equipment you need to purchase for your care home, ask yourself the following questions: 
How many residents do we need to feed at mealtimes? 

How will we ensure that we're offering optimal nutritional standards in the meals we serve? 

How will we stop items like cups and cutlery from spreading outbreaks? 

How many kettles will we need to run to make a sufficient number of teas and coffees?  

How will we prepare and cook for such a large volume of people? 

How will meals be transported around the home? 

How will we ensure the nutritional needs of each resident are met? 

How will we clean used dishes to the required standard? 

What is the end-to-end process with regards to food storage capacity, food rotation and delivery frequency? 
Once you start to answer these questions, you'll gain a better understanding of the care home catering setup you require.
Which pieces of catering equipment does my care home need?
To help you decide exactly which pieces of care home catering equipment you need, we've put together this in-depth guide.  
Without further ado, here are our suggestions for the best pieces of care home catering equipment, based on the assumption you're running a 20-40 bed care home.
The extensive range of JLA combi ovens like the are perfect for care homes. This is because these versatile pieces of equipment can transform the way you cook.
By combining dry heat and steam to provide a range of cooking methods, a combi oven boasts the ability to cook an entire roast dinner using only one piece of equipment. Due to this, the oven can make your kitchen highly efficient.
Combi ovens provide all of the following benefits:
They're capable of conducting 8 of the 12 cooking methods used in a care kitchen

They use 60% less energy

They lock in nutrients, vitamins and flavours

They reduce shrinkage, meaning you receive more servings

They reduce cooking times

They allow for the rapid regeneration of meals

They have large capacities

They allow for one-touch cleaning
Pieces of prime cooking equipment like range ovens are the workhorses of any care home kitchen. 
Our 4-burner gas range oven has been designed to withstand heavy use without ever compromising on quality. Featuring stainless steel construction for durability and reliability, it can perform 10 of the 12 modern aspects of cooking.
If you need extra cooking capacity, then you can upgrade to a 6-burner gas range oven, or you can combine your range oven with other pieces of prime cooking equipment, such as fryers or salamander grills. 
Hot Cupboards and Water Boilers
As well as the above, your care home kitchen will also require pieces of complementary cooking equipment, such as hot cupboards, bain maries and hot water boilers. 
These complementary pieces of cooking equipment help make mealtimes a breeze. While hot cupboards and bain maries can store your cooked foods at the ideal temperature, hot water boilers can save staff members time when they have dozens of cups of tea and coffee to serve.
In a care home kitchen, your refrigeration setup is important for food storage purposes. However, your setup is also vital for ensuring that you comply with HACCP food safety guidelines. 
Designed for frequent use, commercial fridges and freezers like our JLA Active Cool 600 upright fridge and JLA Active Freeze 600 freezer can keep your food stock cool during peak times. Both pieces of equipment also feature an external digital temperature display for easy monitoring and can help you to save up to 15% on your energy costs.
In addition to these pieces of equipment, we also recommend that care homes purchase blast chillers for their kitchens. These allow you to rapidly cool cooked food in a way which minimises bacteria, retains flavour and keeps nutritional value. This chilling process exceeds the minimum standards specified in food safety legislation.
Hygiene and infection control are critical in your care home, both for the safety of your residents and for ensuring that your care home complies with national regulations and CQC standards. 
All of our high-quality commercial dishwashers are WRAS approved and offer quick cycles that meet disinfection guidelines – so you can be assured of excellent wash quality every time.
Our range of dishwashers contains undercounter and passthrough options. However, for care homes, we usually recommend the JLA FW20s Pro, which offers 11 different cycle programmes, can wash up to 456 plates per hour and fits neatly under a countertop for great space savings.

That's all the care home catering equipment your kitchen should require. Still unsure which models are best for your needs or have a question about one of our options? Speak to our catering experts today. We can advise you on all aspects of your care home's catering setup. Whatever you need, we're here to help.