Considering food hygiene in care homes should be the first thing on your To-Do list if you're building or refurbishing cooking and preparation areas. Here we look at the key areas you should focus on when planning your kitchen layout, choosing your commercial catering equipment and finalising your food safety management processes.
Why is good food hygiene important in the care home?
Monitoring food safety and achieving the highest level of general hygiene is vital in residential care homes, where meals are prepared and cooked on-site for elderly and vulnerable residents who can be more at risk of illness. The Food Standards Authority states:
"Food poisoning can lead to gastroenteritis and dehydration or potentially even more serious health problems such as kidney failure."
Older people could be more at risk from food poisoning and associated illnesses, while outbreaks of E.coli could be more likely due to their weaker immune systems. This guide will give you an overview of things to consider as you plan, design, run and maintain your commercial kitchen with resident wellbeing front-and-centre of the processes.
Consideration #1: Meeting CQC guidelines
The Care Quality Commission (CQC) is an independent regulator established by the Health and Social Care Act 2008. It is responsible for inspecting care homes across the UK and plays a vital role in the development of regulations for care as a whole.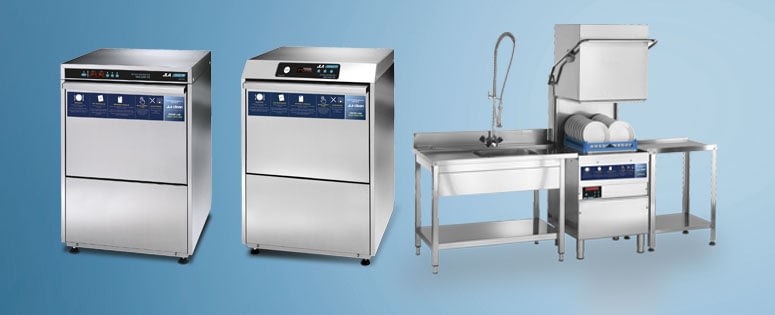 Kitchen inspections
CQC inspectors expect to see a safe and sanitary care home with healthy and happy residents, and your kitchen areas will face specific scrutiny in terms of gauging your overall approach to cleanliness.
The regulations they measure you against include a specific section (Regulation 14) on Nutrition and Hydration, which instructs care homes to ensure all residents have their nutritional needs met.
The overall inspection rating is based on five key questions they ask themselves – is your home…
Safe?
Effective?
Caring?
Responsive?
Well-led?
Inspectors then assign scores for each of these areas: 'Inadequate', 'Requires Improvement', 'Good' or 'Outstanding' and issue a public report on their findings. This – as well as highlighting any shortcomings – often forms a key part of research for a resident or their family when they are choosing a home.
Risks of not complying
The CQC has the power to place homes into special measures or even shut them down if they decide that the wellbeing of residents is at risk. They may also initiate prosecution in extreme cases where a resident has been harmed.
Consideration #2: Food Standards Agency Guidance For Care Homes
The Food Standards Agency (FSA) is a government department responsible for protecting public health in relation to food in England, Wales and Northern Ireland. It is led by a board appointed to act in the public interest to ensure that the food they consume in businesses such as care homes, is safe.
As a care home, you must have a food safety plan based on the Hazard Analysis and Critical Control Point (HACCP) principles – in the same way as those running food businesses.
According to Article 5 of HACCP Regulation (EC) No. 852/2004, commercial kitchens are required to have a Hazard Analysis and Critical Control Point (HACCP) plan in place at all times, and must also provide their local food safety authority with evidence that the plan is being followed in order to provide for the safe preparation and distribution of food.
HACCP covers everything from the process you follow before you start working with food including hand washing to working with the food itself. If you're unsure how HACCP applies to your business, contact our expert Catering team to go through what's needed in your home.
The Food Safety Act 1990
Monitoring food safety and achieving the highest level of general hygiene is vital in residential care homes, where meals are prepared and cooked on-site for elderly and vulnerable residents who can be more at risk of illness.
The Food Safety Act 1990 focuses on the preparation, storage and service of food – and the CQC requires that care homes ensure that the food and drink they provide is handled, stored, prepared and delivered in a way that meets the requirements of the Act. In particular, the Act outlines that businesses such as care homes should ensure that there is: "Provision for securing the observance of hygienic conditions and practices in connection with the carrying out of commercial operations with respect to food or food sources.
Consideration #3: General Food Hygiene In Care Homes
Food Hygiene Ratings help residents and their families gauge the quality of your catering offer, as well as your commitment to food health and safety. The Government run the Food Hygiene scheme in partnership with local authoritiesm who can visit your premises at any time to inspect your kitchen.
Considering food hygiene in care homes should be the first thing on your To-Do list if you're building or refurbishing cooking and preparation areas. Here we look at the key areas you should focus on when planning your kitchen layout, choosing your commercial catering equipment and finalising your food safety management processes.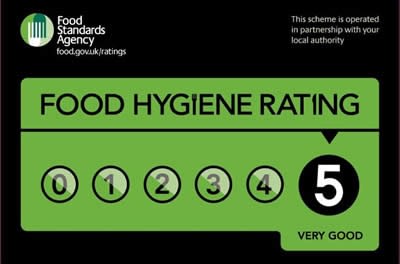 URGENT IMPROVEMENT IS REQUIRED
MAJOR IMPROVEMENT IS NECESSARY
SOME IMPROVEMENT IS NECESSARY
HYGIENE STANDARDS ARE GENERALLY SATISFACTORY
HYGIENE STANDARDS ARE GOOD
HYGIENE STANDARDS ARE VERY GOOD
If you receive a rating of 3 or below, it could damage your reputation and ultimately impact revenue as current and future residents and families seek out alternatives.
Consideration #5: Safe food handling, storage and preparation
There are strict food hygene guidelines not only for hot food temperatures but also for food that neds to be cooled down – see the table below for more details on how to manage chilling in your kitchen.
| PROCESS | TEMPERATURE | TOP TIPS |
| --- | --- | --- |
| Refrigeration | A food temperature of 8ºC or below is effective in controlling the multiplication of most bacteria in perishable food. It is recommended practice to operate refrigerators and chillers at 5ºC or below. | Commercial fridges and freezers with external thermometers make this easy and ensure you don't have to open the fridge more frequently than necessary. They are also designed to maintain the correct temperatures which a domestic fridge or freezer would struggle with. |
| Freezing | Freezing of food at temperatures of -18ºC or below will prevent bacteria from multiplying. | A blast chiller can ensure food is cooled rapidly before storing in a freezer, reducing bacteria. They are also so efficient they can minimise costs. |
| Cooking | Temperatures of 75ºC or above are effective in destroying almost all types of bacteria. However, cooking temperatures below this level are also effective provided that the food is held at these temperatures for a suitable time period. | Using a combi oven with an inbuilt temperature probe ensures you are able to accurately record cooking data which can be invaluable for audit purposes. |
| Hot holding | Temperatures above 63ºC will control the multiplication of bacteria in hot food. | Hot cupboards are an ideal way to maintain temperature while transporting food to be served. |
| Cooling | Food should be cooled as quickly as possible and then refrigerated. This will limit the growth of any bacteria or germination of spores that might be present. | Blast chillers exceed regulatory requirements by rapidly chilling food before refrigerating, minimising the risk of bacteria. |
| Reheating | All food that has previously been heated and is to be reheated must be raised to a temperature of 82ºC, which will ensure that food has been reheated to a safe and, in some cases, legally required temperature. Using a suitable time/temperature combination will also ensure that the food has been reheated safely should higher temperatures be detrimental to the quality of the food, for example: reaching a core temperature of 70ºC for 2 minutes. | Using a combi oven can ensure that all of the vitamins and nutrients are locked in the food during the cooking and regeneration processes, while allowing you to accurate record the core temperature. |
Consideration #6: Food safety for those on special diets
When caring for vulnerable residents and service users with allergies and special dietary requirements, your care home kitchen MUST adopt the practices and processes necessary to avoid cross-contamination – one of the most common causes of food poisoning.
Catering equipment such as fryers carry a particularly high risk of allergen cross-contamination, it only takes a minuscule amount of an ingredient to cause an allergic reaction, so in many cases separate or twin tank fryers are recommended. If serving gluten-free food, commercial dishwashers must be used to ensure the complete removal of gluten from food contact surfaces, as unlike some domestic dishwashers, those designed for commercial kitchens can reach the sanitation temperature required by law.
Other things to consider for good food hygiene in care homes
Water safety
The Water Regulations Advisory Scheme (WRAS) was implemented to prevent contamination of public water supplies. Every item of equipment which is connected to the mains water supply must meet the Water Fittings Regulations and Bylaws, to ensure that no water which has been contaminated by equipment or use of chemicals flows back into the fresh water supply.
All the dishwashers in your care home must be WRAS approved to Fluid Category 5, which is the highest category.
Risks of not complying
If an inspection from your local water authority finds that you aren't meeting WRAS standards and you don't pass a second inspection, your machines will be condemned and failure to take action could result in your care home's water supply being disconnected. You could also be fined or prosecuted, as contamination of the water supply is a criminal offence.
Gas Safety
Gas Safety Regulation 35 requires businesses such as care homes to ensure that gas appliances, flues, pipe work and safety devices are maintained in a safe condition.Annual gas safety checks are a legal requirement and play a vital role in minimising risk to property, meeting compliance requirements and increasing the efficiency of your equipment.
Non-compliance with the Gas Safety Regulations is an offence and could result in an unlimited fine or a prison sentence, and invalidate any insurance claims.
Ventilation
Kitchen ventilation systems present a particular fire hazard due to the potential accumulation of grease. Without proper care, flames or high-temperatures can ignite this grease, causing a fire to spread through the duct. In a worst case scenario, sparks could ignite surrounding materials, putting your staff, your residents, and your premises in danger.
Effective kitchen ventilation should reduce the risk of fire by removing cooking fumes at the source, removing excess hot air, and generating cool, clean air. Proper ventilation is also required by law to provide an adequate supply of fresh air, prevent the build-up of carbon monoxide, and protect the health and safety of your employees.
TR19 – Duct cleaning
TR19 is a standard that was defined by BESA (The Building Engineering Services Association – previously known as the Heating and Ventilating Contractors' Association or 'HVCA'), as 'a way to standardise duct cleaning and kitchen extraction systems'. To meet the standard, it is recommended that testing be carried out at intervals 'not exceeding 12 months'. Monitoring of grease deposits may need to be carried out more frequently, so it's important that proper ventilation is installed, and that the system is maintained as regularly as possible.
Remember – your insurance company will not pay your claim if your ducting has not been cleaned. If you don't comply with TR19 you could be risking a fire that destroys your business.
Where there is a ventilation hood over the cooking area, there should also be a gas supply cut-out mechanism in place, so that, should extraction fail, the provision of gas to the kitchen equipment will automatically turn off. Any new kitchen (or one where more than half of the appliances are replaced) using a fan-assisted extraction system must have an interlocking system in place.
Tips for meeting food hygiene regulations best practice:
Ensure you are meeting the fundamental standards set by the CQC, including the five key questions they ask themselves during inspections.
Choose commercial equipment to make meeting your nutrition and food safety obligations easier.
Seek guidance from a JLA expert who can help you ensure your layout and processes will meet regulations.
Stay prepared – the CQC can arrive unannounced – be sure that you are always inspection-ready.
As with any part of commercial kitchen design, it's important to ask a JLA expert who can advise on layouts, workflows, regulations and maintenance. Our team can help you make informed choices, and find the best kit for your specific needs.