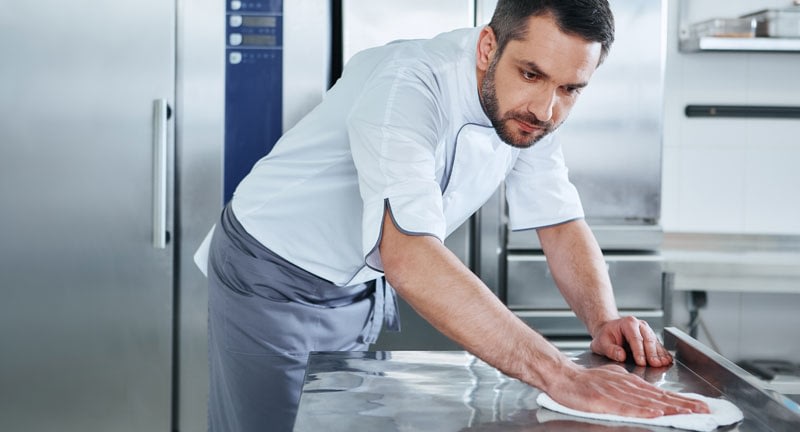 By following best practice, you can make sure that your commercial kitchen is always kept as clean as possible. You'll also make sure that you're following health and safety guidelines.
If you clean your commercial kitchen regularly, the task doesn't have to be difficult or time consuming. Here are the top appliances you should target, and a quick tutorial on how to keep them clean. With these steps, you'll achieve professional kitchen cleaning standards time after time.
Dishwasher
In order to perform cycle-after-cycle, try to keep your dishwasher free from food and debris.
You should always pre-wash dishes and make sure that 'baked-on stains' don't clog your filter. You'll know your filter is clogged when your dishes come out with blemishes and your tableware comes out cloudy.
If your dishwasher isn't running effectively, try using water softening salts. Using a multi-purpose cleaner will help to thoroughly clean your dishwasher, including all the seals.
Oven
If you use the right cleaning chemicals, then cleaning an oven shouldn't take much effort. However, you should always use gloves and ensure the kitchen is well ventilated.
Before you start, make sure to lay paper towels on the floor. This will stop cleaning chemicals dripping down. Then, remove all your shelves so they can be cleaned separately. It's best to soak these in warm soapy water.
Inside the oven, loosen any baked-on residue using a blunt instrument like a spoon. Then apply your cleaning solution, taking care to avoid touching the heating elements or the fan.
After the cleaning solution has sat for long enough, remove it using a scrubbing brush. Finally, wipe the oven down using a microfiber cloth and put the shelves back in.
Fridge
Cleaning a commercial fridge is simple. Once you've emptied the fridge, use a non-abrasive sponge to remove any spillages or debris. Then, remove the fridge's shelves and leave them to soak in the sink.
While they're soaking, spray the inside of the fridge with a multi-purpose cleaner and wipe down the walls, seals and doors before wiping the exterior with a damp cloth.
Once you've rinsed off the shelves and allowed them to air dry, reinstall them and finish the process by disinfecting the fridge door handle.
Microwave
The best way to clean a commercial microwave is to fill a microwave-safe bowl with two cups of water and place it inside. After the microwave has been on full power for 2-3 minutes, the steam produced will mean stains should lift off easily. Just use a multi-purpose spray and a dry cloth.
By performing a commercial kitchen deep clean on a weekly basis, you'll have peace of mind that your appliances will never become damaged by grease, stains and debris. Whether you're using domestic-sized appliances or industrial catering equipment, we offer a wide range of equipment to suit your needs. If you're looking to upgrade the appliances you're currently using, speak to our experts today.