A commercial water boiler – often known as an instant hot water dispenser – is a time-saving alternative to traditional kettle. Ideal for both staffed and self-service use in office kitchens, common areas, event rooms, reception areas or canteens, plumbed-in hot water dispensers are well worth considering if you're looking to cut costs and boost productivity.
While similar in terms of like-for-like energy consumption, what works out as more efficient for your organisation will depend on your usage. It's true that a boiler will become cheaper and cheaper to run the more you use it, but there are other key differences to consider in the water boiler vs kettle comparison, such as the reduction in time spent waiting for water to boil throughout the day (or night shift) if you have a mains-plumbed countertop water boiler.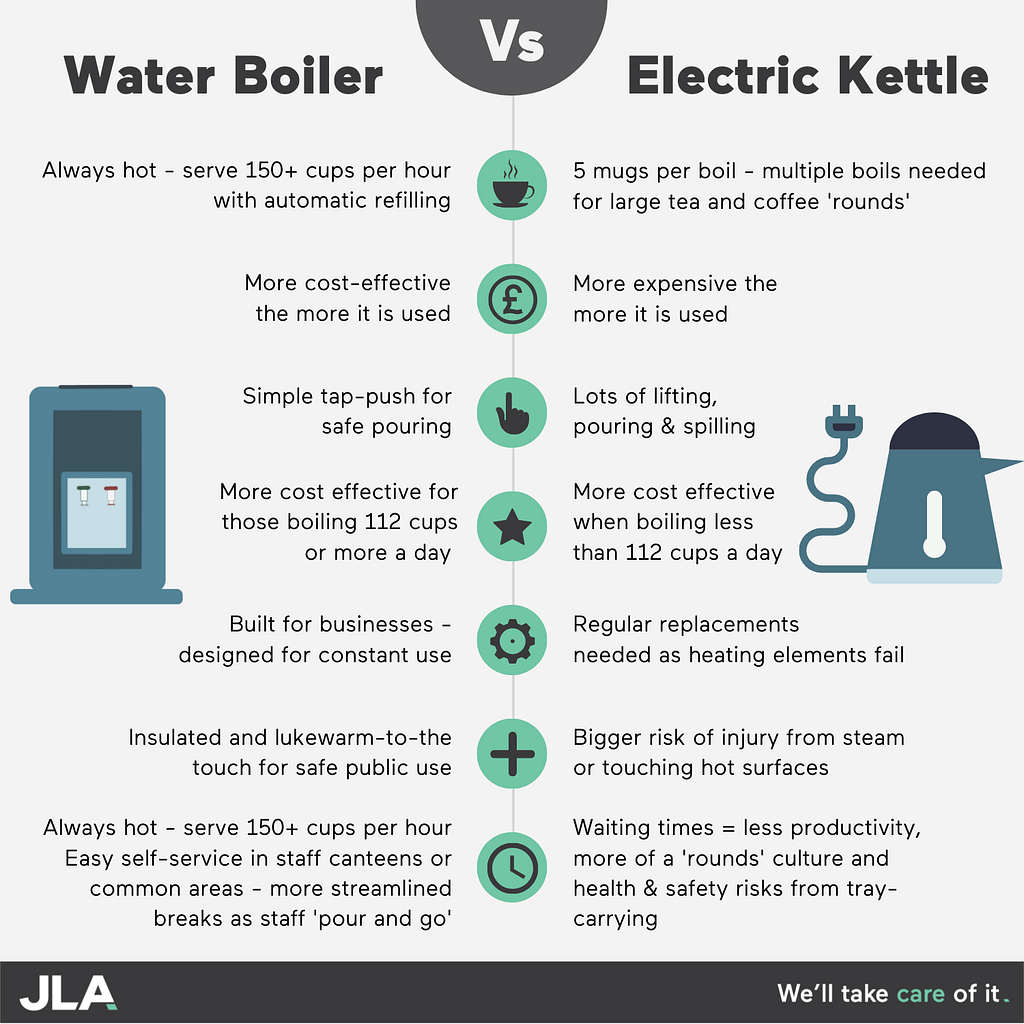 *This is an illustration only. The energy efficiency of a hot water boiler vs a kettle is entirely dependent on how much a unit of electricity costs your business. Check with your provider to understand how much you are charged per unit of electricity.
Water boiler vs electric kettle
Switching from a kettle to a hot water boiler will cut the waiting time for hot water, and if you're a big tea drinking organisation like us, your energy usage will drop too. While the energy usage to heat the same volume of water is the same, the main difference is that an electric kettle uses a large amount of electricity for a short amount of time and a hot water dispenser uses a small amount of electricity for a large amount of time.
Are water boilers more efficient than kettles?
The question of whether you should have a water boiler or a kettle is entirely dependent on your usage. It costs less to keep a water boiler hot than it does to constantly refill and boil a kettle. This is because your kettle uses a large amount of energy for a short amount of time, whereas a hot water boiler uses a smaller amount of electricity for a larger amount of time.
Ultimately, the more water you boil throughout the day, the more likely it is you'll benefit from a water boiler.
By our calculations, if you're paying 52p per kwh for your electricity and you're drinking over 110 cups of tea or coffee a day, a water boiler will be more cost effective. (You can see our calculations below.)
How much does a kettle cost to boil?
If we look at the numbers in more detail, an average kettle (3kW) takes 4 minutes to boil at each visit. A unit of electricity costs around 52p*.
*Depending on individual tariff/rate
3kW x 0.07h = 0.21 kWh, 0.21 x 52p = 11p to boil a full kettle each time which means…
| Staff | Mugs | Boils |   | Cost per day |
| --- | --- | --- | --- | --- |
| 20 | 80 | 16 | 16×11p | £1.66 |
| 30 | 120 | 24 | 24×11p | £2.50 |
| 40 | 160 | 32 | 32×11p | £3.33 |
How much does it cost to run a water boiler?
A 3kW boiler on standby will use 0.07kW/h, that's one unit of electricity (52p) in 14 hours (3.71p per hour), or 89.14p per day. In-use, a water boiler automatically refills and only boils the water used at each serving. It 'heats' for 30 seconds per mug of water drawn-off  (1 minute for 2 mugs, 2 minutes for 4 mugs and so on). For 20 people drinking 80 mugs, the dispenser will be on for 40 minutes (0.66 hours) throughout the day (3kW x 0.66h = 1.98kWh 1.98 x 52p = 102.96p).
Add this to the standby cost of 89.14p per day and we get…
| Staff | Mugs | Cost per day |
| --- | --- | --- |
| 20 | 80 | £1.92 |
| 30 | 120 | £2.43 |
| 40 | 160 | £2.95 |
Water boilers are built for commercial use, so they'll last longer too. The heating element in a household kettle often found in the office kitchen, simply aren't up to the task. So in addition to the running costs outlined above, you can expect to replace them regularly if you stick with them.
Aside from energy efficiency and considerations in relation to finances, there are also further benefits water boilers can provide. For example, a positive impact on a building's BREEAM rating (certification system which helps businesses to improve their environmental impact). For workplaces looking to operate more sustainably and keep energy costs low, they're a great investment.
Another key consideration is hard water. If you're based in a hard water location, limescale build up is more of a concern for you. Not only does this impact the taste of drinks, but over time, it can also damage the longevity and efficiency of a kettle. A water boiler, however, can be filtered and serviced to avoid these issues.
In conclusion, repeatedly boiling a kettle is both time and energy inefficient. Kettle's waste energy when overused as they lose heat throughout the boiling process. Instant hot water dispensers are much more energy efficient, with as little as possible wasted.
That said, if you are only having two cups of tea per day per premises, then stick to your kettle!
Ideal for staffrooms, office kitchens, canteens, waiting rooms and event spaces, our JLA compact water boiler features:
Automatic refilling – plumbed into your mains
Simple tap pouring
Insulated casing for safe public use
162 cups per hour output (27 litres)
Built-in filter for optimum hot water quality
Electric temperature control at 97 degrees
LCD for simple fault diagnosis
Boil-dry protection
Stainless steel drip tray included
Insulated for minimal heat loss
WRAS approved