What Is A Convection Oven?
A commercial convection oven – sometimes called a fan-assisted oven – cooks food by circulating hot air evenly around the heating chamber. With constant temperature distribution over your meat, potatoes, pies or other bakes (typically 25% lower than most other types of oven need to reach), you'll benefit from faster cooking times and consistently high quality when it comes to serving a large volume of dishes.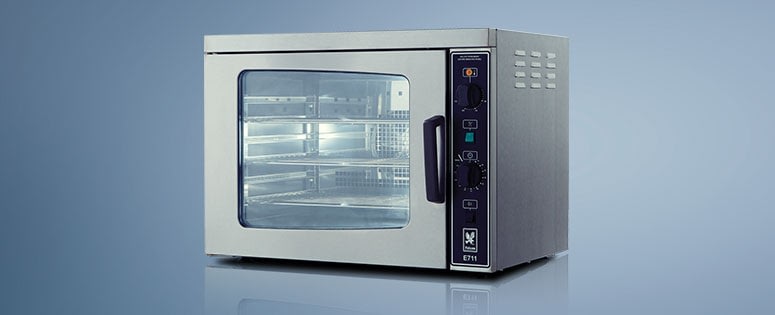 Convection ovens are great for certain types of restaurant serving requirements – like a carvery – as well as businesses like care homes where you need to cook similar foods quickly at the same time.
The advantages of a convection oven
The benefits of a convection oven at-a-glance…
When to use a convection oven
Best for: roasting, baking pies and pastries, toasting and even dehydrating.
Convection ovens are ideal for roasting. Meats and vegetables cook faster, more evenly, and the drier environment will give you crispy skin, a brown 'finish' and caramelized edges to make your dishes look as good as they'll taste.
Top tip: Only use certain types of dishes (with low sides) and don't overfill the oven.
When not to use a convection oven
Not-so-good for cakes, some types of breads, soufflés.
If you try to bake cakes in a convection oven, they will be raw in the middle and cooked on the outside – so other types of oven would be better for businesses like care homes that cook lots of cakes and sponges (because baking requires moisture retention which isn't a feature of fan-assisted cookers). Convection ovens can also change textures, so things like quick breads are also a no-go.
Enjoy a delicious helping of consistency
In conventional ovens, the heat will rise to the top of the cavity, which can lead to burning (and often undercooking the middle or the base) of foods like puddings and pastries. With even fan-assisted baking, there'll be no more burnt biscuits on the top shelf while the bottom shelf batch stays soft and dough-y.
How does a convection oven work?
A convection oven cooks by pushing dry heat all around the chamber, over the top of the food – just like a fan oven you might use at home. An exhaust system vents the hot air out as new air is circulated in, maintaining a constant flow of air. The combination of both radiant heat and heated air moving across the food means your ingredients cook faster, more consistently and at a lower temperature, saving you time, energy and money.
Chop your energy bills by up to 20% per month*
Cooking more food in a shorter time– around 25% faster than traditional ovens – will help reduce your business's gas or electricity usage. Thanks to their optimum airflow, convection ovens require less heat than you might need in a different type of cooker too, which makes them an extremely efficient choice for the planet as well as your bottom line.
*Source: Study by the US Department of Energy – comparison with a standard oven
Slice waiting times for residents, guests and customers
Commercial convection ovens are, by their nature, much more powerful than their domestic 'home kitchen' cousins – designed to cook faster and help you send more meals through your pass to maximise revenue, without compromising on quality. With shorter waiting times, this type of oven has a direct impact on customer satisfaction – as well as those all-important reviews if you're running a hotel or restaurant kitchen.
Best for browning: because hot air passes over the top of your food, it turns roasts and bakes a toasty brown in less time than different types of oven might.
Don't shell out for shrinkage
With shorter cooking times, meats have less chance to shrink and dry-out, so you won't have to 'over-slice' – and eat into your margins – in order to give your customers the portion they pay for or keep your residents happy.
Conventional ovens are prone to uneven cooking, because the hot air inside doesn't move around and sits at the top of the chamber – burning some food while leaving other items undercooked.
At JLA you'll find a range of ovens that could help you meet daily challenges in a commercial kitchen. Browse our appliances here, or get in touch below to ask our experts for advice.