JLA's Chief Technology Officer Robert Ackland discusses the powerful new tools helping care providers improve efficiency in their laundry rooms.
What do we mean by 'digital laundry solutions'?
Digital laundry solutions are a suite of Cloud-based systems that allow owners and operators to get valuable insights into how their laundry equipment is performing from day to day.
While still fairly new, these technologies are already proving especially useful for care providers who want to optimise their laundry processes. This could mean saving energy, reducing environmental impact, or making sure that laundry rooms are operating in line with CQC compliance standards.
At JLA, we're also using this technology to monitor our customers' equipment remotely. This way, we can identify potential issues before they cause any disruption, and help to ensure our customers are getting the very best returns from their equipment.
As we continue to revolutionise how critical equipment is owned and managed, we offer these connected laundry features through Total Care, our all-inclusive equipment and support package. Compatible Total Care equipment includes remote monitoring as standard, while all Total Care customers can manage their JLA account 24/7 through our free MyJLA portal. MyJLA allows these customers to see all their equipment in one place, view equipment insights, access all their key documents in one place, and even purchase detergents direct.
Improving laundry room performance
With a core focus on person-centred care and a high compliance burden to manage, most homes are happy if their laundry equipment just works. But left unchecked, a poorly operated laundry can significantly increase energy costs, damage the environment, and, in the worst cases, become a vector for infection.
This is why it's so important to take a closer look at your laundry room's performance. And now, with digital laundry solutions, it's simpler than ever to understand how well your equipment is doing – often at a glance.
At JLA, we've made it possible to monitor the cycles you run, view energy and water consumption, and even see live estimates of your carbon emissions. Plus, if you operate multiple locations, you can see everything in one place through the MyJLA portal, and even give your local managers the ability to see, monitor and improve performance at their own sites.
Alongside this, our laundry experts will continually check for potential issues. If we spot a problem, we'll have an engineer with you within Total Care's industry-leading SLA.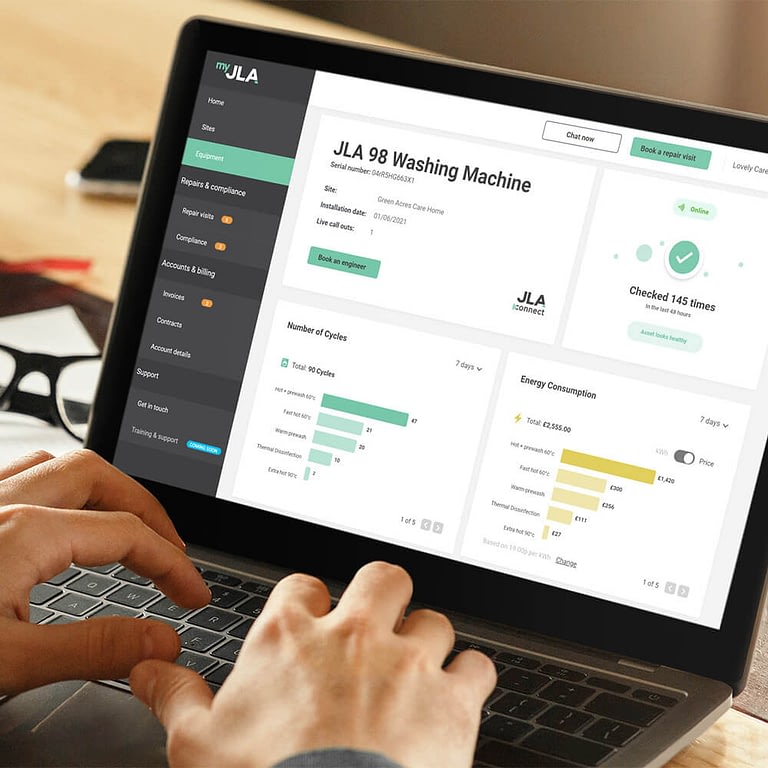 Driving laundry room sustainability
While the industry's move to greener equipment gathers pace, digital laundry solutions such as JLA's are making the transition as simple as possible. Another benefit of our digital solutions is that we can check in on the cycles running in your laundry to make sure everything matches your expected usage profile.
After all, too many hot washes could be costing you in wasted energy and unnecessarily increasing your carbon footprint, while too few hot washes or large numbers of incomplete hot washes could be putting your residents at risk of infection. Armed with insights like these, we can help you tune your laundry room to the exact needs of your business, and make sure your equipment remains well-suited.
Plus, when you need to quickly demonstrate infection compliance or environmental compliance, it's infinitely easier because all your records are safely stored online on MyJLA.
What's next for digital innovation in care home laundries?
The last year has marked only the start of digital laundry solutions, and thanks to a growing focus on energy and money-saving, innovation is moving quickly in this sector.
Here at JLA, we're planning to not only make compliance more visible to our customers, but also offer organisations more tools to demonstrate their excellence in infection control compliance. We're also developing ways to offer real-time suggestions designed to help you make the best of your equipment.
We'll also continue to develop our digital laundry solutions so that they remain easy access and intuitive to use, so that none of our customers will need specialist knowledge, training or equipment to take advantage. We're dedicated to removing hassle and obstacles so that there's nothing to stop you taking the performance of your laundry to the next level.