Looking to replace an old boiler? Explore the future of heating with our guide to low-carbon, energy-saving air source heat pumps.
Upgrade to save energy and reduce your carbon footprint
If your boiler is reaching the end of its serviceable life, it's worth considering your options. A straight replacement might seem the obvious answer, but newer, more efficient technologies now offer viable – and surprisingly affordable – alternatives.
One of these options is to replace your old boiler with an air source heat pump. These systems are designed to reduce your carbon footprint, save energy, and reduce your utility bills in the long run. And they do all this while delivering reliable heating and hot water, year-round.
So, what's an air source heat pump?
Air source heat pumps are electrically powered systems that extract heat energy from the air surrounding your building, even in the coldest weeks of winter. They then transfer this heat to the inside of your building – almost like an inside-out fridge.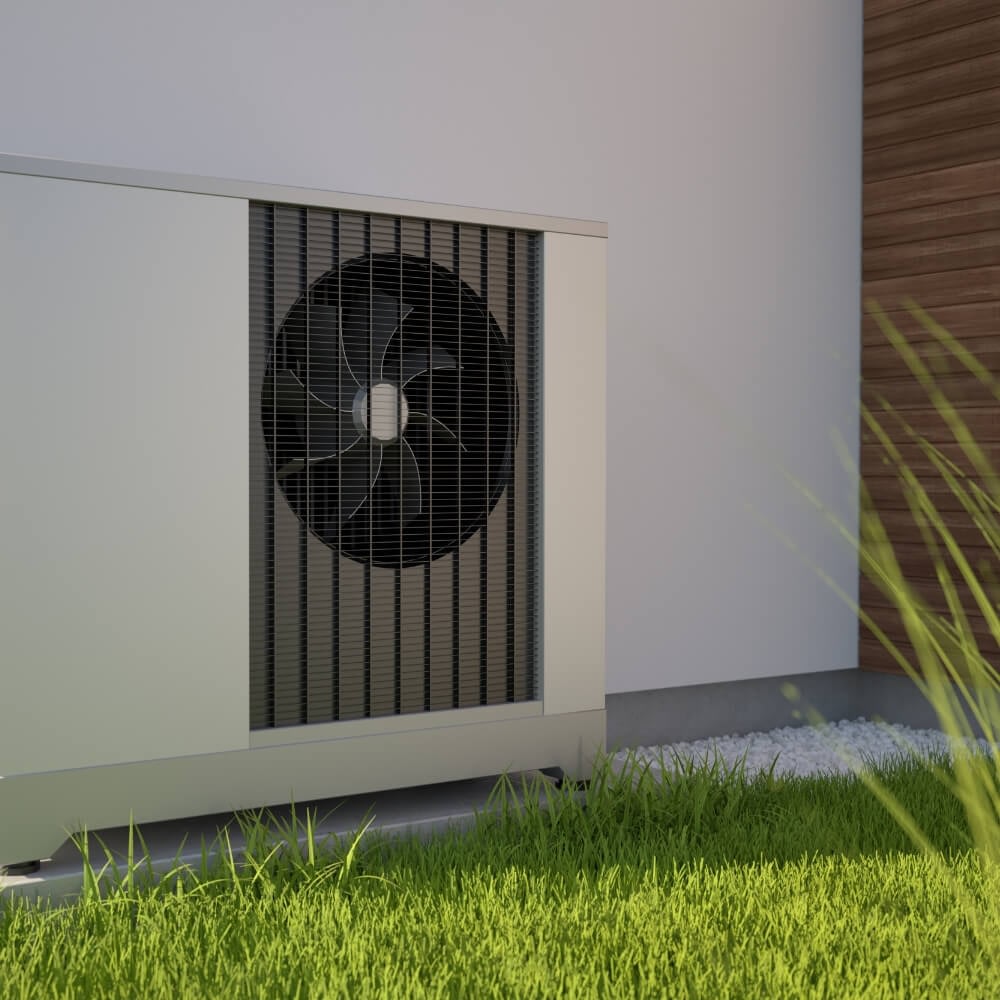 How do air source heat pumps work?
Firstly, an external fan draws outside air over a network of tubes filled with refrigerant gas, which circulates at -28°c. This refrigerant absorbs the heat energy from the air, and turns it into a gas.
This gas then passes through a compressor, which raises the gas's temperature, causing it to change into a hot liquid.
This compressed hot liquid finally passes into a heat exchanger, which heats water for both the radiator heating circuit and water outlets including taps and showers. The refrigerant, now cooler, turns back into a cold gas and is pumped back to the outside unit to capture more heat.
What are the benefits of air source heat pumps?
Air source heat pumps can be over 300% more efficient than a traditional gas-powered boiler. Given the ongoing energy crisis, this could mean you save money on your energy bills while simultaneously reducing your carbon footprint.
An air source heat pump can still work effectively in freezing temperatures, which means you'll be able to enjoy reliable heating and hot water all year round. Yes, heat pumps are more efficient when it's warmer outside, so you can expect them to work a bit harder when it's cold. But when hot water and warm radiators are essential, it's reassuring to know.
They're easy to look after
Unlike a boiler, which you can usually expect to last around 10 years, an air source heat pump has fewer moving parts and should work effectively for at least 15 to 20 years. On top of this, they're much easier to maintain, keeping call-outs – and downtime – to a minimum.
Consistent heat for longer
Heat pumps work at a lower internal temperature than a gas or oil-fired boiler, which means radiators won't feel as warm. However, an air source heat pump provides gentler, more efficient heating over much longer periods, instead of quick boosts of heat on demand. This is particularly useful in the care sector, where it's important to minimise the risk of residents burning themselves on radiators.
Is an air source heat pump the right option for you?
With some minor updates to make sure everything works properly, any building can be suitable for a heat pump. Here are your basic requirements:
The building needs to have enough exterior space for an outdoor condenser unit, which can't be sited within a metre of neighbouring boundary walls
There's space inside for a buffer vessel
The building has good insulation, such as cavity wall and loft insulation, larger surface area radiators and double-glazed windows. If this isn't the case, we recommend upgrading to larger surface area radiators to help improve the efficiency of the heat pump and reduce your overall running costs. If you have old or single panel radiators, you may need to swap them for double or triple-panel units.
It's worth saying that the noise from a heat pump is similar in volume to a fridge. As it gets colder outside, this noise will increase while it's operating. However, you shouldn't be able to hear the sound from indoors.
Will an air source heat pump save me money?
In theory, a more modern and efficient system should also reduce your energy bills. But there are other factors that will decide whether or not you'll be able to save. These include:
Your current electricity tariff
The type of heat pump you've installed
The design of the heating system
Your geographical location and the average air or ground temperatures throughout the year
Savings will also depend on the system being replaced. If you're replacing an old, non-condensing gas boiler with an air source heat pump, you'll likely save more than if you have a more modern condensing gas boiler. In these cases, a heat pump may cost slightly more per year to run due to the current cost of electricity.
What else should I consider before I install a heat pump?
Costs – an air source heat pump is currently typically 5 times more expensive that a natural gas boiler
Upgrading your radiators – some heat pump system designs, especially low temperature heat pumps, also require larger radiators to work at their maximum efficiency
Underfloor heating – heat pumps work best when there's less difference between the inside and outside temperatures. Floors cover a much bigger area than radiators, so they don't need to get as hot to provide the same amount of heat. This makes heat pumps a good match for underfloor heating (though it's not an essential pairing)
Can I use an air source heat pump for hot water?
Even without replacing your boiler, a heat pump can be a great solution for producing hot water, and a big first step towards reducing your business's carbon emissions.
Heat pumps are 3-4 times more efficient than gas boilers
They're low carbon (which can be reduced further with a renewable energy tariff)
They offer reduced long-term running costs
They're lower maintenance and have a long service life
To improve running costs, you may need to improve your insulation. However, adding more insulation is beneficial regardless of the heating system you have
Air source heat pumps cost more to install than other, more traditional heating systems
Installation can take much longer than replacing a gas boiler, as it's not a like for like replacement; you'll need to plan around this to minimise disruption to your business
You need enough space outside for the pump and inside for a buffer vessel / water cylinder. Air source heat pumps also need an indoor unit, but this is exactly the same as replacing the existing boiler and will usually go in the same location
What are the different types of heat pump?
These units transfer heat directly into the air in your rooms. More commonly known as air conditioning units, they can switch between heating and cooling depending on the season. However, it's worth noting, these types of heat pumps don't usually provide hot water.
These units transfer heat to an existing wet heating system (radiators, underfloor heating).
This is where air source heat pumps are combined with a boiler. The boiler can assist the heat pump by providing hot water or a heating boost during a particularly cold snap.
How can I look after an air source heat pump?
Air source heat pumps have a typical working life of 15-20 years. Just as you would with a boiler, you should get your air source heat pump professionally serviced every year to make sure it's working efficiently and to help prolong the life of the unit.
There are some things you can do yourself, too. Firstly, always follow the manufacturer's instructions on how to use your heat pump.
Next, make sure there's always plenty of air around the heat pump. This means regularly checking for leaves or rubbish caught at the back and side of the heat pump, and pruning back any plants growing too close to the unit or its pipes. During the winter, you'll also want to clear snow from the heat pump.
How much does it cost to run an air source heat pump?
As every building is different, we can only offer approximate running costs for an air source heat pump. Let's say a property needs 18,000kWh of heat per year. In this example, you'll need to divide that heat requirement by the efficiency of the appliance, then multiply it by the price of the fuel to get the total running costs of a particular appliance.
Using current average fuel prices:
| Appliance | Efficiency | Calculation | Total per year |
| --- | --- | --- | --- |
| New gas boiler | 92% | (18,000kWh ÷ 92%) x 35p per kWh of gas | £6,848 |
| Older, non-condensing gas boiler | 70% | (18,000kWh ÷ 70%) x 35p per kWh of gas | £9,000 |
| Air source heat pump | 300% | (18,000kWh ÷ 300%) x 45p per kWh of electricity | £2,700 |
If you'd like to work out a similar equation for yourself, check your current energy bills for the amount of kWh of heat required to heat your property, and your current energy tariff.
It's worth bearing in mind that the above example assumes the building is fully insulated and has larger surface area radiators, so it's as efficient as it can be. Your current building setup will influence the amount of kWh of heat you need.