If your business has the space, personnel and resources to manage an on-premises laundry, this is considered a far better option than outsourcing to a third-party service.
But what exactly are the benefits of having a laundry on-site? And is it really as efficient or cost-effective as relying on external providers?
In this post, we're taking a look at some of the key advantages that an on-premises laundry can bring, so you can decide if it's the right direction for your business.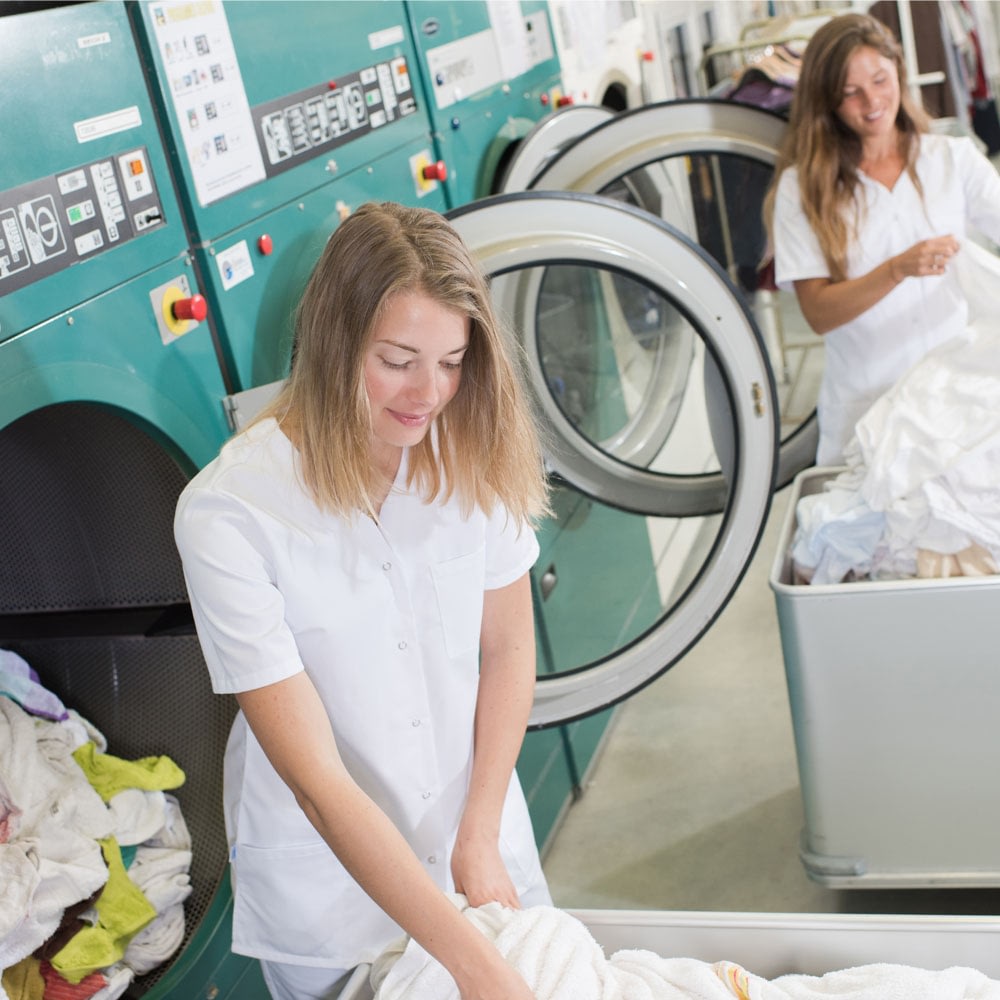 First things first – what is an on-premises laundry?
As the term suggests, an on-premises laundry is when an organisation has a laundry facility at its premises, including commercial washing machines and tumble dryers required to launder garments without outsourcing any stage to third parties. Many businesses may choose to integrate an on-site laundry into their day-to-day operations, from hotels and care
What are the benefits of an on-premises laundry?
So long as you have the space and resources, integrating a laundry facility onto your premises can bring a whole range of benefits, including…
1. Cost-effective and no surprise fees
With no need to worry about unexpected service charges and price hikes, an on-premises laundry can offer greater cost-effectiveness and ease of budgeting. Even when taking into account additional staffing and energy costs, many JLA customers have made savings from bringing the entire laundry process on-premises.
The emissions from transporting dirty and clean laundry to the commercial laundry facility could be significant over time. Many companies who are seeking to reduce their carbon footprint in the supply chain are looking at bringing laundry in-house as a more sustainable solution.
3. Better quality control
For organisations with strict hygiene, infection control and operating standards, setting up an on-premises laundry can improve the quality control process. In situations where there may be concerns about the quality of laundry processed by the outsourcing partner, this should be an important consideration.
4. Quicker turnaround times
Utilising commercial laundries can often be a long process from storage of dirty laundry, collection by truck, washing and drying in the commercial laundry, delivery and storage of clean laundry. Taking full control of the process can reduce the time taken to process laundry, which could even reduce the total volume of garments, uniforms and linens required.
5. Better for smaller volumes
Some commercial laundries have minimum order volumes, which may be unsuitable for smaller and medium-sized businesses. To counteract MOV, some companies are required to store dirty laundry until it reaches a certain threshold, which is not best practice for hygiene standards.
6. Stability in rural locations
In some parts of the UK and Ireland, commercial laundry businesses are no longer operating in rural communities due to the cost of transportation and logistics. This has particularly affected hotels and care homes in rural areas in Ireland, which are no longer able to outsource their laundry. On-premises laundry would resolve these issues and provide stability for businesses and organisations in rural areas.
One of the main objections to in-house laundry has been the capital outlay required to set up and maintain the equipment. With JLA Total Care, you pay nothing upfront and get free installation with 24/7 emergency support, all for a simple monthly fee.
Keen to learn more about the process of bringing a commercial laundry in-house? Our expert Q&A on the topic should shed a little light.
We hope this resource has shone a light on some of the key advantages that can come from bringing your commercial laundry in-house. If you require assistance in setting up a laundry room on your premises, the experts at JLA are here to help. Find out more about our commercial laundry solutions or call us today on 0808 239 7813.