If you thought there was only one type of detergent to use in your commercial laundry, think again. There's actually a substantial range of cleaners, treatments and conditioners available, each suited to its own unique applications.
So, what are the main types of commercial laundry detergent? Which products are used for what? And is it safe to use a combination of chemicals in a single wash cycle?
We'll talk you through the different commercial laundry detergents on offer and how they can be used.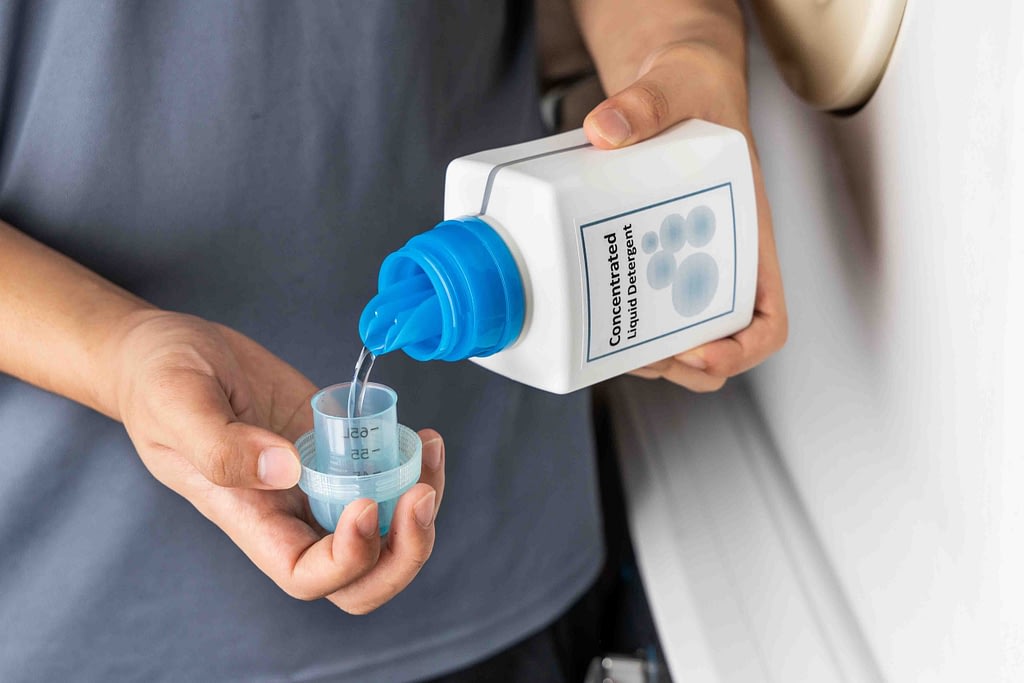 Commercial bio (biological) detergent contains enzymes which break down stains and dirt on garments and linen, making it a highly effective stain-remover when used in regular wash cycles. Bio detergent is particularly good for absorbing fat, grease and oil, so is perfect for use in commercial laundries where food stains are relatively common.
One of the key benefits of using bio detergent in a commercial laundry vs other cleaners is that you'll enjoy the same stain-busting benefit even at lower temperatures and on shorter cycles – perfect if you're looking to improve efficiency and manage energy overheads.
Non-biological (non-bio) commercial laundry detergent is essentially the same as bio detergent without the powerful cleaning enzymes. This means it may be safer to use for some clothing and bed linens, particularly where people have sensitive skin or allergies, as biological detergent can cause mild skin reactions.
While non-bio detergent is a go-to commercial laundry cleaner for many organisations – particularly care homes and other social care facilities – it does have its drawbacks. For instance, to achieve the same stain-removing performance of bio detergent, it's necessary to use much higher temperatures, which can impact efficiency and consumption.
There are occasions in commercial laundries when garments and linens are too heavily soiled to rely on bio and non-bio detergents alone. In these instances, a destainer may be required to cut through stains and achieve the required level of cleanliness and hygiene.
Destainers contain specially formulated compounds that lift stains and absorb dirt and oil present in heavily soiled laundry. These detergent treatments are particularly useful in settings where there is a high volume of soiled clothing or linens.
Emulsifiers are a form of commercial laundry stain remover that emulsify mineral oils, fat and grease – stains which can prove difficult to remove using detergent and standard destainers alone. They're ideal for laundry facilities in commercial kitchens, wherein items like aprons, uniforms, tea towels and cloths can become stained with fat, grease and oil.

We're sure you're familiar with fabric conditioner. This is a laundry additive that helps to soften and nourish the fibres in garments, linens and towels, improving their appearance and longevity.
Of course, one of the other benefits of using commercial fabric conditioners is the fragrance they impart. They also increase the speed of drying, protect against colour fading and have additional protection against bobbling.
OTEX biological liquid laundry detergent has been specifically developed to work in coordination with the JLA OTEX ozone disinfection system. It removes stains and maintains linen quality and colour during the cool wash cycles in which OTEX works best.
OTEX is considered the gold standard in laundry disinfection, trusted by hospitals, care homes and other social care organisations. Our unique ozone laundry system kills harmful germs and micro-organisms in every wash cycle, with innovative OTEX washers combining with our specially formulated detergent to maintain optimal laundry hygiene standards wash after wash.
Keen to learn more about the different types of detergents and laundry treatments available for commercial use? Our commercial laundry and chemical cleaning pages has you covered. Or if you have a specific question, call our experts on 0808 239 2982.