Commercial washing machines have a lot on their plate. Relied upon for heavy-duty use in professional laundries, they're often required to work on a near-continuous basis – meaning their long-term durability, efficiency and performance are absolutely paramount.
So, when you invest in a commercial washing machine, how long should you expect it to last? That's what we're here to find out. 
Our experts have put together an essential guide to professional washing machine longevity, including insights into their typical life cycles.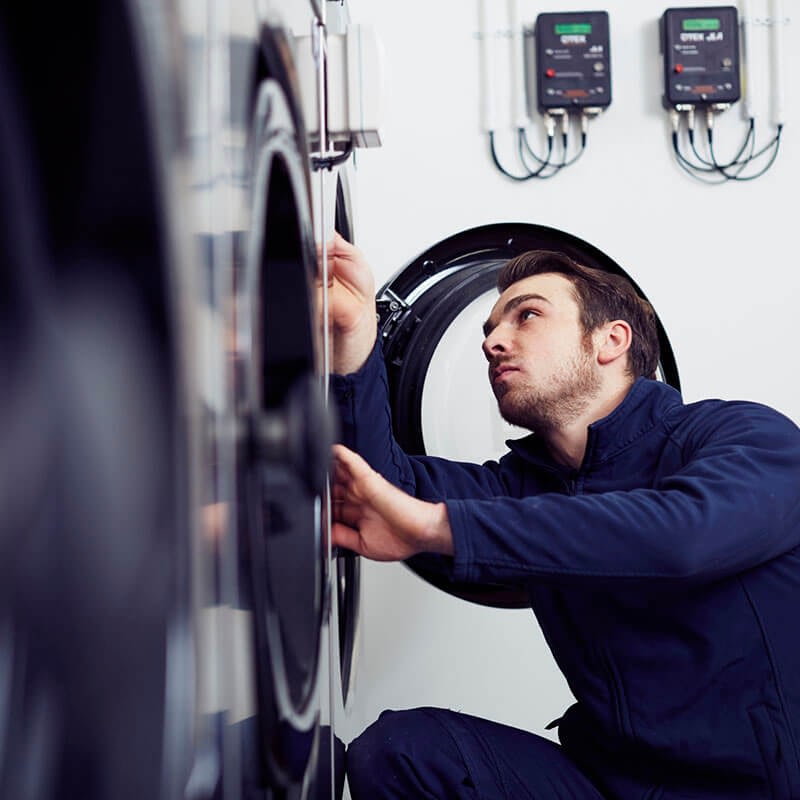 How long should a commercial washing machine last?
A well-maintained commercial washing machine that has been correctly installed and serviced in line with manufacturer recommendations should typically last from 10-12 years. That's based on heavy-duty, continuous use.
A decade or more might sound like an implausibly long time when you consider how hard these machines work, but their longevity is all thanks to build quality and construction. JLA commercial washing machines feature durable components and are assembled in line with stringent quality standards. This sets them apart from the domestic washers you may be used to and means they're able to cope with the demands of a high-volume professional laundry room.
Of course, a lot can affect the long-term performance and durability of a commercial washer, with the potential to shave years off the expected life cycle. The section below looks at the factors that can affect how long your professional washing machine lasts.
What can affect the life cycle of a commercial washing machine?
10+ years is only an estimate of how long an industrial washing machine should last. Lots of factors can influence the lifespan of your machine, including:
Installation: Correct installation is essential to ensure that a commercial washer stands the test of time. That's why when you purchase an industrial-grade washer from JLA, our experts will set everything up to the highest possible standard.
Servicing: All professional laundry equipment requires regular servicing and maintenance to keep internal components working at their best. As part of an annual service, our engineers will test your machine, clean out its filters, and check that all parts are working as they should.
Repair and maintenance: Whatever the problem with your commercial washer, and however trivial it may seem, it's important to deal with it as early as possible to prevent bigger issues from developing. With Total Care from JLA, you're covered for all repairs and maintenance, and our engineers will respond within eight hours to handle any and all problems with your machine.
Regular cleaning: Cleaning your washing machine on a regular basis is essential to ensure long-term, fault-free performance. It's essential that you keep your machine free from mould, bacteria and blockages, otherwise, serious problems can start to develop. Read our guide on cleaning commercial washing machines to learn more.
Misuse: Commercial washers are significantly different to their standard domestic counterparts, so it's vital that laundry team members are given the correct training on how to operate these appliances. What's more, commercial laundry washing machines should be stored indoors, in a dry room and in a place where they cannot be vandalised, particularly in secure public sector settings.
Detergents: Using the right detergent can help your washing machine last longer, particularly in areas subject to limescale. Also, utilising auto-dosing pumps can prevent blockages in your machine thanks to accurate volumes of detergent dosing.
So, the key takeaways from our guide to how long commercial washing machines last are: your machine should last 10-12 years, provided you take the right steps to maintain and service it.
For more information on commercial washing machines and tumble dryers, visit our help and advice centre or give our experts a call on 0808 239 7578.