During continuous day-to-day use in commercial settings, mops are put through the wringer. Collecting dirt, grime, and bacteria from a range of surfaces, they can easily contribute to the spread of germs themselves if they're not cleaned regularly.
But, of course, anyone who's ever attempted to clean a mop will know just how tricky this can be. Commercial mops are specifically designed to trap dirt, so freeing all particles and bacteria from mop fibres can be a challenge in and of itself.
If you're struggling to maintain peak hygiene standards due to unclean mop heads, this guide can help. We'll look at the types of mops typically found in professional cleaning settings, before offering a few tips on how to ensure that they're kept clean and germ-free.
What are the most common types of commercial mops?
Mops are used by cleaning professionals in almost every industry sector. They require specialist cleaning to guarantee sparkling results with no threat of germ spread and bacterial contamination.
Typically in most commercial settings, cleaning personnel will use two types of mops to achieve peak hygiene standards within as efficient a timeframe as possible. These include:
Dry mops are used to collect loose dirt, dust, and debris on hard surfaces prior to cleaning the floor with a wet mop. Flat in shape, they typically feature a removable microfibre mop head that captures dust and dirt, ensuring that when wet mopping begins, you aren't simply pushing loose debris around the room.
Since the microfibre layer of a dry mop can usually be removed, it is possible to wash this in a standard washing machine or by hand. This makes dry commercial mops significantly easier to keep clean than their wet mop counterparts, which we'll come on to next.
Wet commercial mops are what most people will be familiar with when thinking about a standard mop. These are used alongside water, cleaning chemicals and a mop bucket to clean up spillages, disinfect floors, and ensure a deep clean on heavily soiled surfaces.
Like dry mops, it's possible to clean wet mop brush heads in a standard commercial washing machine. And that's important, as wet mops can certainly hold on to a lot of dirt and bacteria if they're not cleaned thoroughly after each use.
How to clean a commercial mop in 4 simple steps
Provided you have the right equipment and use the correct process, it's easy to clean a commercial mop effectively and ensure that the microfibre surface is free from bacteria and ready to be used again. When using the correct cycle on a commercial washing machine, all of the following steps will be automatically taken care of.
Step 1: Preparation for washing, including removing any loose dirt, dust, debris, or sticky residue.
Step 2: Once the pre-rinse cycle is complete, detergents are added and the mop head is washed on a hot water cycle to eliminate germs and bacteria.
Step 3: The mop heads are rinsed again to remove any remaining detergent residue from the brush fibres.
Step 4: To speed up the drying process, the mop heads will be put on a fast spin cycle to remove as much water as possible. Be sure that your machine is properly balanced before spinning mop heads to reduce the risk of damage.
Once the mops have been spun, all that's left is to dry them, which you can do either naturally or using a commercial tumble dryer.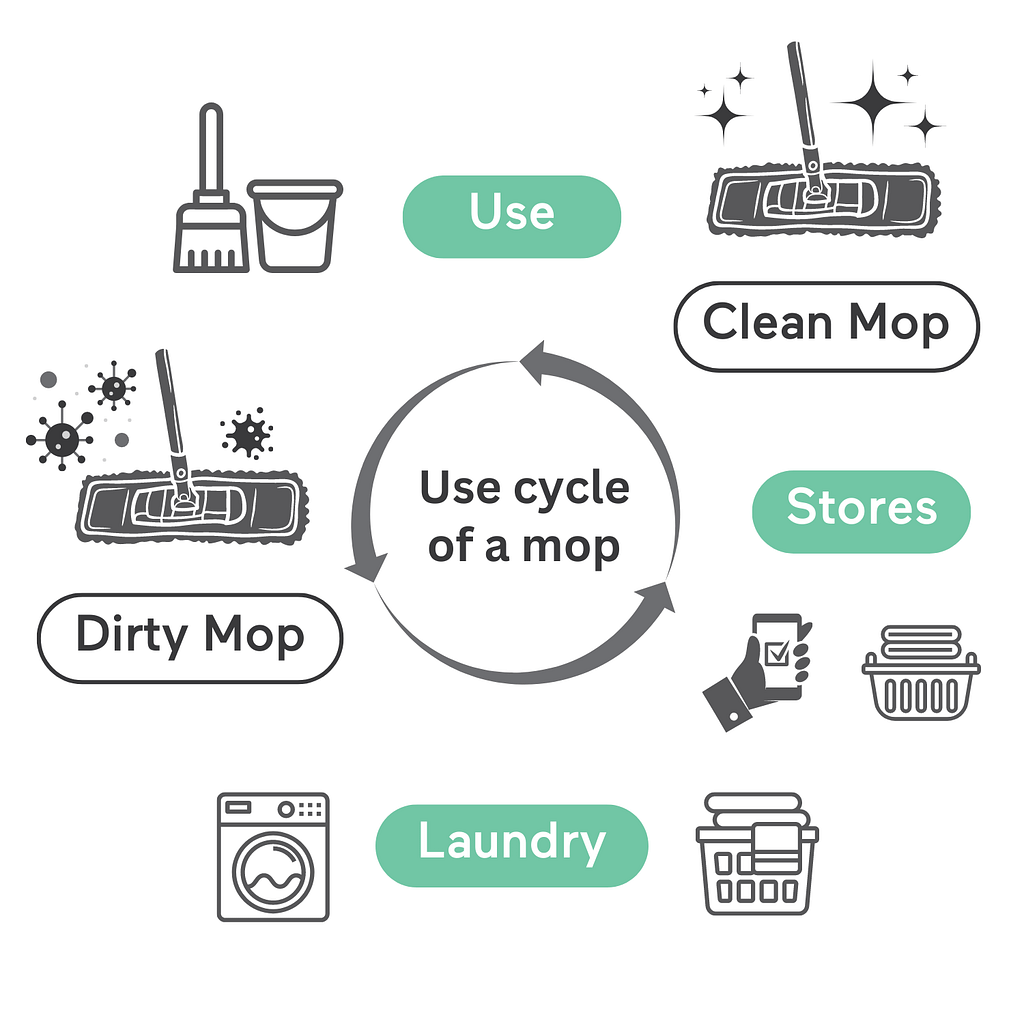 We hope this guide offers practical tips on achieving the best results when washing commercial mops. For more inspiration and advice, be sure to check out the JLA blog or view our complete commercial laundry range.