When you're responsible for the smooth running of a busy commercial laundry, the presence of stubborn stains can easily slow you down. That's why having an effective stain-removal process is so critical to the long-term efficiency and success of professional laundry facilities.
Whether it's spillages from food and drink, ingrained dirt and oil, or other hard-to-remove marks – knowing how to remove different types of stains can be invaluable. We will offer general guidance on how to remove stains quickly and easily, all while adhering to compliance measures and best practices.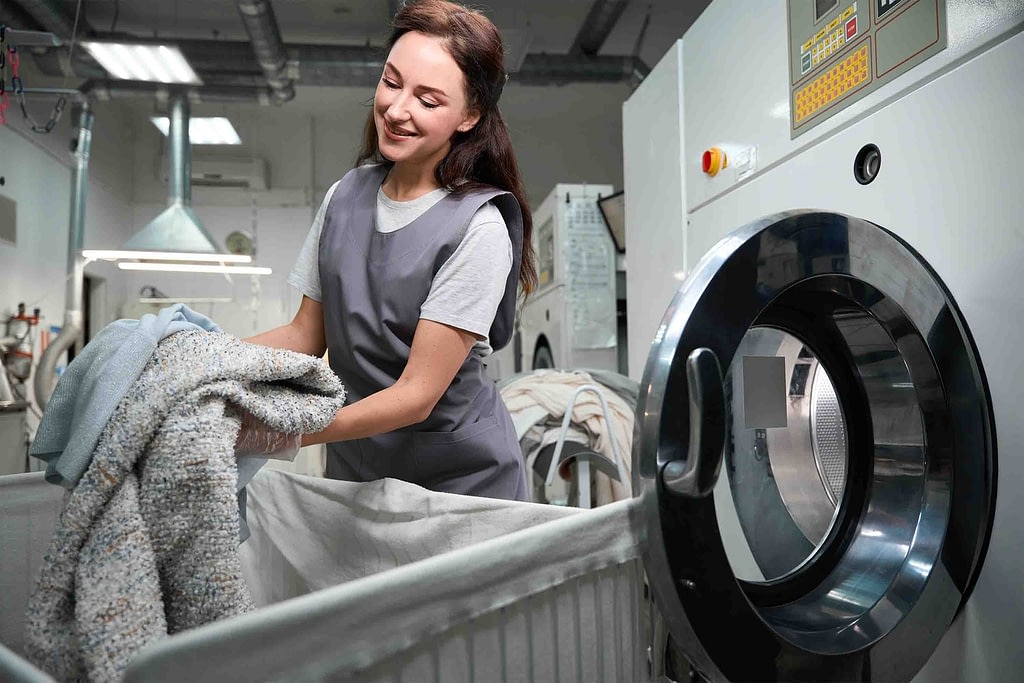 General dirt or stubborn stain: What's the difference and how are they defined?
When it comes to treating dirt and stains in commercial laundries, it's important to differentiate the two. That way your team will understand the products and processes to use to guarantee the best possible results with as little effort as possible.
Let's start with dirt; these are loose substances that accumulate on fabrics and typically include things like mud, soil, dust, and sand. General dirt is much easier to remove than stains, with a standard wash cycle and quality detergents typically being enough to eliminate all but the most stubborn marks.
Stains, on the other hand, occur when the presence of certain substances has caused severe discolouration. Some chemicals can cause staining within just a few seconds of coming into contact with fabrics, although it's important to note that 75% of stains are water-soluble.
Removing dirt in commercial laundries: What does the process involve?
To remove dirt in a professional laundry, items are loaded in to a commercial washing machine and placed on a standard wash cycle. It's important that laundry care teams understand detergent dosing requirements to maximise the dirt-removing efficiency of each cycle, otherwise, items may need to be laundered again.
Indeed, it's considered good practice to "reject" items showing signs of dirt, with a separate storage area to hold these garments before they can be re-laundered. It may be necessary to check for the presence of stains and stubborn substances, before adjusting the wash programme, detergent blend, and cycle temperature to clean these rejected items to a high standard during the next load.
How to remove stains in a commercial laundry: Pre-spotting and other techniques
It's essential that clothing, garments and other fabrics are checked thoroughly before being placed in a standard wash cycle with other items. If they are stained, there's little point in laundering them before treating the marks first; this is inefficient and wastes resources.
In order to treat stains in a professional laundry, specific chemicals like peroxide destainer may be required. Such solutions are typically applied as a "pre-spotting" treatment before the items are washed in a special destaining programme; this helps to absorb and lift the stain from the fibres of the fabric, improving your chances of successfully removing the mark.
When handling stain-removing products, it's important to wear the appropriate PPE and abide by laundry hygiene standards at all times. Create a separate area for stain removal to avoid cross-contamination and make it easier to keep dirty items separate from stained ones.
We hope this guide has offered some food for thought on stain removal best practices in your commercial laundry. Learn more about our hard-working commercial laundry range.