Setting up an industrial washing machine room is no easy task. Thankfully, we're here to help. In this guide, we've detailed everything you need to know about industrial washing machine rooms, including the sectors they're most applicable to, the types of industrial washing machine you need to install, and where the room should be located.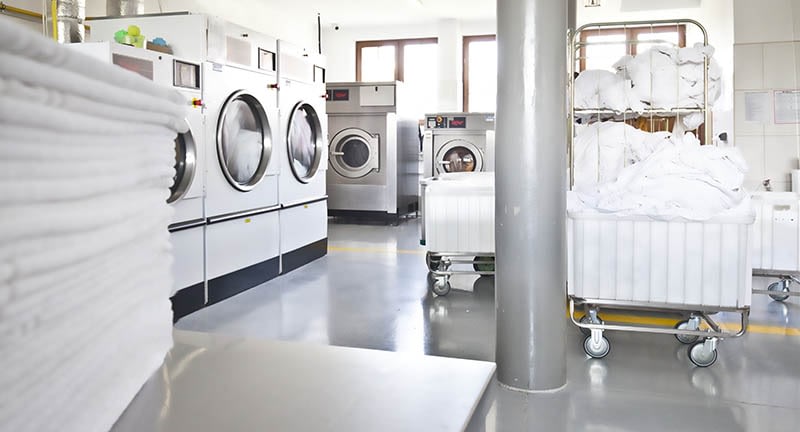 Which sectors benefit from industrial washers and dryers?
Industrial washing machines, such as our range of barrier washers, have been designed to combat the threat of microbiological contamination in hospitals and other healthcare environments. Similarly, the barrier approach is also popular where particle suppression is important, such as in the food or pharmaceutical industries.
Having a dedicated room on your premises for industrial washing machines is vitally important. This is because it ensures linens cannot become cross contaminated.
How do barrier washers work?
Using a special dual-door system, a barrier washer's 'passthrough' system separates the dirty and clean stages of the process and protects staff, all while reducing the risk of cross-contamination. 
When used in conjunction with our OTEX ozone technology, our barrier washers also eradicate 99.999% of bacteria, viruses and micro-organisms, including MRSA and C. difficile.
How do you set up an industrial washer/dryer room?
Although how you set up your commercial laundry room will largely depend on the space you have available, there are some basic rules you should follow. 
First of all, your laundry room should be located on the ground floor of the building. This will facilitate access for laundry equipment and will also alleviate structure-borne vibration. 
On top of this, for infection control purposes, you should always plan the laundry away from the kitchen, ensuring that food and soiled linen do not share the same corridor. 
In addition to this, where possible, your laundry room should have a solid concrete ground floor slab. It should also have at least one external wall to receive dryer exhaust ducts and air inlet panels. This wall should also have a fire door. 
Once you've selected an appropriate room, you must create a layout that contains a 'soiled/in' door and a 'clean/out' door. The room itself should be designed with 1/3 of the space available for the 'wet' side and 2/3 for the 'dry' side – each side must also have its own sorting and storage area.
Now you have a room and a layout, you need to add the right machinery. In this scenario, selecting the right industrial-grade equipment is a must for both regulatory and practical reasons. 
Here at JLA, we offer a wide range of WRAS-approved washing machines, tumble dryers with a unique S.A.F.E system (Sensor Activated Fire Extinguishing), finishing equipment and detergents – as well as our ground-breaking OTEX ozone disinfection system.
Unsure which machines you need or need more advice about setting up an industrial washing machine room? Talk to our laundry experts today.