Tumble dryers operating in high-volume commercial laundries need to be fast, efficient, and affordable to run. So, how do these industrial-grade appliances achieve this delicate balance? And what components are critical to their day-to-day operation?
That's what we're here to find out. We're taking a look at the key parts of a commercial tumble dryer to help you get to grips with how they work and what makes them different from their domestic counterparts.
Where else to start than the heating system, the core component of any tumble dryer? Commercial and industrial dryers typically utilise one of three heating elements to dry clothing and linens, with each type having its unique pros and cons.
Let's take a closer look at the three main types of heating systems used in commercial tumble dryers:
Electric element: Electric-powered commercial tumble dryers offer a gradual heat-up time and slower cooldowns than their gas and steam counterparts. Since they require a significant amount of electricity to run, they're not as efficient as other dryer variants, but they are much easier to install.
Gas element: Gas-powered tumble dryers are revered for their fast heat-up and cooldown speeds as well as their efficient operation. They can, however, be tricky to install in some commercial laundry rooms since they need to be hooked to a gas mains supply.
Steam element: Steam-heated appliances are the most efficient commercial dryers to run, but there is a trade-off in the amount of water they consume. Like electric dryers, they're also relatively slow to heat up and cool down.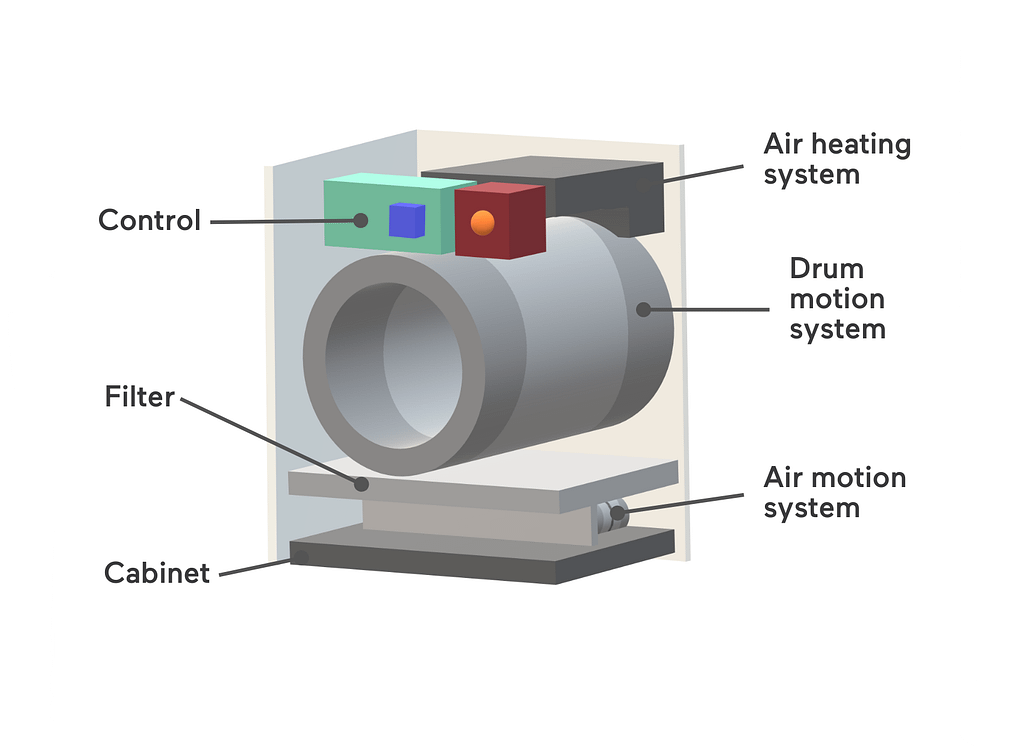 The drum of a commercial tumble dryer needs little introduction. This is the cylinder where garments and linens are added to the appliance, before being spun by an electric motor to facilitate even and reliable drying times.
As well as the motor, the drum mechanism also includes a series of additional components, including belts and frequency inverters.
A heating element alone isn't enough to dry garments evenly and effectively. As such, all commercial dryers feature an air motion blower system that circulates hot air through the drum, ensuring that all linens are dried consistently and at a similar speed.
Commercial tumble dryers use either "radial flow" or "combined flow" technology to circulate air through all areas of the drum. This guarantees consistent temperature and airflow within the dryer, for fast and effective drying.
The cabinet is the outer shell of the tumble dryer that's responsible for holding all the components securely in one place while minimising vibration and heat energy transfer. Commercial and industrial tumble dryer cabinets are typically built from strong materials to provide long-term durability, while also taking into account aesthetic design and ergonomics. They typically feature wider doors than domestic models to accommodate larger loads more easily.
Commercial dryers feature a range of variable digital controls that allow operators to quickly access pre-programmed cycles and configure the appliance as required. Microprocessor control gives commercial laundries greater control over drying operations, with programmes and settings for different loads, fabrics, and drying temperatures.
So there you have it, a complete breakdown of the key components of commercial tumble dryers. To learn more and read additional help and advice, don't forget to check out the full JLA help and advice hub. Alternatively, if you're ready to purchase a JLA commercial dryer or our commercial laundry equipment, call us on 0808 239 2982.