Commercial tumble dryers aren't made equal. There are several models to choose from, each utilising different heating elements and technologies to dry garments to a high standard in as little time as possible.
Two of the most common types of commercial dryers include vented dryers and condenser dryers. So, what makes these appliances different? And how do they compare in terms of features, benefits and functionality?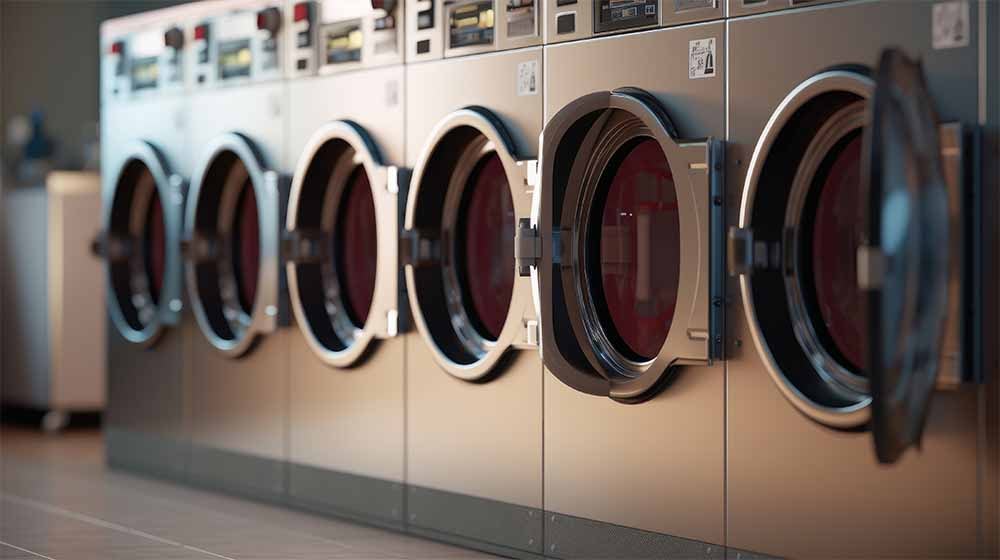 In an attempt to settle the vented vs condenser dryer debate once and for all, we're taking a look at each of these tumble dryers to explain what they are, how they work and the pros and cons they provide.
What are vented tumble dryers?
Vented tumble dryers are among the most common types of commercial dryers you're likely to encounter. They work by expelling the hot air generated inside the drum along a pipe, where it can be "vented" safely along a series of ducts into a non-enclosed space.
What are the pros and cons of vented tumble dryers?
Pros
Efficiency: Since commercial vented dryers don't need to convert air into water (as with condenser models), they require much less energy to run, making them more efficient.
Lower initial purchase cost: Vented dryers are among the cheapest commercial tumble dryers available, which may appeal to some buyers.
Moderate drying speeds: Vented dryers offer reasonable drying times depending on the load size in question.
Cons
Location requirement: Since vented tumble dryers expel damp, warm air, they need to be positioned near an external wall where a vent or duct can be fitted to allow the air to escape. If your laundry doesn't meet these requirements, you may need to consider another type of dryer.
What are condenser tumble dryers?
As the name suggests, condenser tumble dryers work by converting hot air generated inside the drying drum into water through condensation. That means, unlike vented dryers, these appliances don't require an external vented hose to direct the hot air away from your laundry and into the open air.
What are the pros and cons of condenser tumble dryers?
Pros
No need for an external vent: With no need for external venting, condenser-style dryers can be placed anywhere – perfect for laundries with limited space or access to an external wall.
High-temperature drying: Condenser dryers heat to around 75°C, meaning rapid drying times compared to vented models.
Cons
High energy consumption: Since condenser dryers reach higher temperatures and rely on condensation to remove hot air from the system, they are much more energy-intensive than other commercial dryers out there.
Still require a constant supply of cool air: Don't think that you can squeeze a condenser tumble dryer into a tiny space, as these appliances do require a constant stream of cool air to operate efficiently.
Condensation tank needs to be emptied: All that condensed water needs to go somewhere, so you might find yourself emptying your dryer's water tank quite often during regular use.
Heat pump dryers: The real winner of the best tumble dryer debate?
If you're no closer to deciding if a vented or condenser-style tumble dryer is right for you, allow us to throw a third option into the mix: heat pump dryers.
Commercial heat pump tumble dryers are becoming a popular solution, particularly for laundry managers looking to balance speed and drying time with outright energy efficiency. Heat pump dryers use a closed-loop cycle to recirculate hot air, making them considerably less energy-intensive than their vented and condensing counterparts.
What are the pros and cons of heat pump dryers?
Pros
More energy efficient than other commercial dryers
Doesn't require external venting
Lower temperatures may be gentler for some garment and fabric types
Cons
Slower drying times than vented and condenser dryers
More expensive to buy outright
Water tank requires emptying regularly
We hope this guide points you in the direction of your next commercial tumble dryer. If you'd like to learn more about how different dryer running costs compare, take a look at this helpful resource. Alternatively, explore our full range of industrial and commercial dryers and commercial laundry equipment or call us on 0808 239 2982 for further help and advice.