There's plenty to consider when purchasing a commercial or industrial tumble dryer, from operating temperature and energy rating to whether it's a vented, condenser or heat pump model. But most important of all, perhaps, is the size of the appliance itself, with different dryer capacities available depending on your requirements.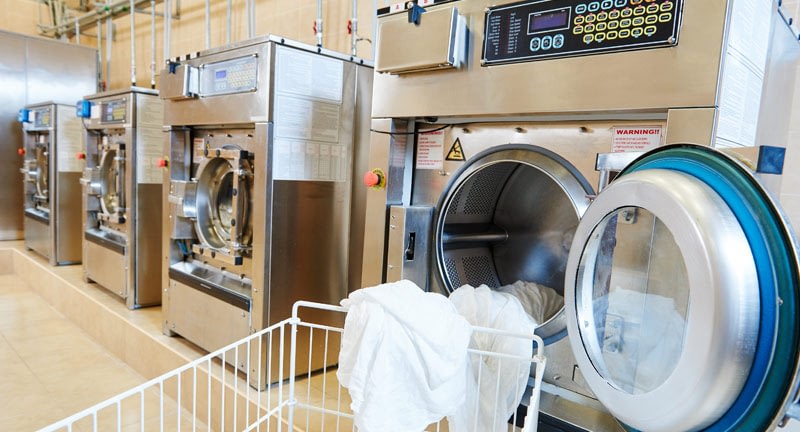 Generally speaking, professional tumble dryers are divided into two camps based on things like capacity, power and functionality. That includes standard commercial dryers with a medium-to-large capacity size, and industrial dryers capable of handling the maximum loads.
In this post, we're taking a look at typical commercial and industrial dryer sizes, so you can get a feel for the type of appliance that may be best suited to your organisation.
Commercial tumble dryers typically have a capacity between 7kg and 20kg and usually run up to eight cycles per day, although larger models with capacities up to 37kg are also available.
They are ideal for use in care homes, housing associations, schools, hair salons and sports clubs where a commercial tumble dryer is required yet is at a manageable size.
Multiple machines can be used to increase capacity, including stacked dryer models, which double the available capacity whilst utilising the same floor surface area.
Often include special features like large doors for efficient loading and unloading, three-phase motors for reliability, large lint filters.
Take a look at the heavy-duty, industrial tumble dryer range from JLA below…
Why does the size of a commercial tumble dryer matter?
Selecting the commercial dryer that's the perfect fit for your organisation's on-premises laundry is essential in ensuring you attain maximum efficiency and performance from the appliance. Too large and you risk taking up unnecessary space and wasting resources, while choosing a dryer that's too small could mean that you're not able to keep pace with demand.
What's more, remember that commercial dryers of any size have additional requirements. For instance, vented commercial dryers will typically need to be positioned near an external wall, while condenser-style appliances require a consistent flow of cool air, so may not be suitable to be crammed in a small space.
We hope this guide sheds light on typical commercial dryer sizes, and gives you some food for thought when it comes to your next machine. Remember, if you need any help selecting commercial laundry equipment for your needs, the JLA team is a phone call away. Get in touch on 0808 239 7578 to find out more.