It's easy to see why so many ask if a domestic washing machine can be used in a commercial setting. After all, they both wash clothes and often look indistinguishable from one another, but the truth is you'd be mistaken in thinking that a washer you'd find at home will have the robustness needed for industrial facilities.
Let's take a look at the key reasons you should be choosing a commercial washer over its domestic counterpart.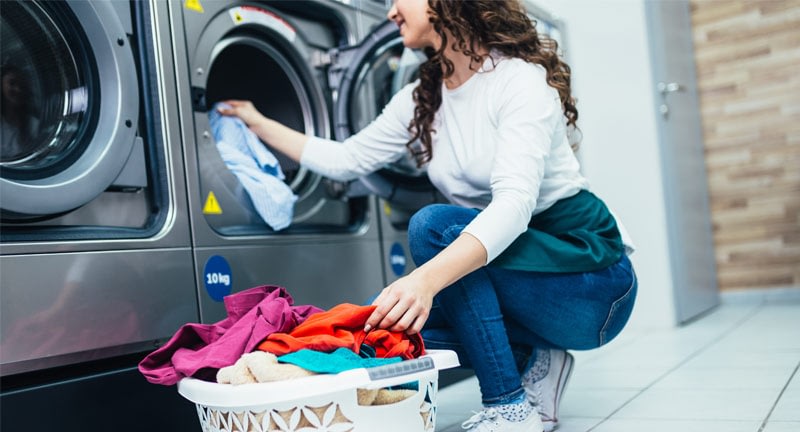 Commercial washers are strong by design and specifically built to cope with the high demand of continuous laundry. Whilst many domestic washers can withstand daily use trying to keep up with family life, they may only amount to 5,000 cycles of laundry in their lifetime which cannot service the needs of a commercial enterprise. JLA washing machines are tailored for this longer lifespan and can offer up to 30,000 cycles of commercial washing.
Cost savings through large scale laundry
Commercial washing machines are usually much larger than domestic ones, and when it comes to the likes of care homes or hotels for example, scale is everything.

The larger drum capacity and higher spin speeds of commercial washers makes it easy for businesses to wash en masse and ensure quicker drying times, reducing energy costs.
For comparison, a typical family-sized domestic appliance will have a 10 kg drum capacity. JLA washing machines range from 7 kg to 180 kg to cover both lighter commercial laundry needs all the way up to industrial-sized washers.
The benefit of specialist laundry equipment is that there are specialist engineers to go hand in hand, ensuring you never experience downtime for long. Due to the relative low cost of domestic washers, engineers are not very common for repair works with many providers choosing to simply replace rather than repair. With JLA Total Care, if your commercial washer needs a hand we can send out an engineer within 8 hours to investigate.
Commercial washing machines often have more advanced controls and settings than domestic ones, which allow businesses to customise their washing processes. Commercial machines benefit from the ease of pre-programmed controls, including sluice cycles for environments where there may be soiled laundry. Domestic washers do not have this functionality, giving little choice but to opt for hand sluicing at a greater labour cost.
Commercial washing machines have thermal disinfection properties, not found in domestic appliances, which are particularly important for care homes and healthcare environments. JLA's washing machines have thermal disinfection solutions and OTEX, which disinfect laundry on a low temperature providing reassurance at a low, energy-saving cost.
Business regulations compliance
Not only does using a domestic washing machine in a commercial environment invalidate the appliances warranty, this will also mean you're not covered for insurance or repair purposes if you experience any issues.
In keeping with safety and industry standards, businesses are required to meet WRAS (Water Regulations Advisory Scheme) standards when it comes to laundry. Category five is required particularly in health and social care environments where foul and infected laundry is present. This is to mitigate the spread of infection, and it's a standard that simply isn't met in domestic appliances.
If you'd like to find out which is the right washing machine for you and your business, talk to our commercial laundry experts today or visit our Laundry section for more product information.