If you work in a hospital or care home, you'll know just how vital infection control is. To help you achieve the required standards, we've put together this guide to infection control for care homes and hospitals. 
Here we'll explain exactly how our OTEX infection control solutions can help you achieve disinfection and our top tips for infection control in hospitals and care homes.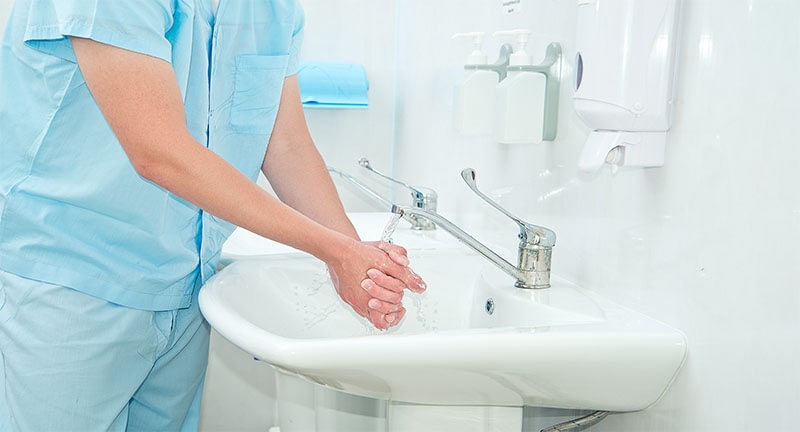 Our OTEX laundry and room disinfection innovations have set the standards in ozone technology since 2004, a time when public concern over the rise of HCAIs such as C. diff, MRSA and E. coli was particularly high. 
At this time, hospitals and care homes needed reassurance that their laundry could be kept clean and hygienic. As a result, we developed our own patented interfusor technology to use ozone as a natural disinfectant within the laundry system.
Having developed the UK's first validated ozone washer system, we have since made continuous advancements in air disinfection through our range of sanitiser units.
How can OTEX solutions help with infection control in hospitals and care homes? Otex laundry systems.
Our OTEX ozone laundry system can remove all traces of coronavirus and will kill 99.999% of other harmful bacteria, moulds and yeasts. Plus, our best-in-class ozone system can also eradicate harmful micro-organisms in every wash. It even prints a validation receipt to prove disinfection has taken place.
Added to this, our OTEX infection control solution also cleans deeper to give optimum wash quality and extend fabric life. Fibres in linens are gently opened during the ozone laundry process, which enables deep cleaning that adds a high wash quality to the core disinfection process. This leaves users with fresher-smelling laundry, while items such as towels will come out up to 20% fluffier than they would in traditional washing machines.
Our ozone room sanitisers can kill bacteria safely and naturally both in the air and on surfaces in under an hour. Plus, our easy-to-use 'Compact' and 'Cube' disinfection units also neutralise unpleasant odours. By contrast, filters, purifiers, ionisers, disinfectant sprayers and traditional foggers can only mask them temporarily.
Using the natural disinfection properties of ozone, both our Compact and Cube sanitising machines remove unwanted bacteria from air and surfaces. With an ozone room sanitiser, you'll experience the following benefits: 
Destroy bacteria – efficient infection prevention

Remove odours – leaving the fresh, smell of ozone

Clean and safe – no dangerous chemical residues

Short cycle times – quick turnaround of rooms

Portable machines – easy to move from room-to-room

Easy to use – pre-programmed room settings

Robust – sturdy design for reliable long-term use

Cost-efficient – no consumable/refill costs

Go/No-go indicator – confirms when the room is safe to re-enter

Thorough – reach areas routine cleaning can't
Our top infection control tips for hospitals and care homes
Now you've seen exactly how our OTEX solutions can help you. However, as well as using these class-leading pieces of machinery, we recommend that you also follow these seven tips for infection control in hospitals and care homes:
Ensure all employees wash their hands thoroughly

Make sure staff never cross-contaminate

Clean all rooms thoroughly and regularly

Make sure your laundry process is 'infection control' compliant

Run a first aid refresher

Review your medical/sanitary waste disposal methods

Re-evaluate all food hygiene processes
If you'd like to discover any extra detail about these tips for infection control in care homes and hospitals, read our blog on seven key tips for infection control. Alternatively, if you'd like to learn more about our OTEX solutions, talk to our laundry experts today.