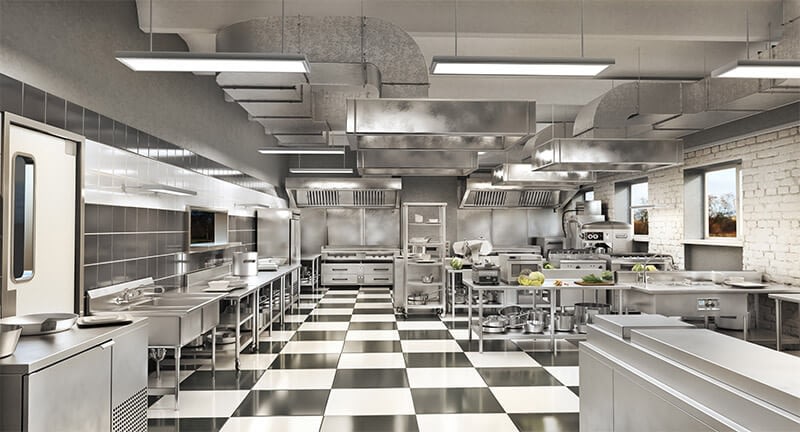 Whether you're planning a kitchen set up for a small restaurant, a hospitality venue, a school canteen or a health club café, organising the space and choosing the right equipment is key to the success of your organisation.
To help you, we've put together this comprehensive guide to setting up a commercial kitchen. Whatever you need for your kitchen, we'll take care of it.
Use the space wisely
It would be ideal if you had a vast footprint to build your commercial kitchen, but the reality is that this is rarely the case. Despite this, we'll work with you to set up a full-service commercial kitchen in a small or limited space.
Generally, three common organisational strategies are used when setting up a commercial kitchen: zone, assembly line and island. The design you choose will depend on the shape and size of the space you have available, your needs and your design preferences. Let's take a look at each in greater detail, so you can decide which is best for you.
Zone
The zone set up works well in large spaces. It's ideal for school canteens, big restaurants and larger hospitality venues.
A zone kitchen spreads the workflow across different areas, with each zone having its own function. In this set up, countertops are usually reserved for food preparation, including separate spaces for measuring ingredients, slicing meat and cutting vegetables.
Zone kitchens also have separate spaces for cold storage, dry storage and sanitation. Where presentation is important, there's also a separate zone for plating.
The size of the cooking zone varies widely depending on the purpose of the commercial kitchen. In a smaller setting, a simple set up with an oven and a fryer will be enough. In a large restaurant or hospitality setting, you may also want to include a grill, microwave and griddles.
Assembly line
If your commercial kitchen has limited space or will prepare lots of the same type of food, then an assembly line set up may be a better option. This is particularly popular with pizza joints, sandwich shops and anywhere where speed is essential.
With an assembly line set up, you have limited space between each stage of the process. This means that food can be prepared quickly. We understand that your kitchen may not have the space for a straight line service (the majority of people use a circular formation). As long as you have a logical order and everything is within easy reach, you can use whichever style of assembly line structure you like.
Island
In an island kitchen, much of the cooking equipment is placed on an island in the centre of the room. Meanwhile, food prep, storage and sanitation are done by the outer walls. This can also be reversed to suit your preferences.
One of the main benefits of an island layout is that it combines some of the best aspects of assembly line kitchens and zone kitchens, creating a hybrid working environment.
Invest in the right equipment
Once you've decided how to organise your commercial kitchen, you need to invest in the correct equipment. The equipment you need will largely fall into four key areas: storage, cooking, sanitation and safety. Whether you're creating the perfect kitchen set up for a small restaurant or devising a layout for a kitchen that will operate on a vast scale, we'll take care of it.
Storage
For your commercial kitchen to operate to the highest standards, you'll need both dry and cold storage.
Depending on the size of your commercial kitchen and the storage space you require, you'll have a choice between a walk-in, an upright, under-counter or countertop refrigerator.
Walk-in refrigerators tend to be used for bulk storage in the largest commercial settings. However, if you're running a restaurant, then an upright refrigerator may be better. Offering a vast internal capacity, these refrigerators are ideal in canteens, schools, restaurants and cafés. You can also choose between single door, double door and slimline options, depending on the space you have and the access you require.
If space is at a premium, you can opt for commercial counter fridges. Where low-level design is vital, a commercial counter fridge is the perfect solution. These refrigerators can either be integrated under the counter, or as a 2-in-1 refrigerator-worktop solution that provides additional space for food preparation. If you have a small footprint or are operating in a care home or a small hotel where service is slower, then a countertop fridge may be the better choice. This is a flexible piece of equipment that offers versatile racking systems and a combination of drawers and shelves. These fridges can even offer just as much space as their upright counterparts.
When it comes to freezers, the options and benefits are similar to fridges. Whether you choose an upright freezer, an under-counter freezer or a chest freezer will largely be determined by the space you have and the volume of products you need to store.
For dry storage space, you can choose between cabinets and shelving. If space in your commercial kitchen is particularly limited, then opt for worktop storage, too.
Cooking
We'll help you choose the best commercial oven for your kitchen. If you're looking for a space-saving solution that provides a large internal capacity, a range oven is the perfect choice. Range ovens have both a hob and an oven space, making them highly versatile. Some high-specification models even include built-in griddles.
If you're looking for an incredibly compact solution, then it's worth considering a convection oven instead. These are smaller than range ovens, but they offer the same high-quality results. Convection ovens are popular with caterers and restauranteurs alike because all food in the oven is heated at the same time and the same rate, no matter which shelf it's on.
If you're regularly frying, steaming, baking and braising, then a combination oven may be a better choice. By combining fan heating power with steam, these ovens are highly flexible and can simplify complex cooking processes.
You might also require some speciality cooking equipment, such as pizza ovens and deep fat fryers, too.
To make sure that your food reaches the customer while it's still hot, it's worth investing in some warming equipment. This will also take some pressure off your waiting staff.
Sanitation
In a commercial kitchen, a dishwasher is your best friend. With the help of a powerful dishwasher, you can clean plates and cutlery to the highest possible standard every time. If you're only running a small café, then you may find that a glasswasher or a utensil washer is more appropriate.
The size of the dishwasher you need will be determined by the size of your commercial kitchen. While under-counter dishwashers are ideal for small spaces, pass through dishwashers are better suited to busy commercial kitchens where the cleaning process needs to be streamlined.
To make sure that your plates, utensils and cutlery come out clean every time, you should also invest in the right catering chemical solutions. As well as making sure everything is clean and sparkling, these will also prolong the life of your machine.
Safety
We understand that it's your responsibility to make sure your staff are kept safe.
During a busy service, your staff are going to be on their feet and moving around. That's why it's worth investing in some non-slip floor mats. You'll also need to pull smoke and grease away from the kitchen air, so you should make sure you have an exhaust hood or extractor fan over the cooking area.
You'll also need to safeguard against potential fires. We'll make sure that you've carried out a fire risk assessment and have the right protections in place, such as fire extinguishers and fire detection systems, to keep your kitchen a safe place to work.
If you're setting up a commercial kitchen but you're unsure about which equipment is right for your needs, contact us today. For over 50 years, we've been supporting businesses. Whether you're setting up a kitchen for a restaurant, a large hotel or a small café, our experts are here to help. Contact us today to learn more.