In recent years, several high-profile tragedies have emphasised the importance of fire safety in high-rise properties like apartment blocks.
Here's our quick guide on why automatic opening vents – sometimes called smoke vents, NSHEVS (natural smoke and heat exhaust ventilators), or    AOVs for short – are a powerful tool to protect residents, visitors, and contractors during an emergency, and what you need to do to install and look after them.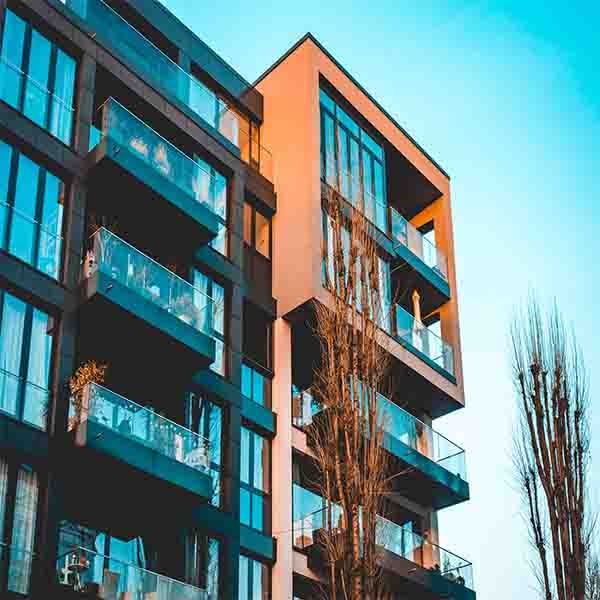 What are AOVs and where should they be installed?
Automatic opening vents describe a range of systems that, when activated, clear smoke, heat and hazardous gases from communal areas like stairwells and corridors. In the event of a fire, AOVs help to give residents precious time to escape, while allowing rescue teams to reach vulnerable people faster.
Approved Document B, which provides guidance on fire safety regulations for buildings throughout the UK, offers recommendations on the placement of AOVs in apartment blocks. According to Approved Document B, AOVs in common corridors or lobbies are needed to control smoke and protect common stairs, where they create essential ventilation and safe evacuation routes. The following areas also need AOV ventilation:

• Small single-stair blocks of flats
• Common escape routes in larger blocks of flats
• Basement areas
• Enclosed car parks
• Corridors with extended travel distances
How should AOVs be installed in apartment blocks?
As with all fire protection solutions, it's vital that AOVs are designed and installed in line with relevant building regulations. Approved Document B offers the following guidance:
• Position your AOVs as high as possible
• Make sure the top edge of your AOV is at least as high as the top of the door to any stairs
• Your AOVs should be mounted on an external wall with a minimum free area of 1.5m² for lobby ventilation
• Smoke shaft dampers discharge into a vertical smoke shaft that's closed at the base providing 1.0m2 into the shaft and 1.0m2 exhaust at roof level.
On top of this, all vents should have a minimum free area of 1m² around them. This applies to the opening from the corridor or lobby into the shaft, the opening at the head of the shaft, Internal of smoke shaft should have 1.5m2 taking into account safety grilles and the reduction of free area they pose.
To guarantee high standards of work and full compliance with changing regulations, it's always advisable to engage with a trusted fire and smoke safety specialist like JLA who are SDI-19 accredited for smoke ventilation design, install and maintenance.
How do we stay compliant after installation?
While safe, professional installation is a vital step towards keeping residents safe, it's not enough to keep you compliant. Regular smoke vent inspections, servicing, maintenance, and repair activities are all needed to make sure your building continues to meet legal standards.
AOVs should be serviced at least once a year to meet the requirements of the Regulatory Reform (Fire Safety) Order (RRO) and BS: 7346-8, although JLA recommends bi-annual servicing to maximise safety and performance.
You should also make sure that a responsible person conducts weekly inspections to check the condition of AOVs, and that they're working properly. Monthly tests are also needed, and can also be carried out by your responsible person.
By sticking to this maintenance regime, you'll enjoy peace of mind that your AOV systems are working reliably and effectively, and that you're doing all you can to protect your building occupants if the worst happens.
If you'd like to talk to JLA about your regular inspections, servicing, maintenance, and certification, simply get in touch with our fire safety experts.