As one of the UK's leading fire safety specialists, we often receive questions from our customers about automatic opening vents and their functions, how and when you should carry out testing, and cost estimates.
For answers to these queries and more, just read on.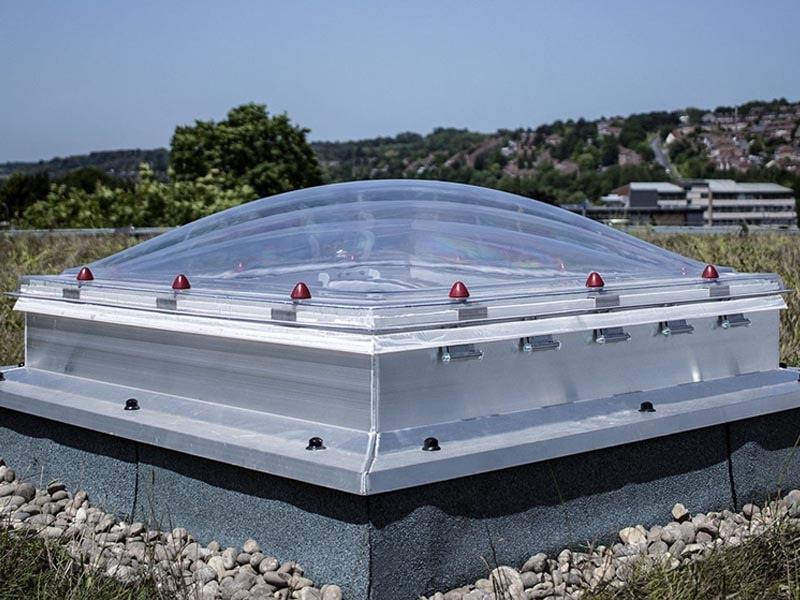 AOV is short for automatic opening vent, sometimes called an automatic smoke vent, NSHEV (Natural Smoke Heat Exhaust Ventilator, smart smoke control system, or simply an AOV system. In an emergency, a building's AOVs will help to clear heat, smoke and hazardous gases from lobbies, stairwells, and corridors. This helps people to safely escape and gives emergency crews faster access.
What's the British standard for AOVs?
BS EN12101 is the harmonised European standard for smoke and heat control. Before an AOV can be certified to this standard, it needs to undergo stringent testing.

However, this standard applies to every component used in a smoke control system. The whole system will need be tested as a collective unit to make sure it's compliant with all relevant building regulations.
Can an AOV double up as roof access?
There are many kinds of AOVs, including windows, glazed louvres, dampers and two-in-one roof access hatches. These hatches allow you and your teams to carry out roof maintenance, while maximizing the amount of light you get in a space.
Many AOV roof hatches come with offset actuator arms, which enable easier access to the roof area. It's also possible to install ladder mounts and grab handles for simple ascent and descent.
How often should I test an AOV?
In line with fire safety regulations, you should carry out weekly visual checks of all smoke vents for signs of faults, misuse, or vandalism. Manual testing by a responsible person must be conducted every month to check all AOVs are in good working order.
You'll need to have your AOVs serviced annually or bi-annually by a smoke vent specialist, with all maintenance certificates kept and logged. At JLA, we actually recommend bi-annual servicing for extra peace of mind, especially if you're working in high-risk industries.
If any faults are found or reported in the interim periods, they must be addressed as soon as possible.
Take a look at our AOV testing and servicing guide for more information.
The cost of an AOV system will vary depending on its size, type (window, hatch or damper), whether it's automatic or manually controlled, and any service or maintenance contracts you take out to care for it. At JLA, we design and install bespoke AOV packages for a wide variety of projects. Simply contact us today for pricing information.