Hundreds of busy hotels, spas and hospitality venues rely on JLA's cost-saving washers and dryers to leave their towels fresher, fluffier and lasting longer. We'll make the difference in your laundry room, too. Find out how we can help.
Save money and energy with every wash
When up to half of a hotel's laundry costs are taken up with cleaning towels, it pays to save. With JLA's advanced washing and drying equipment, you'll enjoy the benefits of stackable machines that save space, save energy, and save your staff time counting stock.
On-premise laundry, with JLA's quality promise
Outsourcing your linen laundry might save you space or a logistics headache, but the costs can sometimes outweigh the benefits – especially if your supplier doesn't deliver the quality your guests demand. With JLA's washer-dryer systems on site, you're in control, and we're always here to support you.
The OTEX ozone laundry system
Using a natural disinfection process that works even at low temperatures, JLA's OTEX ozone laundry system is proven to cut water, electricity and detergent use, and increase the life – and fluffiness – of your towels. Better still, it kills 99.999% of moulds, yeasts, viruses and bacteria.
Powerful at low or ambient temperatures, saving energy on water heating
Save over 35% on water, gas and electricity annually
Designed to fit JLA machines already developed for max energy efficiency
Cuts detergent usage by 50%, reducing running costs
Helps to eradicate cross-infection by killing 99.999% of bacteria including athlete's foot, impetigo and norovirus
Meets HSE, NHS and Environmental Agency guidelines
Offers verification on every cycle
S.A.F.E dyers – only from JLA
JLA's S.A.F.E. (Sensor Activated Fire Extinguishing) system was designed in response to a growing number of fires in commercial dryers. Its twin sensors detect significant temperature changes and activate a sophisticated water vapour mechanism to soak laundry and put out a fire within 3 minutes. In turn, there's no flooding and a greatly reduced damage risk to your property.
Space-efficient stackable systems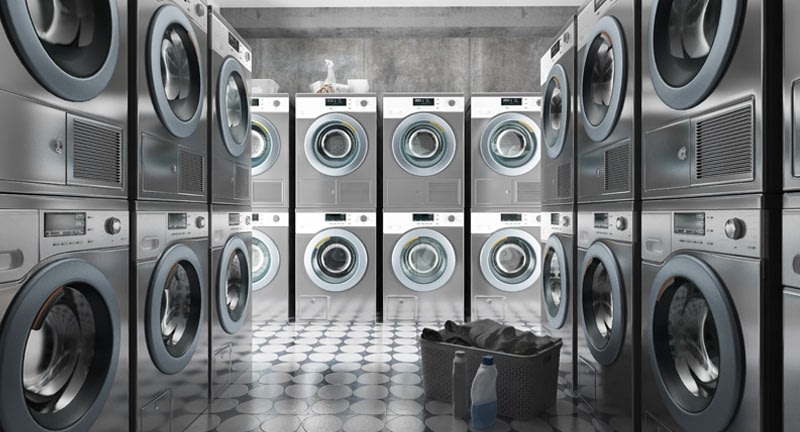 JLA's stacked systems free up space and maximise laundry output for constant rotation – perfect for even the busiest hotel or spa. By increasing stack capacity, you won't have to rely on spare towel sets you often need when outsourcing laundry. And because our system is flexible, you can set up a washer/dryer or dryer/dryer configuration to meet your exact needs.
Proactive maintenance and same-day repairs
Your guests can't go without towels, so you can't go without laundry equipment. That's why, through our network of 450 engineers, we're able to guarantee response times and keep your washers and dryers running, with minimum disruption to your laundry room.
Total Care for your laundry equipment
Peace of mind comes as standard with Total Care, JLA's all-inclusive equipment subscription. For a simple monthly fee, you'll enjoy new laundry room equipment with no upfront costs, free installation, and 24/7 support – including servicing and repairs.