A rotary iron is type of heavy-duty iron that's often used in commercial or industrial laundries to create crisply finished bed linen, tablecloths and other large fabrics for hotels, hospitals, commercial laundries and other sectors.
The magic of a rotary iron is its ability process a high volume of items, with consistent high-quality results, without any need for tiring manual labour.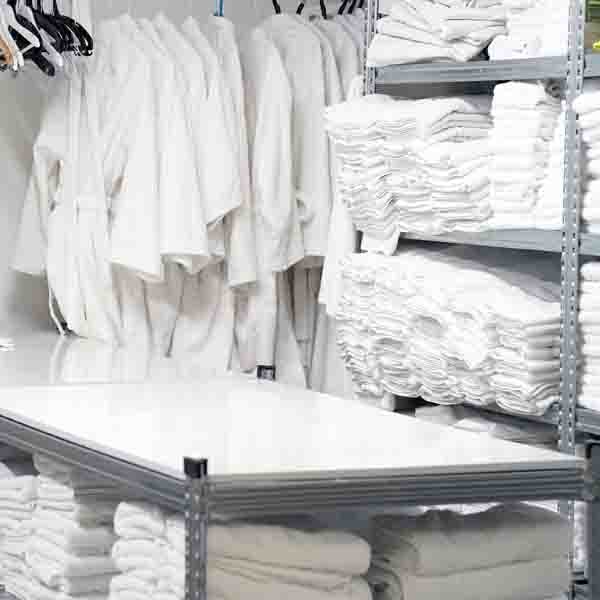 How does a rotary iron work?
Unlike a standard iron or press, which apply heat and pressure to one spot, a rotary iron uses a conveyor-style system to distribute heat and pressure evenly across the whole surface of the fabric. Operators simply feed fabrics through the machine, and let the rotating drum do its thing.
In use, the rotary iron's larger surface area efficiently removes creases and saves time versus traditional ironing methods, which often involve more intense manual handling. This makes a rotary iron incredibly quick and efficient, not to mention simple to use.
Rotary iron vs traditional ironing – what's the advantage?
Commercial rotary irons come with many advantages over traditional ironing methods, which is why they continue to be a popular solution in commercial or industrial settings. Here are just a few of the benefits.
Rotary irons have a much faster processing speed
Thanks to their drum-based mechanism, rotary irons can operate at much higher speeds, using steam to get results and maintain their efficiency. In turn, rotary irons increase productivity – getting more linen finished and ready to use, faster.
Rotary irons save businesses time and money
The speed and efficiency of rotary irons not only save time, but reduce labour costs –savings that can often be passed on to hospitality or healthcare customers. Equally, laundries investing in their own rotary irons for in-house use will save money by no longer having to outsource.
Rotary irons can handle large loads
With its bigger surface area, a rotary iron can handle plenty of fabric at once. This makes a rotary iron perfect for finishing large amounts of laundry to tight timescales, including bed linens and tablecloths.
Rotary irons are often kinder to delicate fabrics
Delicate fabrics can be damaged by conventional presses, which are less consistent and trickier for people to use. Despite its finishing power, a rotary iron is often gentler, which helps to protect and extend the life of expensive, delicate materials.
Rotary irons offer more versatility
From hospital uniforms and spa towels to hotel bedding and curtains, rotary irons can handle almost any type of garment or fabric. This makes them incredibly useful in commercial laundries that serve customers from multiple sectors.