Ironing is an integral part of the commercial laundry process for many professional organisations, particularly hotels, care homes and other facilities with a high volume of flatwork linens and other fabrics.
But since it can be a time and resource-intensive task, it's important to make sure you're maximising the efficiency and quality of your commercial ironing efforts.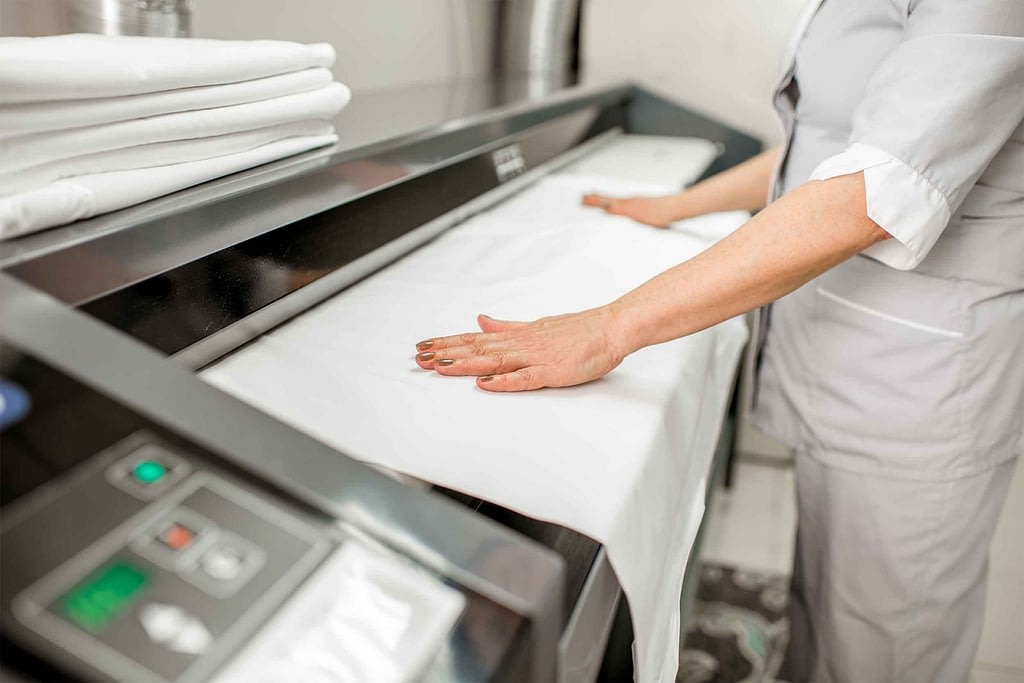 To help you optimise ironing processes in a commercial laundry, this guide will offer some essential tips, guidance and considerations. We've even taken the time to troubleshoot some common garment-pressing problems, so you can iron out the kinks and make sure all areas of your commercial laundry are working as efficiently as possible.
Key considerations for your commercial ironing station
Whether you've recently acquired new linens or have increased the volume of your laundry output; tweaking your approach to industrial-scale ironing may be necessary from time to time. Here, we look at some of the factors that can impact the efficiency, output and performance of your ironing process.
The amount of pressure applied to different fabrics can have a significant impact on the quality and finish of your ironing. Too much pressure and the fibres in the fabric may stretch, resulting in short-term, irreversible damage or premature wear in the long term. Too little pressure and your staff may struggle to remove creases to a satisfactory standard, meaning wasted time when flatworks have to be pressed for a second time.
To guarantee professional results while optimising efficiency, it's worth adjusting the ironing pressure by the material being pressed. JLA commercial irons allow for simple pressure adjustment, guaranteeing a thumbs-up finish without the hassle.
This may sound like an obvious point, but adjusting the ironing temperature for different fabrics is essential to avoid permanent damage and unnecessary wear and tear. It's all too easy to stick to one temperature when you're working against the clock, but taking the time to raise or lower the temperature is crucial to achieve quality results.
As a guideline, here are the recommended temperatures for ironing different fabrics in a commercial laundry…
| | |
| --- | --- |
| Material | Recommended ironing temperature |
| Acrylic | 135°C |
| Cotton | 200°C |
| Linen | 230°C |
| Lycra | 135°C |
| Nylon | 135°C |
| Polyester               | 148°C |
| Wool | 148°C |
Provided temperature and pressure are appropriate for the fabric in question, a faster operating speed can certainly aid efficiency and time management. Investing in a high-capacity professional iron can ramp up output to a notable degree.
Evaporation and water extraction
Many commercial ironing machines are designed to dry and iron garments simultaneously, but you need to be mindful of energy consumption when using these enthalpic appliances. An efficient professional iron should offer the perfect combination of efficiency and performance while aligning with your requirements.
Efficient ironing relies on garments being laundered to a high standard. Without a robust commercial washing machines and an effective laundry process, you might find that the appearance of residue, stains and marks is hampering your ironing operation.
Appropriate commercial ironing equipment
Does your commercial ironing setup deliver for the needs of your business? If not, you could be missing out on opportunities to save time, money and resources. Read our expert commercial ironing buying guide for more help and advice.
Troubleshooting common commercial ironing problems
If it sometimes feels like you're dealing with the same ironing problems day in, day out, there could be a solution. Here, we're taking a look at common ironing hiccoughs that can impact the efficiency and output of your commercial laundry.
Problem
Yellow-stained garments attributed to alkaline residue in the iron.
Solution
Increase the temperature of your iron to minimise residue. Also, check the laundry process and detergent to rule this out as a contributing factor. Organic solvents or a reducing agent can be used to remove yellow stains.
Problem
Creased garments even after passing through the commercial ironer.
Solution
This could be due to detergent residue, so we suggest checking the programmes, pH levels and detergent dosing. If the problem persists, check the belts of the machines or assess the likelihood of operator error.
Problem
Garments are damp.
Solution
Iron temperature is unsuitable or ironing time is too fast, so adjust accordingly. Alternatively, the garments are too damp or have too much residue from the wash cycle, so you may need to review processes at an earlier stage of the laundry chain.
Commercial ironing is by no means difficult, but it does require the right tools and processes to optimise efficiency and output. Looking for more from JLA? Get more commercial laundry advice on our blog or contact us today.