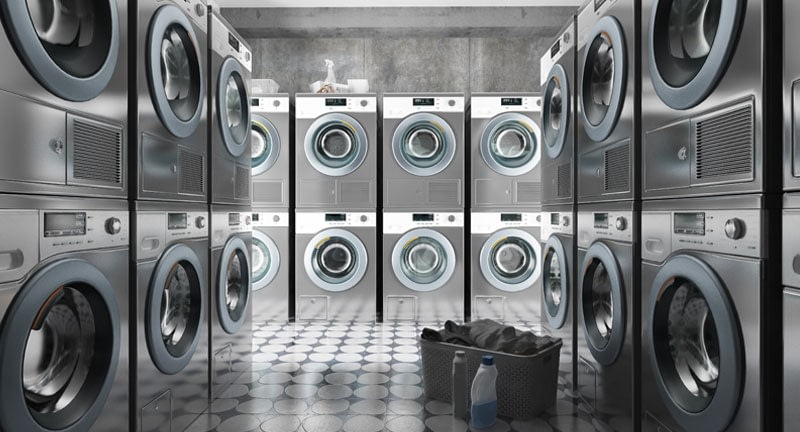 Keeping your hotel's laundry services in-house means you can take full control over what, how and when you wash. No outsourced laundry means you won't have to worry about others letting you down.
Having onsite hotel laundry facilities means you can control your own electricity and water costs. It also reduces the amount of linen stock you need, making it easier to react to changing demands caused by illness outbreaks or seasonal occupancy levels.
We understand that taking your laundry facilities in-house may be stressful, especially when it comes to space. By partnering with us, we'll give you peace of mind by offering a simple solution: stackable washing equipment.
What benefits does stackable washing equipment provide?
Stackable washing equipment is the perfect solution when it comes to limited space.
Designed to be as efficient and cost-effective as single machines, stackable washing machines and tumble dryers fit neatly on top of each other and give your hotel laundry room two pieces of equipment in the space of one. This provides staff with more space, helping you cope with extra throughput and expanding your capacity without changing the layout.
Stackable tumble dryers and washing machines also help to reduce wash-dry times. This is helpful in large hotels where linen is washed at high volumes. 
Choosing the right stackable washing equipment
Choosing the stackable tumble dryers and washing machines that are best for your hotel depends on your specific needs. This includes the space your hotel has and the amount of washing you need to do.
From the JLA 98-98 Washer/Dryer Stack to the JLA 16-98 Stack SMART Wash, we'll help you find the laundry equipment to suit the needs of your business.  
Whatever you need, we'll take care of it. Talk to our experts today.