While sustainable technology might offer longer-term solutions to spiking energy costs, smaller changes can still add up to big savings throughout your care home. Here are six to get you started.
1. Upgrade older equipment and fittings
Replacing outdated equipment and fittings like drippy taps will likely save a fair bit of money. But if you go further and switch out your care home's double-headed taps for single-lever taps, it'll be easier to change water temperature and control your consumption from rinse to rinse.
Another simple, smart way to reduce energy and waste is to install taps that only draw hot water through the pipes when you turn the lever, defaulting to cold water the rest of the time. Add in a built-in flow-rate limiter, and – according to certain manufacturers – you'll use up to 60% less water than you would with a conventional tap. These cost from as little as £11.25 per limiter, are suitable for use with most basin mixer taps, and simply screw into the end of the spout.
Energy-saving measures shouldn't have to mean skimping on quality, either. Installing new showerheads featuring water-saving aeration technology will allow your residents to enjoy a spa-like mist every time they shower, reduce the amount of hot water (and therefore energy consumed) and only cost from £46 per showerhead.
2. Add reflective heat/solar film to your windows
By fitting reflective heat/solar film to your windows for around £34 per metre, you can reduce energy loss and ensure your heating system works harder for you. But the benefits don't just stop at insulation in the colder months. By reflecting more of the sun's rays during the summer, you'll ease the pressure on your air-con systems, keep everyone nice and comfortable, and drive your energy use down. And as a bonus, your residents will benefit from an extra layer of privacy and security.
3. Sync up your aircon units and extractors
It's worth double-checking that your care home's kitchen extraction system is properly synced up with your care home's air-conditioning. With the balance right, extracted air is replaced, and temperatures stay nice and comfortable. But when the balance is off, your kitchen extractors can end up dragging air from windows or doors to create an unwelcome draught. In turn, your air conditioning will use more energy trying to balance the temperature. A system review or basic service will cost from around £300 depending on the size of your units.
4. Get your heating system serviced
Between hot baths and warming rooms, heating is the biggest driver of your care home's daily energy use. With that in mind, it's always worth giving your systems an MOT, get them serviced so they're running at their best, and weigh up whether they're still viable to use longer-term.
Gas boilers need particular attention, as they're likely to account for up to half of your annual energy spend. If you're using one, prioritise getting it checked over to make sure it's working efficiently for you. Depending on the size of the boiler, an annual service starts from around £200 plus part costs.
5. Power down those unused appliances
Leaving electrical appliances in standby mode might only consume a small amount of energy, but usage costs for idle machines can quickly add up. Just by turning off lights and powering down appliances like TVs in communal rooms, you could make some surprising savings.
Staying on top of this can be everyone's role, too. Talk regularly about energy savings goals, and all the ways people can get involved, and everyone will be more likely to chip in and help.
6. Keep an eye on usage with smart software
Thanks to advances in technology, tracking your energy use in real time is no longer the stuff of sci-fi, so it's easier than ever to make informed decisions about how to run your care home, and put even more focus on care.
JLA's very own Connect service offers continuous monitoring for your laundry equipment. It helps to improve efficiency by estimating the amount of energy and water your machines use, and when, before suggesting better times to run them.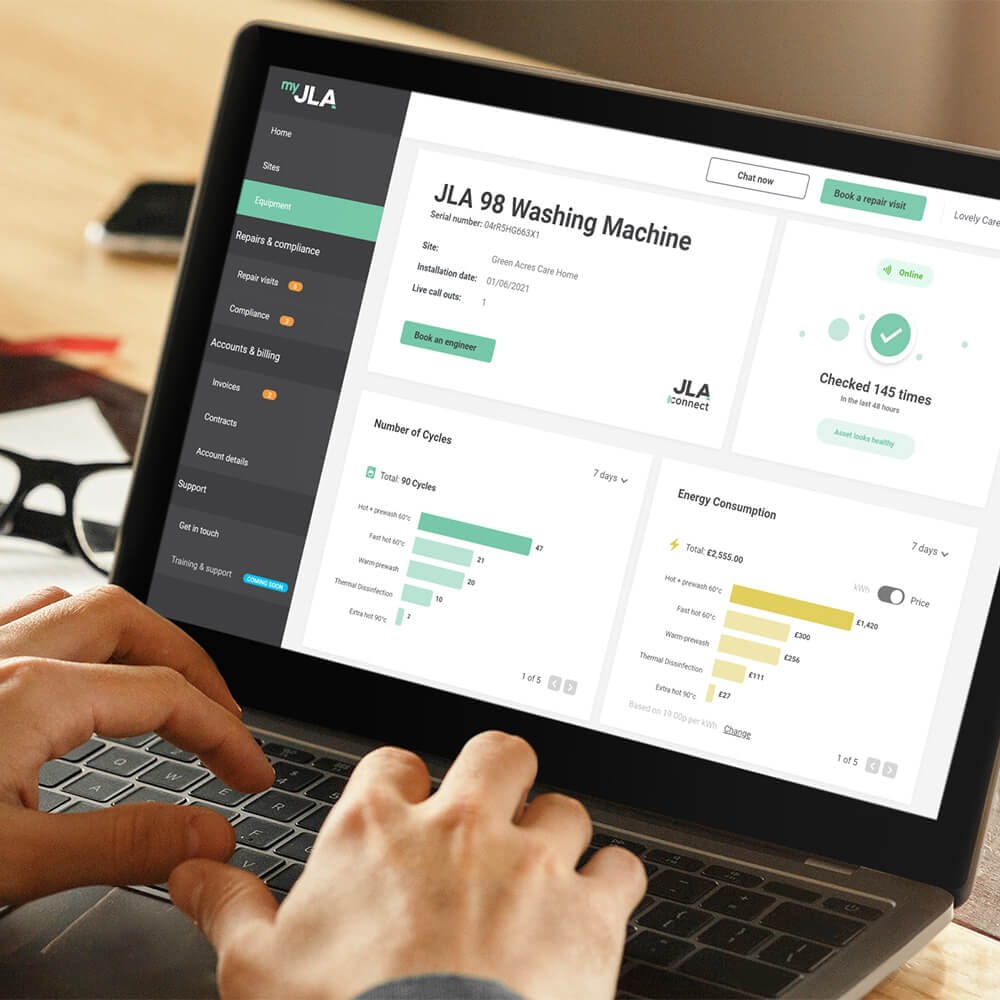 On top of that, it offers a handy way to quantify your environmental impact with CO2 emission estimates.