Automatic opening vent systems, or AOV systems, are a critical safety feature and legal requirement in buildings with communal stairwells, multiple stories and often the first line of defence in the event of a fire.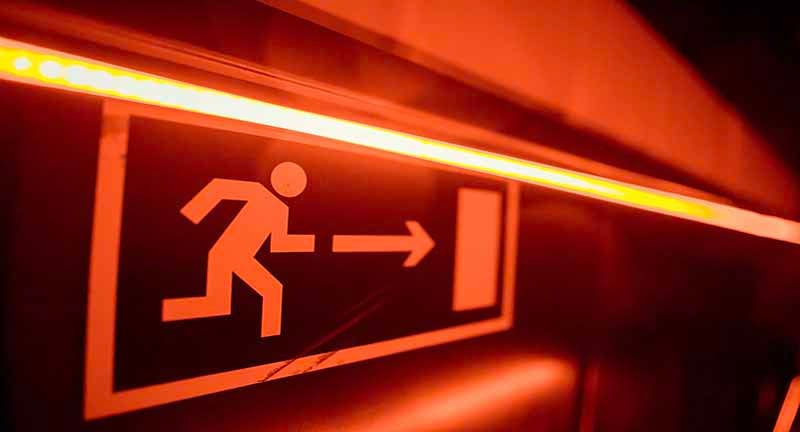 In the event of a fire, automatic smoke vents will activate when they're triggered by smoke detectors or a manual call point, and work to quickly clear smoke, heat and dangerous fumes. This allows people to evacuate via stairs or corridors, while helping to reduce the effects of fire on your premises. By removing smoke and improving visibility, AOVs also help emergency services to quickly find and tackle a fire.
What's the right smoke control system for my building?
When it comes to selecting the right AOV system for a building, there are two main types of AOV systems to consider – mechanical and natural.
Mechanical AOV systems (sometimes called mechanical smoke ventilation systems, or MSVS), use elements like high temperature extractor fans, (often aided by natural ventilation, end of corridor vents and stairwell ventilators to provide a fresh air supply.)  to aid smoke clearance. With lots of moving parts, these systems need regular maintenance by an accredited competent person to make sure they're compliant and working properly.
Natural AOV systems, meanwhile, extract smoke and heat and hazardous gases via strategically placed end of corridor windows, venting smoke and gases to atmosphere. Natural smoke shafts are often utilised and utilises a stack effect to disperse smoke via a head of shaft ventilator.
Buildings can incorporate both kinds of AOV systems as part of a broader fire safety solution, which means you'll usually find them situated in stairwells, common corridors, atriums and other emergency escape routes.
Here is a summary of the most common AOVs in use.
A window AOV can be directly connected to PIR sensors, thermostats, smoke detection and fire persons override and are fitted with actuators that will automatically open or close the window if there are changes in temperature or air quality, or when smoke is detected in the protected zone. Window AOVs have a subtle design, making them both a practical and aesthetic choice.
Like a window AOV, glazed louvre AOVs use mechanical actuators to improve ventilation, or help to clear smoke and fumes in an emergency.
Louvre AOVs offer extra flexibility and are trusted to provide weather tightness and thermal protection. As well as often negating a fall risk with large openings provided by Casement windows.
An AOV hatch has a dual purpose, offering easy, safe access to a roof, while extracting smoke and hazardous gases in an emergency. They also provide ventilation and air circulation for the spaces below where an air inlet is often used.
Smoke dampers are installed in ventilation systems and will close off air ducts if triggered by a smoke alarm or manually activated. When utilised in and AOV Installation they provide an exhaust point in each protected zone within a purpose-built smoke shaft usually extending to roof level. With superior air-tight performance, they prevent the spread of smoke and heat through a building and are a critical element in fire safety.
Can JLA help with your AOV systems?
As a contractor with the Smoke Control Association (SCA) and approved by International Fire Consultants (IFC) and SDI19 (part of IFC accreditation), JLA is one of only 26 companies in the UK that is fully accredited by both bodies to supply and take care of your buildings' automatic smoke vents and associated fire safety systems.
We offer a comprehensive, end-to-end package, from free consultation through to supply, installation, servicing, and ongoing maintenance, providing full turnkey solutions and with our unrivalled Total Care package, you pay nothing upfront and enjoy AOV installation at no extra cost. If you'd like to know more, simply contact us today.