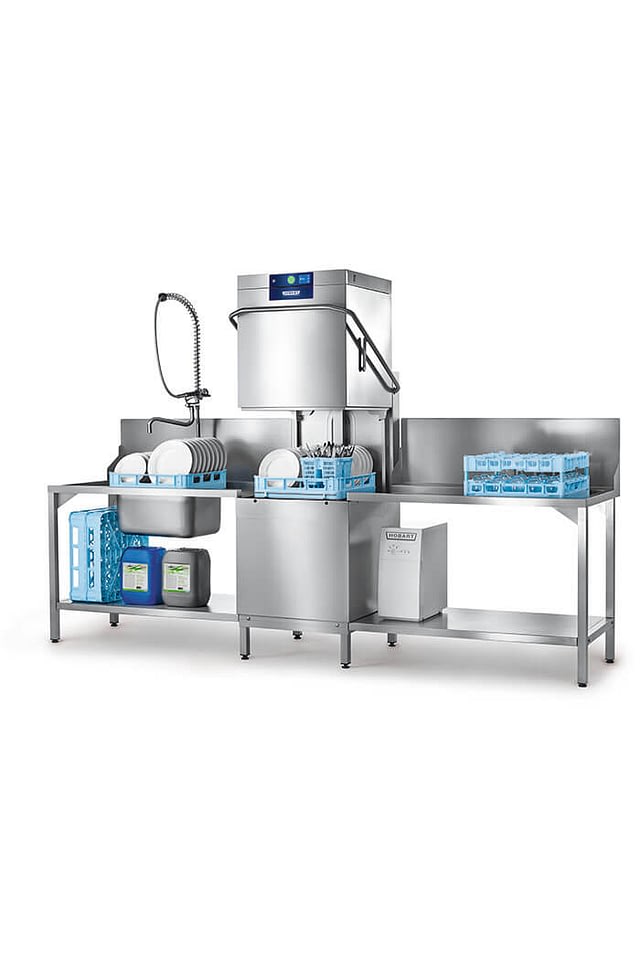 AMXSW-10B passthrough dishwasher
Heavy-duty 'hood' dishwasher for busy commercial kitchens
The AMXSW-10B model for reliable washing of glasses and dishes, packed with features to make it simple to use with great wash results. The 4-sided hood design helps to retain heat and energy whilst the hood is open, helping to reduce the steam released into the surrounding environment.
GENIUS-X² Fine Filter system
VISIOTRONIC-TOUCH control
Remote wifi connectivity for fast fault diagnosis
Clip in wash and rinse arms
USB interface for automatic data documentation
Up to 60 racks per hour
Four sided hood

Fully enclosed, energy saving hood
During operation, the heat is retained in the system. The wash water does not cool off against the 15mm thick walls of the hood. This increases the heat utilisation and helps to save energy whilst reducing the amount of steam released into the room when the hood is opened.
Deep drawn wash tank & GENIUS-X² Fine Filter System
Helps you to maintain a hygienic and clean machine
Deep drawn wash tank with no joins for soil or debris to get trapped in making cleaning easier & helping you to maintain the hygiene of your machine. The Genius-X² filter cleans soiled water in just three steps, reducing detergent consumption by up to 35% and ensuring a perfect wash result.
Visiotronic-Touch control panel
Start your wash at the touch of a button
Single-button control in conjunction with a colour touchscreen – it couldn't be easier. The VISIOTRONIC-TOUCH control simplifies use of your machine considerably and shows all the important information in the display using text and symbols and can alert you to simple operating errors, for example if the filter is not in place correctly.
Clip in wash and rinse arms
Make cleaning the machine as simple as possible
To make your work as easy as possible, both sets of wash and rinse arms can be removed using the CLIP-IN system in just one step. Following cleaning, all it takes is another click to put the washing attachments back in place.
SENSO-ACTIVE resource management
Responsible water consumption
The quality of the water is monitored constantly and water consumption is adapted accordingly. For low amounts of soil, water consumption remains low; for increased levels of soil, it is increased. Due to the innovative use of resources alone, operating costs can be reduced by 20% compared to conventional machines.
Dimensions HxWxD (mm):

1510 x 635 x 742

Electrical supply:

7.1kW 400/50/3 (6.2) (fuse at
3 x 16A) Configurable to 5kW
230/50/1 (4.1) (fuse at 1 x 25A)

Cycle times (seconds)

60, 90, 180 and continuous

Racks per hour

60