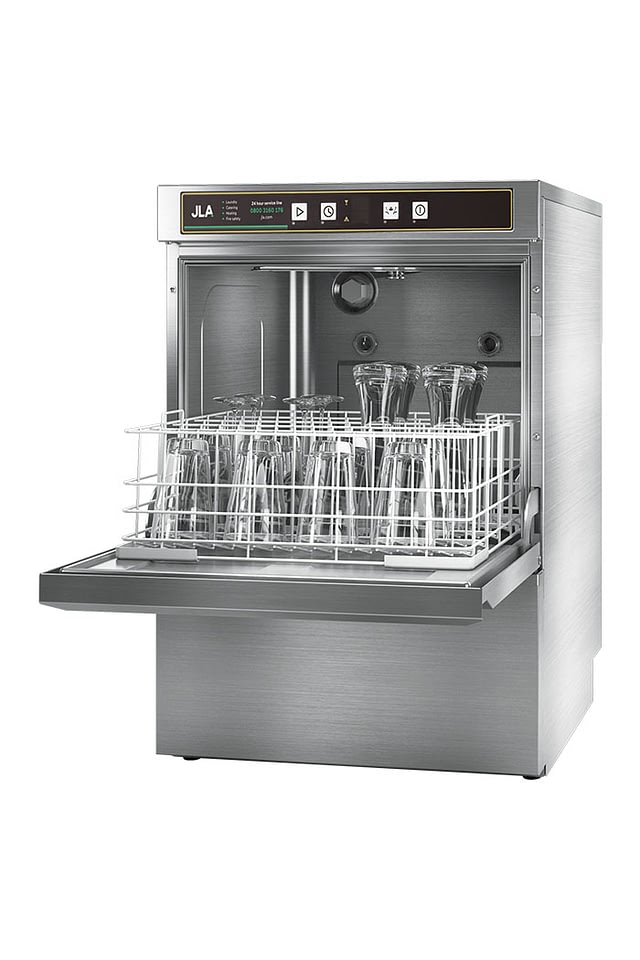 G415W/SW-10C Compact Glasswasher
High performance commercial glasswashers for bars, restaurants, hotels and other busy hospitality settings.
This user friendly, simple to use Compact Glasswasher is the perfect choice for front of house use. With its double skinned door, capability to wash 60 racks per hour, with a cycle time of 60, 120 & 180 seconds and automatic drain down and self flushing cycle, this is a fast and efficient Compact Glasswasher.
Available with or without Integral Softener.
Counterbalanced double skinned door
Deep drawn compact wash tank
Self flushing cycle
Class A air gap and rinse pump
Tank strainer, coarse filter and pump intake protection
Up to 60 racks per hour
Choice of three cycle times

Counterbalanced double skinned door
For easy opening and reduced noise & heat emission
Double-walled housing and heat insulated front door for reduction of noise and energy losses.
Deep drawn wash tank with no joins for soil or debris to get trapped in making cleaning easier & helping you to maintain the hygiene of your machine.
Electronic control panel with digital display
Electronic control with digital temperature indication and 3 programmes for easy operation. Dedicated buttons for switching on and draining down.
Dimensions HxWxD (mm):

705 x 460 x 590

Electrical supply:

2.7kW/13A 230/50/1 switchable to 4.0kW/20A
230/50/1 Or 5.4kW/3 x 16A 400/50/3

Cycle times (seconds)

60, 120, 180

Racks per hour

60