National coverage, local presence
JLA's engineers cover the whole country, so we're never far away.

Here for you around the clock
Get expert help over the phone – 24/7, 364 days a year.

Minimise downtime with JLA Total Care
Have a highly skilled engineer at your door within 8 working hours.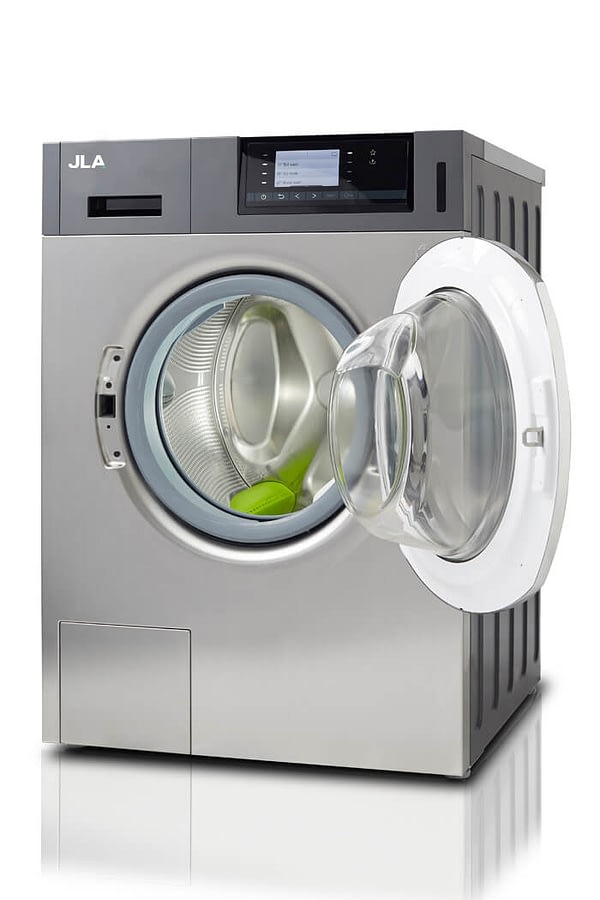 Coin-Operated JLA 7 & 8 Washing Machines (8kg)
Our coin-operated JLA 7 & 8 commercial washing machines are designed to perform and built to last.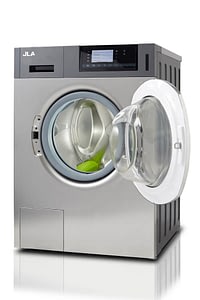 Intuitive controls and light-touch buttons make operation easy. Plus, a handy 'favourites' function stores most-used cycles.
Allows for easy loading and unloading for customers. Plus, in-drum lighting improves visibility.
Stackable with JLA dryers
Get the convenience of two machines in the space of a single cabinet.
With a compact footprint but a large drum capacity, these stylish machines are compact, reliable and efficient. 
Our robust coin-op mechanism makes everything simple. Extra-large integrated coin boxes reduce the need for frequent emptying and a full auditing of cycle counts and monies received plus a time of day pricing modifier ensure that revenue is maximised.

Environmentally friendly and cost saving
12% less water consumption than its predecessor. This means a reduced carbon footprint and lower utility costs.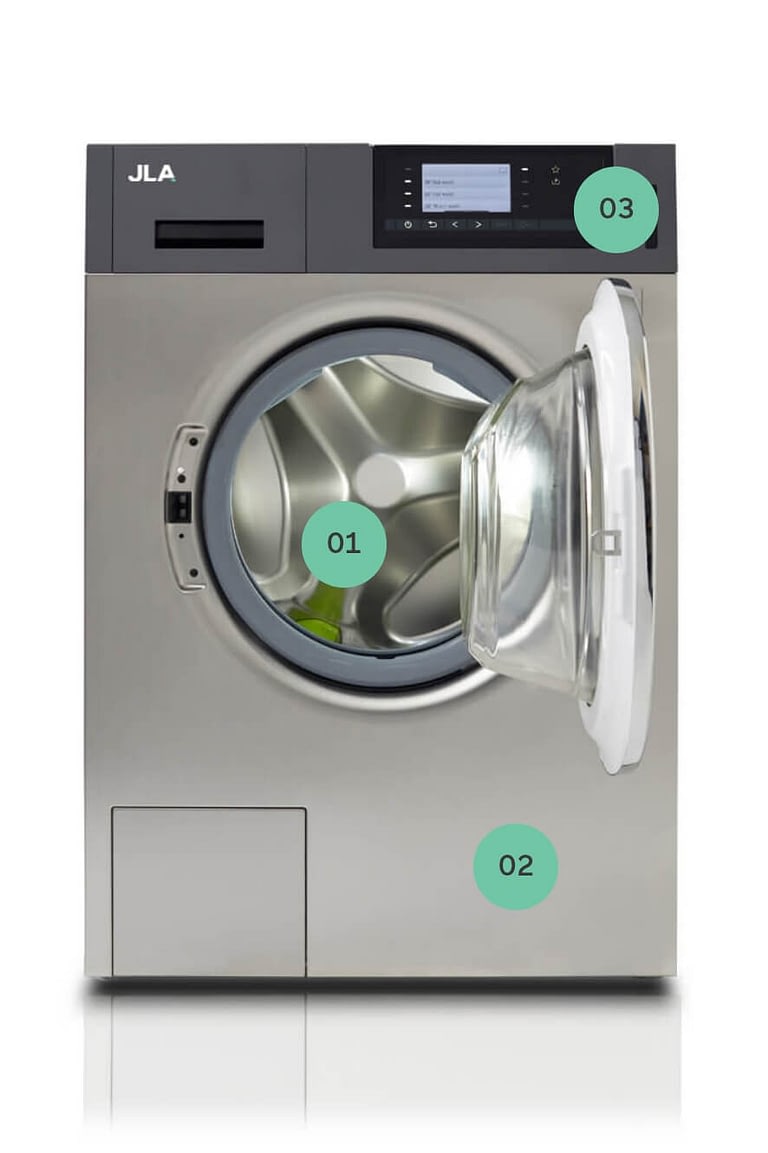 A 3D washing system provides improved mechanical action, which is much kinder to fabrics and delivers optimal wash quality.
Quick filling, fast draining
A large concentration of small holes within the drum allows for quicker filling and faster draining.
This cashless payment system allows users to top up at the machine for added convenience.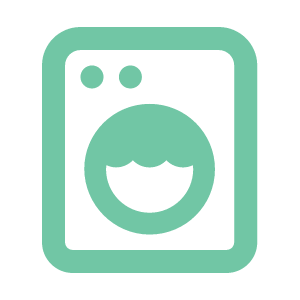 Stainless steel tub and drum to ensure durability. Robust suspension also ensures the longevity of components and improved in-balance spins.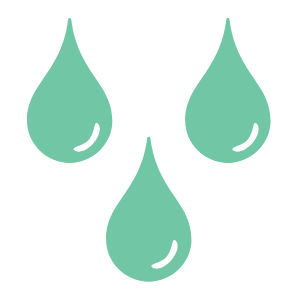 Guaranteed full saturation
The water curtain delivers water into the drum through a 'scoop and drop' action, which ensures linens are fully saturated.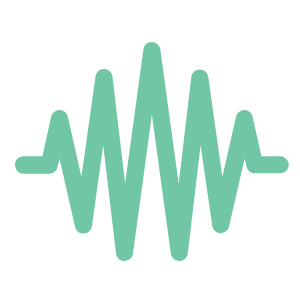 Noise-absorbing anti-vibration design for quiet operation.
A deep dive in to the JLA 7 & 8
Discover the features of the JLA 7 & 8
What are the key features of the JLA 7 & 8 and how does it compare to other coin-operated washing machines? With a compact size, large drum capacity and user-friendly functionalities, the JLA 7 & 8 commercial washing machines are a trusted solution across the UK.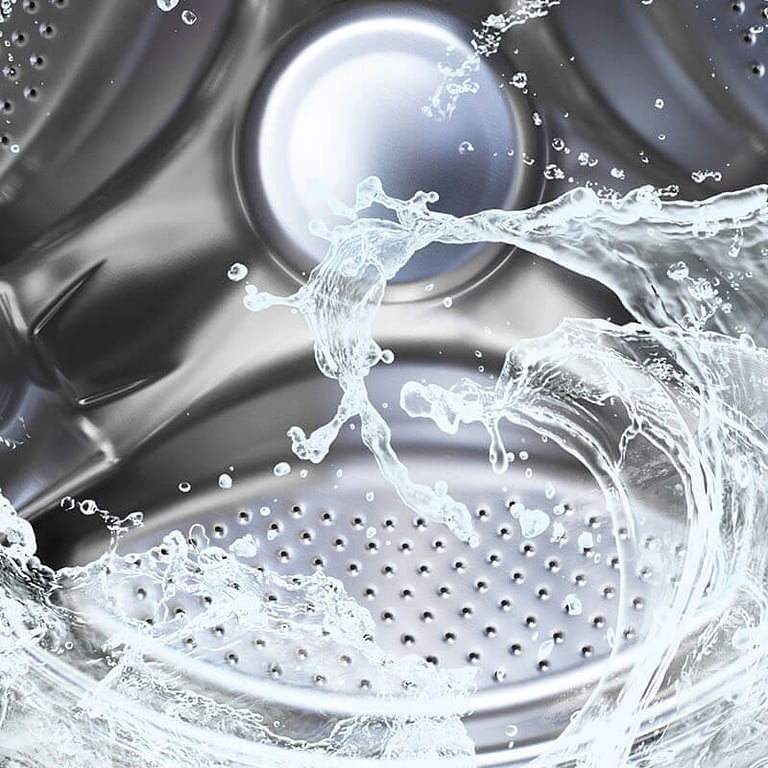 The combination of high-spin speed and powerful G-force ensures minimal residual water remains in the linen on completion of the wash cycle.
On top of this, the introduction of 3D wash action ensures each coin-operated JLA 7 and 8 washing machines provides the highest level of wash quality on every cycle.
Choose a model that suits you
Our coin-operated JLA 7 & 8 washing machines are market leaders.
All our washers in this range are available with an RFID card system and auto dosing. Plus, all of our coin-operated JLA 7 & 8 washers are stackable.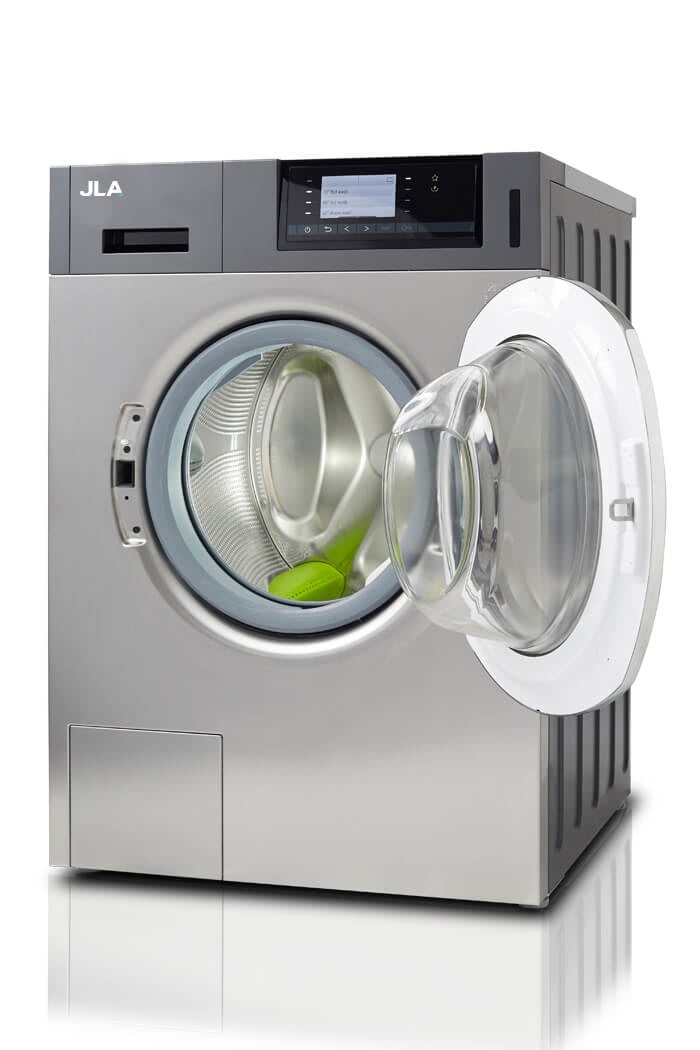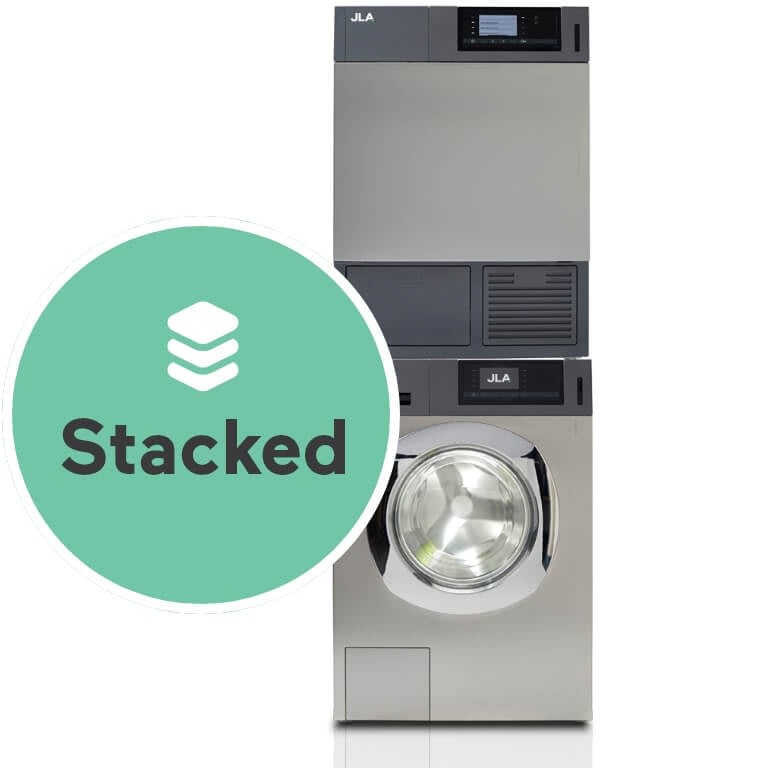 Stackable washer-dryer combinations
Plus, if you need additional drying capacity, then you can also put two dryers together in an upright combination.
No more and no less than is needed for the best wash quality.
Our laundry detergent dispenser ensures you get the optimum measure of detergent in every wash.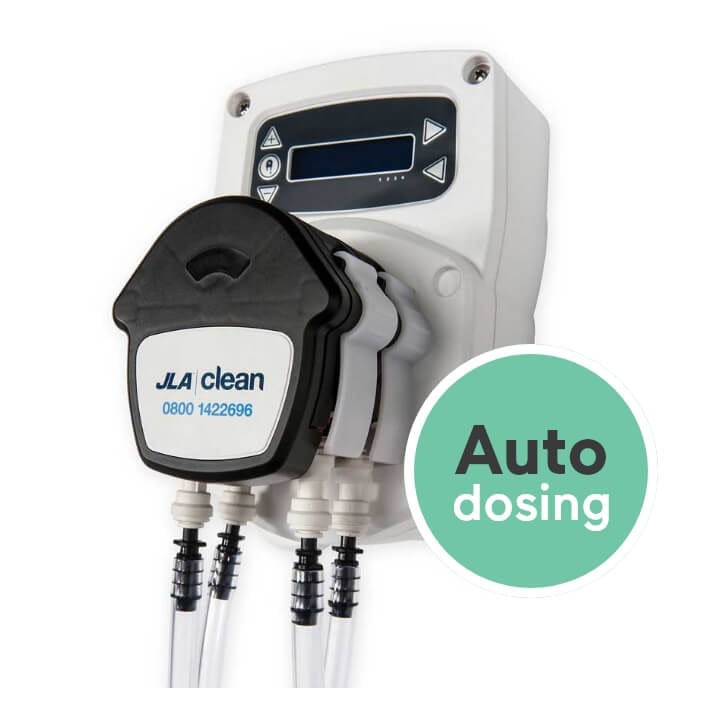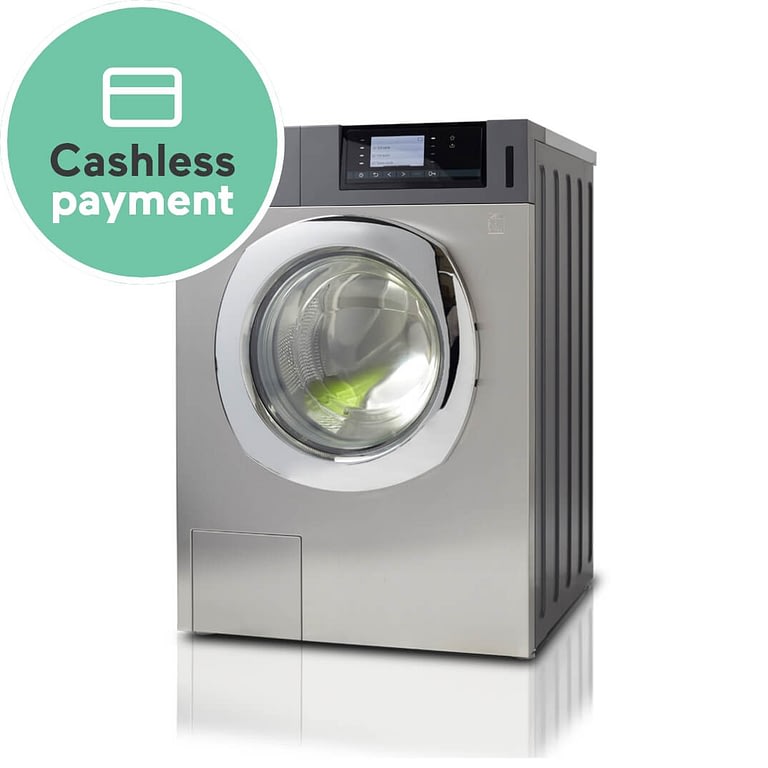 No mobile or network signals are required to operate this class-leading feature.
Perfect for houses of multiple occupancy and supported housing, the cashless payment system allows users to top up at the machine for added convenience. The RFID card system also provides:
Manager's auditing function (to reconcile top-up amounts) 
Audit information for cycle usage and user habits 
Programmable top-up values 
Current balance display on the machine
JLA 8P
| | |
| --- | --- |
| Colour | Anthracite/Stainless Steel |
| Model | Pump |
| Capacity (kg/lb) | 8 |
| Height (mm) | 900 |
| Width (mm) | 630 |
| Depth (mm) | 720 |
| Net weight (kg) | 100 |
| Drum volume (l) | 70 |
| G Force | 690 |
| Door opening (Ø mm) | 340 |
| Control | Microprocessor |
| Fixing down | Free-standing |
| Electrics 2.5kW (volt/ph/Amp) | 240/1/13 |
| Electrics 2.8kW (volt/ph/Amp) | – |
| Electrics 4.6kW (volt/ph/Amp) | 415/3/10 (standard) |
| Electrics 4.6kW (volt/ph/Amp) | 240/1/20 |
| No of water connections (hot/cold) | 1/1 |
| Size ("BSP) | 3/4 |
| Drain connections | 21 (pump) |
| RFID available | Yes |
| Stackable* | Yes |
| Auto dosing* | Yes |
| Coin operated* | Yes |
JLA 8M
The range includes two excellent options, the JLA 8P and JLA 8M.
The JLA 8P and JLA 8M both have a drum capacity of 8kg and a drum volume of 70l.
Our coin-operated washers are designed to help you maximise revenue in your launderette or managed laundry. However, our coin-operated JLA 7 & 8 machines are also suitable for use in university accommodation, key worker sites and holiday parks.
A unique, all-inclusive package, specially designed for you.
Market-leading equipment with no upfront payments, repair bills or call-out charges – ever
Installation at no extra cost
Guaranteed nationwide 8-working-hour engineer response – or £100 back
24/7/365 support from friendly advisors
Access to MyJLA, with billing, essential documents, engineer booking and support in one place
Round-the-clock monitoring to minimise downtime – we sort issues before you know about them
Keep an eye on your energy usage with live bill estimates and CO2 emissions
Other products you may like...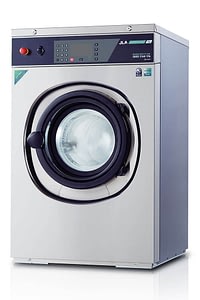 JLA Coin-Operated SMART Washing Machines (7.5kg - 18kg)
Our range of coin-operated SMART washing machines bring together a unique blend of clever features and innovative designs.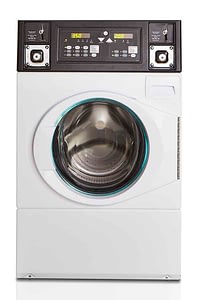 Coin-Operated JLA 98 Commercial Washing Machines (9.5kg)
The coin-operated JLA 98 washing machine is a popular and versatile option that has been built to last.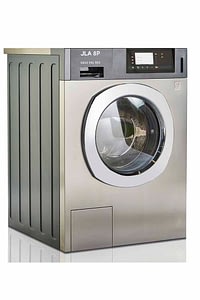 JLA 7 & 8 Commercial Washing Machines (7kg & 8kg)
Designed to perform and built to last, our JLA 7 & 8 washing machines provide exceptional wash quality while taking up minimal floor space.
Total Care gives you brand-new equipment with no upfront cost and round-the-clock support.