In this hotel commercial laundry buying guide, we'll outline all the things you need to consider when purchasing equipment for a hotel laundry room. As well as looking at the best commercial washing machines for hotels, we'll also look at the best commercial dryers for hotels and discuss whether you should consider stackable and coin-operated options. Finally, we'll look at exactly how you can ensure disinfection in every cycle. 
But, before we do all that, let's start our hotel commercial laundry buying guide by looking at the advantages of having an on-premises laundry room in a hotel. 
Advantages of an on-premises laundry room in a hotel
Before you invest in laundry equipment for your hotel, you first need to understand what benefits you'll experience from having an on-premises laundry room. Well, generally speaking, doing your laundry in-house means: 
You'll need less stock than if you contracted your laundry externally 

You'll gain the ability to handle the personal clothing of guests in-house. This can also become an additional source of revenue 

You'll have direct control over your costs and the quality of laundry 

You can minimise linen damage through the management of wash chemicals and detergents 

You can control the process from start to finish. This means you can quickly react to any changes in requirements or demand shifts 
In short, keeping your hotel's laundry services in-house means you can take full control over what, how and when you wash. By keeping control of your laundry rather than outsourcing it, you'll never have to worry about letting people down. 
Key features you need to look for in washers and dryers for hotels
To run a professional laundry service in your hotel, you must have the right commercial laundry equipment in place. This means that your washers and dryers must be built for business use and must be suitable for the unique demands of hotel laundry.
The best commercial washing machines for hotels will perform cycle after cycle without compromising on quality (many of our washers and dryers are built to last for more than 37,000 wash cycles). This is invaluable if your hotel washes bedding and towels on a daily basis. 
Commercial washing machines for hotels are larger in capacity than domestic machines and they allow you to do bigger loads, less often. This means that not only will you spend less time on laundry, but you'll also spend less money on your energy bills. 
Specialist commercial washers and dryers that are built for use in hotels contain sensors that help them calculate linen weight, water and detergent use. This ensures that you get the best possible results without wasting any resources. Thanks to their smart technology, many of these machines can save you up to 32% on your utility bills.
Although purchasing specialist washers and commercial dryers for hotels may seem expensive, machines like ours are available with all-inclusive supply and service packages. Our packages even include emergency breakdown cover, so you'll never be without towels or sheets. 
Of course, the laundry equipment that's best for your hotel will depend on your unique requirements. That said, if you have a small hotel with 10-50 bedrooms, then we'd suggest a combination like a JLA 22 Smart washer, a SD35 SMART dryer and a 1.5m rotary ironer. 
If you're operating a much larger hotel with 100+ bedrooms, we'd instead suggest a combination like a JLA 50 SMART washer, a SD80 SMART dryer and a 1.9m dryer ironer. 
Are stackable solutions best?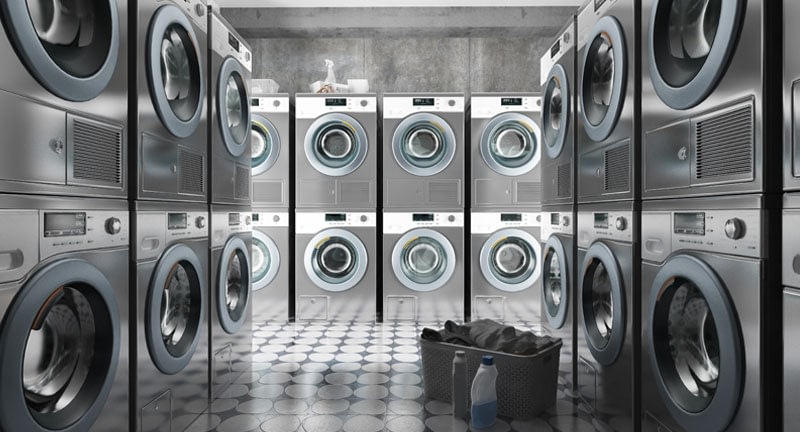 In any commercial setting, space in a laundry room often comes at a premium. However, this is especially true in hotels, where laundry rooms are often located in confined spaces. 
If this is true at your hotel, then it's worth considering whether stackable washers and dryers might be the best solution for you. These compact commercial washing machines and dryers for hotels can save you space in your laundry room and solve the problems associated with limited square footage. Plus, stackable tumble dryers and washing machines also help to reduce wash-dry times. This is helpful in large hotels where linen is washed at high volumes. 
Available in washer/dryer and dryer/dryer combinations, these stackable machines are just as efficient and cost-effective as singular machines, but provide two pieces of equipment in the space of one. That means you can cope with extra throughput without having to change your existing layout or simply make more space for staff to work in.
With a number of capacity combinations available, you can choose a specially designed stacked washer and dryer system to fit your needs and your business layout. 
Of course, the stackable washing machines and tumble dryers that are best for your hotel will depend on your specific needs, including the space your hotel has and the amount of washing you need to do. But, from the JLA 98-98 Washer/Dryer Stack to the JLA 16-98 Stack SMART Wash, we're proud to offer a great range of laundry equipment that's certain to suit the needs of your business.   
Coin-operated or non-coin-operated machines?
If you're looking to create an additional revenue stream in your hotel, then you could also opt for coin-operated washers and dryers in a customer-facing washing room. These come with easy-to-use coin mechanisms and they allow customers to do their own washing and drying while they stay at your hotel. 
These machines allow you to run a standard customer service effectively and they're particularly popular in extended-stay hotels and B&Bs. They're similar in size to domestic washing machines and they allow your guests to take care of all their washing needs. 
The importance of the OTEX system
In a setting such as a hotel, it's also vital that you ensure complete disinfection in every cycle. 
Thankfully, our OTEX ozone laundry system has been proven to remove all traces of coronavirus. On top of this, it also kills 99.999% of other harmful bacteria, moulds and yeasts – using natural chemical disinfection at low temperatures for deep-cleaned, fresh-smelling and softer linen. 
Plus, the OTEX ozone laundry system can also eradicate harmful micro-organisms in every wash. It even prints a validation receipt to prove disinfection has taken place. Thanks to pre-programmed cycles, it's also impossible for staff to select a programme that will not achieve disinfection.
To make things even better, OTEX works at ambient temperatures. This means that it reduces utility costs and uses less hot water, gas and electricity than traditional thermal laundry systems. 
As a hotel manager, OTEX will help you improve housekeeping hygiene. It will also help you get fluffier towels and even better reviews. This is because OTEX also cleans deeper to give optimum wash quality and extended fabric life. Fibres in linens are gently opened during the ozone laundry process, which enables deep cleaning that adds a high wash quality to the core disinfection process.
All of this means that users receive fresher-smelling laundry. Added to this, items such as towels come out up to 20% fluffier than they would in traditional washing machines.
Interested in learning more about OTEX or want to discuss which commercial washing machines for hotels are best for your property? Speak to our laundry experts today.