How long does a commercial dryer take?
The best commercial dryers can dry a full load of washing in under 20 minutes (based on a 9.5kg load that's 60% wet). At JLA, our fastest dryers can be found in the innovative JLA SMART Dry range, designed to cut time and energy it takes to get through large volumes of daily (or nightly) laundry.
In our SMART Dry machines, air is pre-warmed as it passes over the dryer's stove, and heated again in the flame chamber itself. This 2-phase heating means the air reaches optimum drying temperature quickly, using less energy in the process.
An 'Eco-flow' feature then allows for optimum contact time to reduce the duration of a dry, while 'Vari-spin' automatically slows down the cycle as the load dries to prevent balling, roping and tangling and ensure a '10-to-4' drop for even more time-saving.
SMART machines are also programmed to know how long a load will take to dry, with auto-dry technology achieving the perfect 'time-at-temperature' balance. This maximises the Kgs dried p/hr resulting in maximum performance and evaporation rates.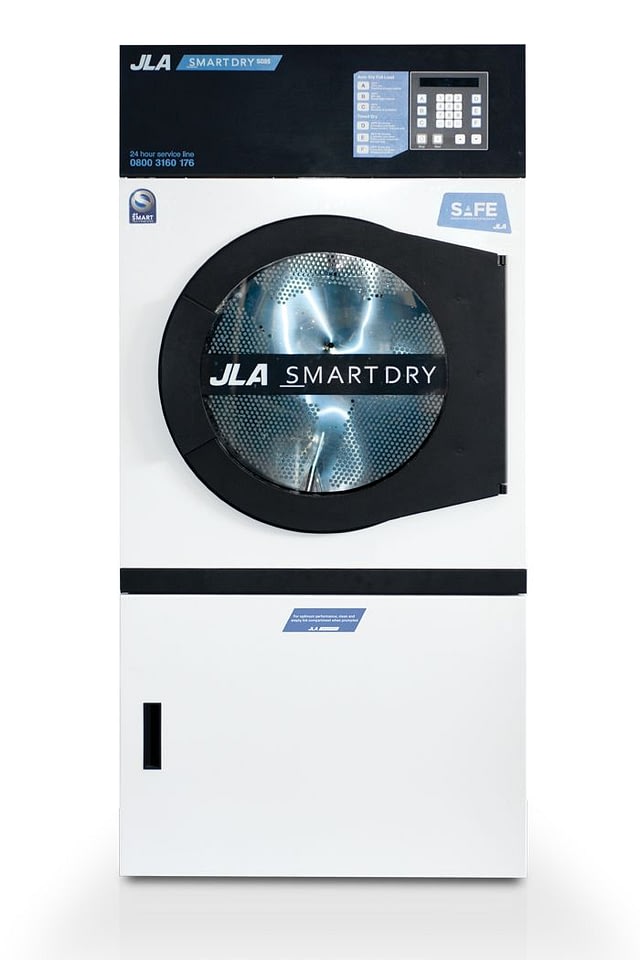 Commercial dryers vs domestic dryers
8kg of towels would take around three hours in a domestic washing machine, but only requires around 30 minutes in a JLA SD35 commercial dryer.

A more 'general' laundry load of clothing might take around 50mins in a JLA98 dryer, but would need a cycle of around 90 minutes in a domestic machine.

Even the best domestic dryers can only dry 1kg of clothing in 15 minutes – with smaller drums increasing the number of loads you need to wash
To discuss your commercial tumble dryer needs and find out more about our SMART Dry range, get in touch below.